Trump Impeachment House Parties To Take Place Across U.S. Ahead of Presidents Day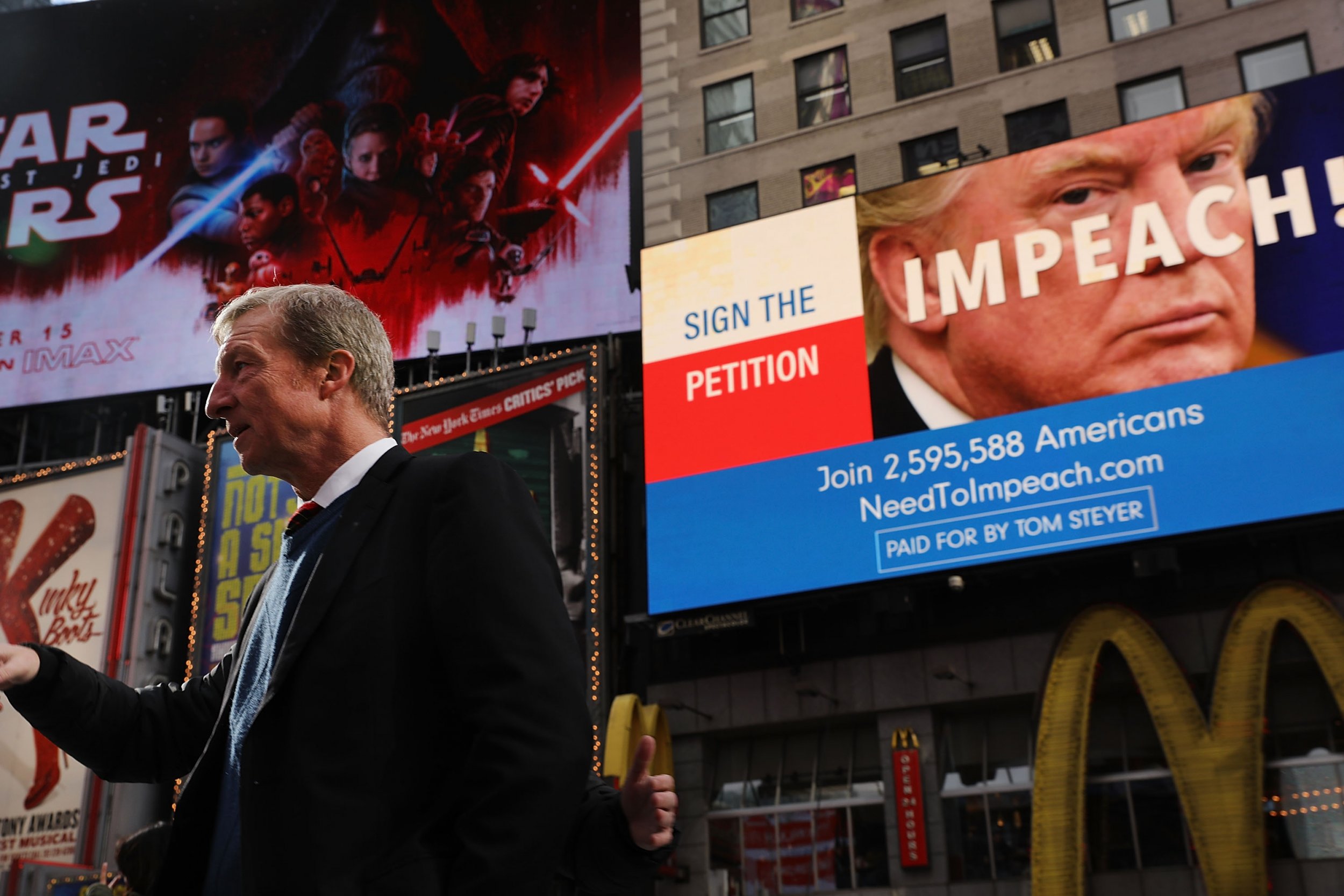 A campaign to impeach President Donald Trump announced on Monday it will hold house parties in more than 500 communities across the U.S. the weekend before Presidents' Day to pressure Congress to remove him from office.
"Americans across the country are sending a clear message to members of Congress: we've had enough," Tom Steyer, a Democratic billionaire who founded the Need to Impeach campaign, said of the new Party to Impeach initiative planned at big cities and small towns on February 17.
"Our elected leaders in Washington D.C. can no longer neglect their Constitutional obligation to remove this unfit President from office," Steyer stated in an emailed press release. "Their lack of accountability has awakened millions of people to their failure to protect the safety and stability of our country and everyone who lives in it."
Related: Will Trump be impeached in 2018? Here's what the odds say
Since Steyer launched the Need to Impeach movement last October on television and social media, more than 4.3 million people have signed a petition demanding Congress to begin proceedings to remove Trump. The campaign is using President's Day to draw attention to the growing demand.
"Up to this point, our representatives have offered countless excuses for not backing impeachment. But our movement is growing every day, and it's time our Democratic and Republican leaders recognize that the people they were elected to serve want them to take action," Steyer said in his statement. "By ignoring their constitutional duties, they are leaving the foundational pillars of our country and American lives in jeopardy."
A second vote in the House called by Democratic Representative Al Green of Texas to start proceedings to impeach Trump last week failed 355-66, but gained eight more House Democrat supporters than the first vote Green forced in early December.
Green told Newsweek last week that he plans to bring more votes to impeach Trump "as long as the president continues to make bigoted statements that are harmful to American society."
The Need to Impeach campaign expects thousands of people to attend the house parties.