Donald Trump Subverts Twitter Ban via @POTUS Account and Gets Deleted Again
President Donald Trump briefly tweeted from a secondary Twitter account he has rarely used after the social media platform banned his primary account for inciting violence on Friday.
Twitter deleted the series of tweets within minutes, where were made using the @POTUS account. That account is reserved for any sitting U.S. president, but Trump has rarely used it.
The tweets complained about the ban, baselessly accusing the company of colluding in a conspiracy with Democrats and "the Radical Left" while repeating some of the same rhetoric that caused the platform to ban him hours earlier.
Trump also promised that a "big announcement" would be coming soon concerning his future on social media, saying that he had been "negotiating with various sites" and could start his own platform.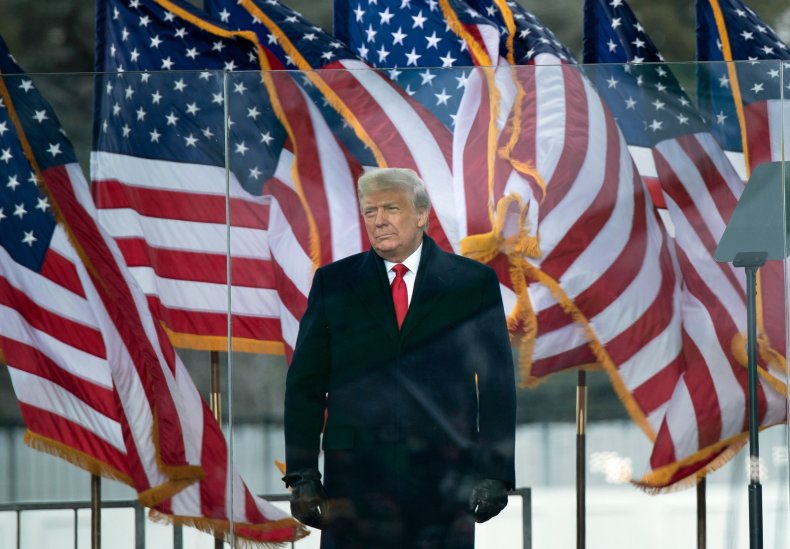 "As I have been saying for a long time, Twitter has gone further and further in banning free speech, and tonight, Twitter employees have coordinated with Democrats and the Radical Left in removing my account from their platform, to silence me – and YOU, the 75,000,000 great patriots who voted for me," Trump tweeted. "Twitter may be a private company, but without the government's gift of Section 230 they would not exist for long. I predicted this would happen."
"We have been negotiating with other various sites, and will have a big announcement soon, while we also look at the possibilities of building out our own platform in the near future," he added. "We will not be SILENCED! Twitter is not about FREE SPEECH. They are about promoting a Radical Left platform where some of the most vicious people in the world today are allowed to speak freely... STAY TUNED!"
A Twitter spokesperson told Newsweek that "using another account to try to evade a suspension is against our rules" and any further attempts by Trump to subvert the ban will be quickly blocked, although the @POTUS account itself will not be suspended.
"We have taken steps to enforce this with regard to recent Tweets from the @POTUS account," the spokesperson said. "For government accounts, such as @POTUS and @WhiteHouse, we will not suspend those accounts permanently but will take action to limit their use."
Not long after the company took down the @POTUS tweets, the Trump campaign's @TeamTrump account was also suspended. Some of the president's more outspoken supporters, including his former adviser Michael Flynn and pro-Trump lawyer and conspiracy theorist Sidney Powell, were banned from Twitter earlier in the day.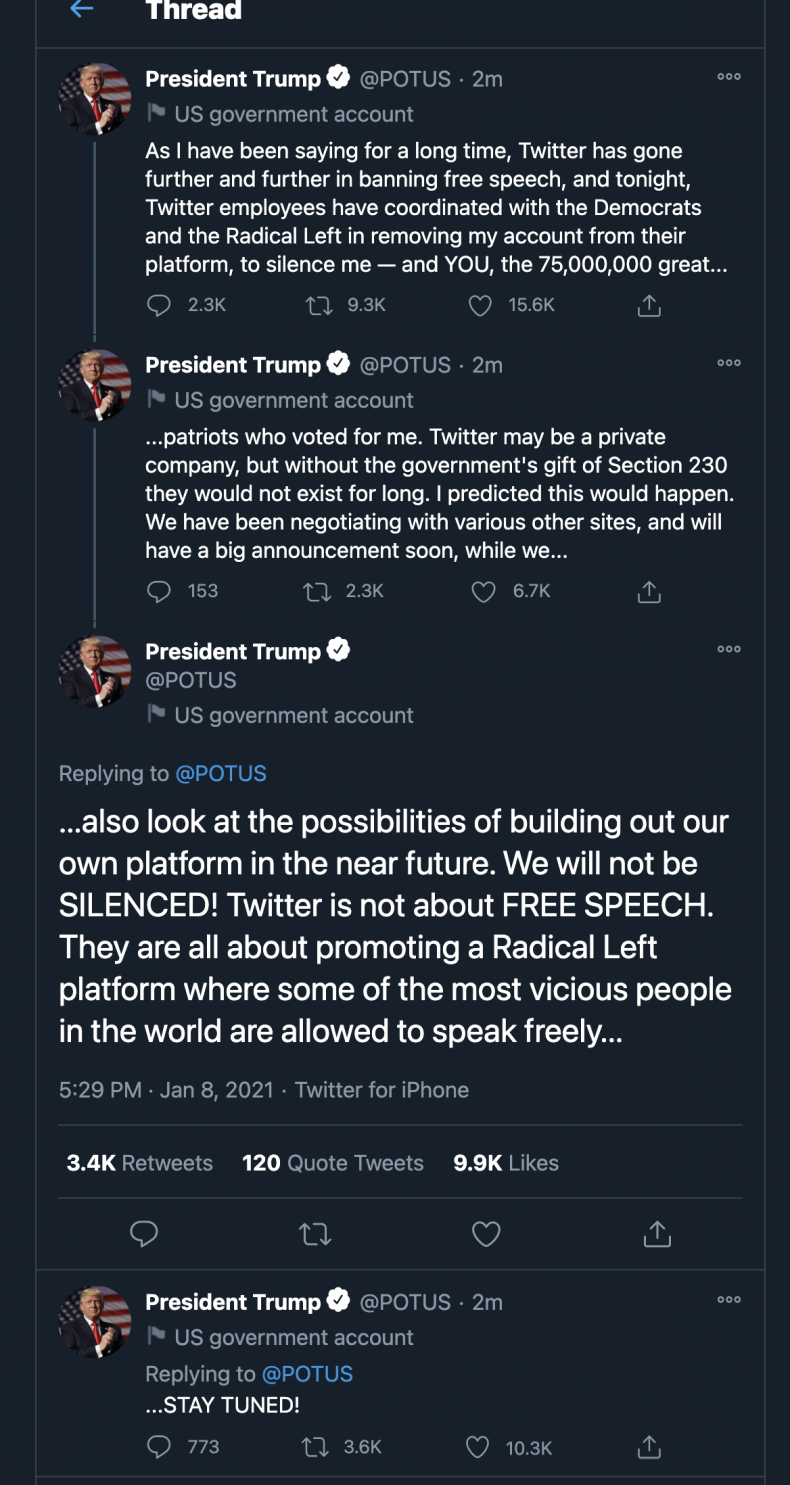 Earlier on Friday, Twitter banned the outgoing president's @realDonaldTrump account permanently after he persisted in violating the platforms rules with tweets that the company said could incite violence similar to that perpetrated by the pro-Trump who stormed the U.S. Capitol building on Wednesday as Congress was meeting to certify President-elect Joe Biden's election win.
"[The tweets] are likely to inspire others to replicate the violent acts that took place on January 6, 2021, and that there are multiple indicators that they are being received and understood as encouragement to do so," Twitter explained in a blog post about banning Trump.
Newsweek reached out to the White House for comment.
Update 1/8, 9:55 p.m.:This article has been updated to note that the Trump campaign's @TeamTrump account was also suspended, as were the accounts of several noteworthy Trump supporters.