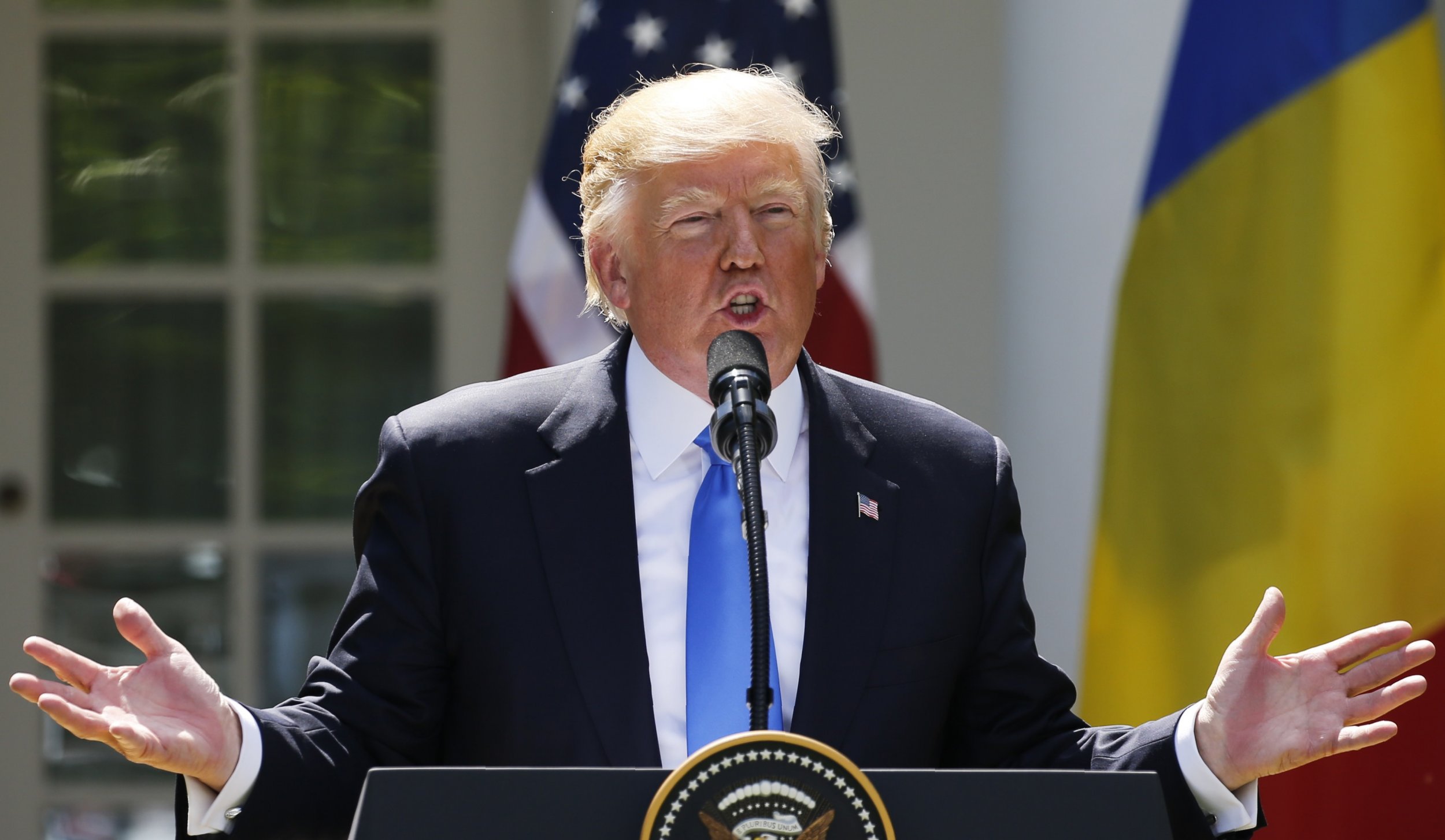 President Donald Trump says he is willing to testify under oath that he did not ask former FBI Director James Comey to drop an investigation into former national security adviser Michael Flynn, who was dismissed in February.
Speaking Friday at an unrelated press conference with Romanian President Klaus Iohannis, Trump refuted claims made by Comey in a written statement to the Senate Select Committee on Intelligence and under oath before that committee on Thursday. "I didn't say that. I mean, I will tell you, I didn't say that. And there'd be nothing wrong if I did say it, according to everybody that I've read today, but I did not say that," Trump said.
Asked if he would say that under oath, the president responded, "One hundred percent."
Trump fired Comey on May 9. Days later, The New York Times reported that Trump had asked Comey to stem the bureau's investigation into Flynn, citing a previously unreleased memo written by the former FBI director. In a written statement that the Senate Intelligence Committee published Wednesday, Comey confirmed that he had documented the event in a memo.
On Thursday, Comey testified before the Senate committee that he had given the memo to a friend to pass along to the Times. Daniel Richman, a Columbia Law School professor who serves as an adviser to Comey, confirmed to several news outlets that he was the person who'd passed along the information.
Surrogates for Trump and others on the political right have seized on Comey's comment about passing along the memo. Donald Trump Jr. tweeted on Thursday, "Did I miss something or did Comey just say he asked a friend to leak information to the press? Is this a joke?" Marc Kasowitz, the president's personal lawyer, said in a statement on Thursday, "It is overwhelmingly clear that there have been and continue to be those in government who are actively attempting to undermine this administration with selective and illegal leaks of classified information and privileged communications. Mr. Comey has now admitted that he is one of these leakers." The lawyer added, "We will leave it to the appropriate authorities to determine whether these leaks should be investigated along with all the others that are being investigated."
Trump's legal team plans to file a complaint regarding the "leak" with the Department of Justice's Office of the Inspector General early next week, a source close to the legal team tells Newsweek. The team also plans to make a submission to the Senate Committee on the Judiciary regarding issues it takes with Comey's congressional testimonies, the source says.
Also on the subject of Comey at the press conference on Friday, Trump said, "No collusion. No obstruction. He's a leaker. But we want to get back to running our great country." As for whether he demanded loyalty from Comey, as the former FBI director also claimed in his written statement and his testimony, Trump said, "I hardly know the man, I'm not going to say 'I want you to pledge allegiance.' Who would do that?" But the president added that he would not ask someone to say such a thing while that person was "under oath," suggesting the question perhaps confused him.
On the subject of whether tapes of conversations between Trump and Comey exist, as the president has indicated, Trump said, "I'll tell you about that maybe sometime in the very near future."
At least one lawmaker responded on Friday to Trump's agreeing to testify under oath about Comey. "We are available all week next week," Senator Brian Schatz, a Democrat from Hawaii, tweeted.
Democratic Senator Chris Murphy, from Connecticut, had said in a statement Thursday following Comey's testimony, "If the White House's account differs from what we heard today, the American people deserve to hear the president's side of the story in a similar forum—under oath and open to the press."
Only three sitting presidents and one sitting vice president have testified before congressional committees. It has not happened since Gerald Ford did so in 1974. Three presidents have testified after leaving office.