Donald Trump Tries to Court Black Voters After Refusing to Denounce White Supremacy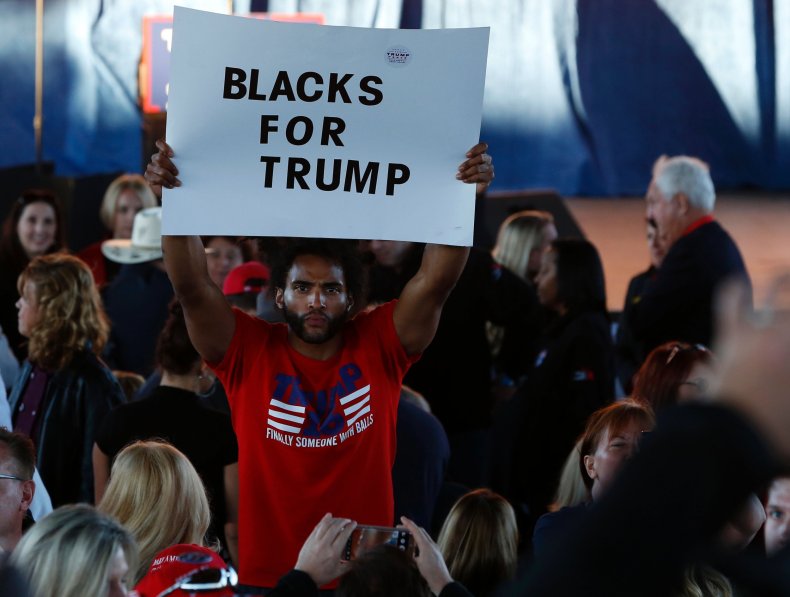 Donald Trump says he has done more for Black Americans than any president other than Lincoln, and his advisers have touted the idea that he could significantly increase his share of the African American vote—both nationally and in key swing states—from the eight per cent he won in 2016. Democrats and pollsters have mostly scoffed at the idea and recent polling shows the president only a tick higher than the percentage he received four years ago.
But the Trump campaign is now putting money where its mouth is. On September 30 the campaign announced a "six figure" advertising buy on cable networks and in certain radio markets. The ads explicitly target the African American vote. In a TV ad, former NFL football player Jack Brewer, an African American, says he supported Barack Obama and now supports Donald Trump—and says "it's okay, because President Trump created the best job market and economy for Black Americans and Americans of all races." The ad offers images of African Americans workers and shows Trump signing the criminal justice reform bill. A radio spot hits Biden for the 1994 crime bill "which put millions of Black men in prison for non-violent crimes" and highlights Trump's recent promise to create three million new jobs and 500,000 new Black-owned businesses in his second term.
Coming as it does amid continuing demonstrations about racial injustice in the U.S., many political analysts view Trump's push for Black votes as a long shot, to put it mildly. In the first presidential debate Joe Biden called Trump a "racist," and the president notably failed to denounce white supremacy. Even Trump's closest advisers have occasionally expressed some skepticism as to whether he could boost his share of the Black vote this time around. "Maybe, maybe not," Jared Kushner, senior adviser to the president and Trump's son in law, told Newsweek this past summer when asked if he thought the campaign could attract significantly more African American support.
Campaign officials believe the effort is worthwhile. The Center for American Progress showed that Hillary Clinton would have won Pennsylvania and Michigan—and thus, the election—had her African American support come close to Barack Obama's. Biden believes he will do better than Clinton because he was Obama's vice president for eight years. But Trump has is willing to test that proposition. "Black voters are tired of being taken for granted by the left without receiving anything in return for their support," says Katrina Pierson, senior adviser to the Trump 2020 campaign.
In a close election in key battleground states, any increase in support from a given demographic group can be significant. Trump doesn't expect to win the majority of Latino voters, for example: he just needs to cut into Biden's margin. The same calculus applies to Black voters. That's why earlier this year Trump opened campaign offices in 15 cities, including Detroit and Milwaukee, whose staffers were tasked with talking to African American voters. The Covid-19 outbreak made that difficult this spring and summer, but now, where possible, staffers are trying to connect in the final month of the campaign with voters who rarely, if ever, hear from a Republican candidate.
The pandemic did more than disrupt on-the-ground outreach for the Trump campaign. The most powerful argument the president had in attracting Black voters was the historically low unemployment rate for African Americans, pre-Covid: 5.5 per cent. That's now history. The economic fall out from Covid has particularly slammed lower-wage and working-class Americans, and that includes a lot of African Americans. The national unrest in the wake of the death of George Floyd in Minneapolis makes Trump's task even harder, Democrats believe. But the new ad campaign shows at least he's willing to try.