Donald Trump Calls Troops on Thanksgiving but Ends Up Having a Festivus Airing of Grievances
President Donald Trump made a Thanksgiving Day phone call to members of the United States military Thursday but wound up trying to score political points and vent his personal frustrations.
As is presidential tradition, Trump took time out of his Thanksgiving celebrations to speak with troops stationed around the world. Yet many of his comments would have been more fitting for a Festivus airing of grievances, in the manner of the holiday invented by the sitcom Seinfeld and since popularized by many, including Republican Senator Rand Paul.
Trump's comments came off the back of his administration being handed a defeat by the 9th Circuit Court of Appeals earlier this week when a judge temporarily struck down a ban on migrants who crossed the border illegally seeking asylum. The decision came after the president had repeatedly worked to fan the flames of fear over a caravan of Central American migrants making its way to the southern border, making unfounded claims about terrorist and criminal infiltration of the caravan.
"We're doing very well on the southern border," Trump told troops over the phone Thursday while the cameras rolled. "We're very tough. We get a lot of bad court decisions from the 9th Circuit, which has become a big thorn in our side. We always lose and then you lose again and again and then you hopefully win in the Supreme Court, which we've done."
Newsweek subscription offers >
He continued: "It's a terrible thing when judges take over your protective services, when they tell you how to protect your border. It's a disgrace.
Trump added of the migrants that "in many cases they're not good people, they're bad people. We're not letting in anybody essentially."
The Department of Homeland Security has identified 270 migrants with criminal backgrounds, out of the several thousand in the caravan, although, as Newsweek has reported, it is unclear how that determination was made. Newsweek reported Wednesday that the president had authorized the use of lethal force for military police stationed among the almost 6,000 troops stationed at the southern border.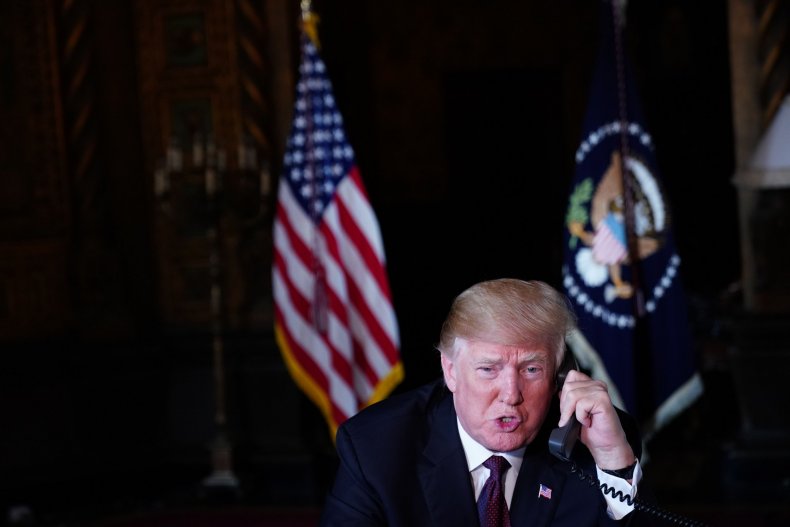 Newsweek subscription offers >
In his Thanksgiving calls, Trump didn't just venture into complaining about judges, he also lamented what he described as unfair trade deals.
"We want to have good free trade," he said to a member of the Coast Guard. "We also want to have fair deals where we can do well, too, not just everybody else. Right now every nation in the world does well with us, we don't do well with them."
Donald Trump Calls Troops on Thanksgiving but Ends Up Having a Festivus Airing of Grievances | U.S.