How Donald Trump's Truth Social Is Connected to China
Former President Donald Trump's new social media project is backed by a venture that appears to have opaque Chinese connections, new findings have shown.
Trump, who is still banned from Twitter and Facebook, announced Truth Social on Wednesday, vowing to "stand up to the tyranny of Big Tech." It's the result of a merger between Trump Media and Technology Group (TMTG) and Digital World Acquisition Group.
In a statement out of Florida, TMTG said its value would rise to $875 million, with cumulative value of up to $1.7 billion. Truth Social, which bears a passing resemblance to Twitter, is on pre-order in the Apple App Store, with a beta expected next month and a full launch next year.
On Thursday, U.S. Securities and Exchange Commission filings posted online revealed seemingly indirect connections to potential business in China. MeidasTouch News found Digital World chief executive Patrick Orlando was also listed as the CEO of China Yunhong Holdings Ltd.
The company, founded in 2019, is incorporated in the Cayman Islands—an offshore tax haven—and has its headquarters in the Chinese city of Wuhan in the country's central Hubei province.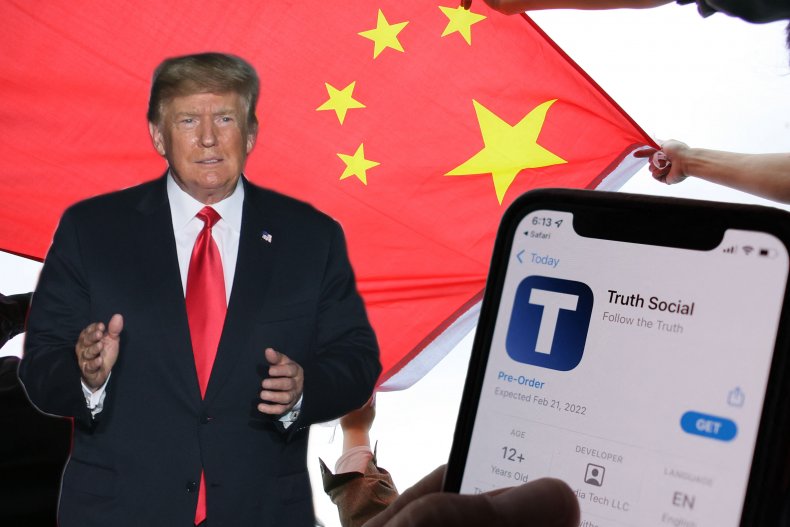 According to Chinese-language financial and investment website MoneyDJ, Yunhong is a "blank check company" created with no specific business intent other than to engage in mergers as well as securities transactions, asset acquisitions and stock purchases.
Orlando's Nasdaq-listed Digital World, based in Miami, is another such blank check firm.
It remains unclear whether Yunhong will play any part in the day-to-day operations or direction of Truth Social. The Chinese government is notorious for exerting legal and party-ideological influence over locally operating firms.
Truth Social was reportedly hacked within hours of launch on Wednesday, but the new platform promises to offer the former Republican president and his supporters a safe space for conservative viewpoints.
Trump was permanently banned from Twitter and suspended from mainstream services including YouTube, Instagram and Facebook following controversial remarks about the Capitol Riots in January as well as the results of last November's presidential election.
"We live in a world where the Taliban has a huge presence on Twitter, yet your favorite American president has been silenced. This is unacceptable," he said when announcing the new project.
TMTG also plans to launch a subscription-based video-on-demand service that will offer what it has described as "non-woke" programming. Both will offer alternatives to mainstream social media websites that are facing increasing calls to clamp down on instances of disinformation.