Donald Trump Doesn't 'See Black People as Fully Human,' CNN Guest Tells Don Lemon: 'This Is a Person Who Hates People Who Look Like Me'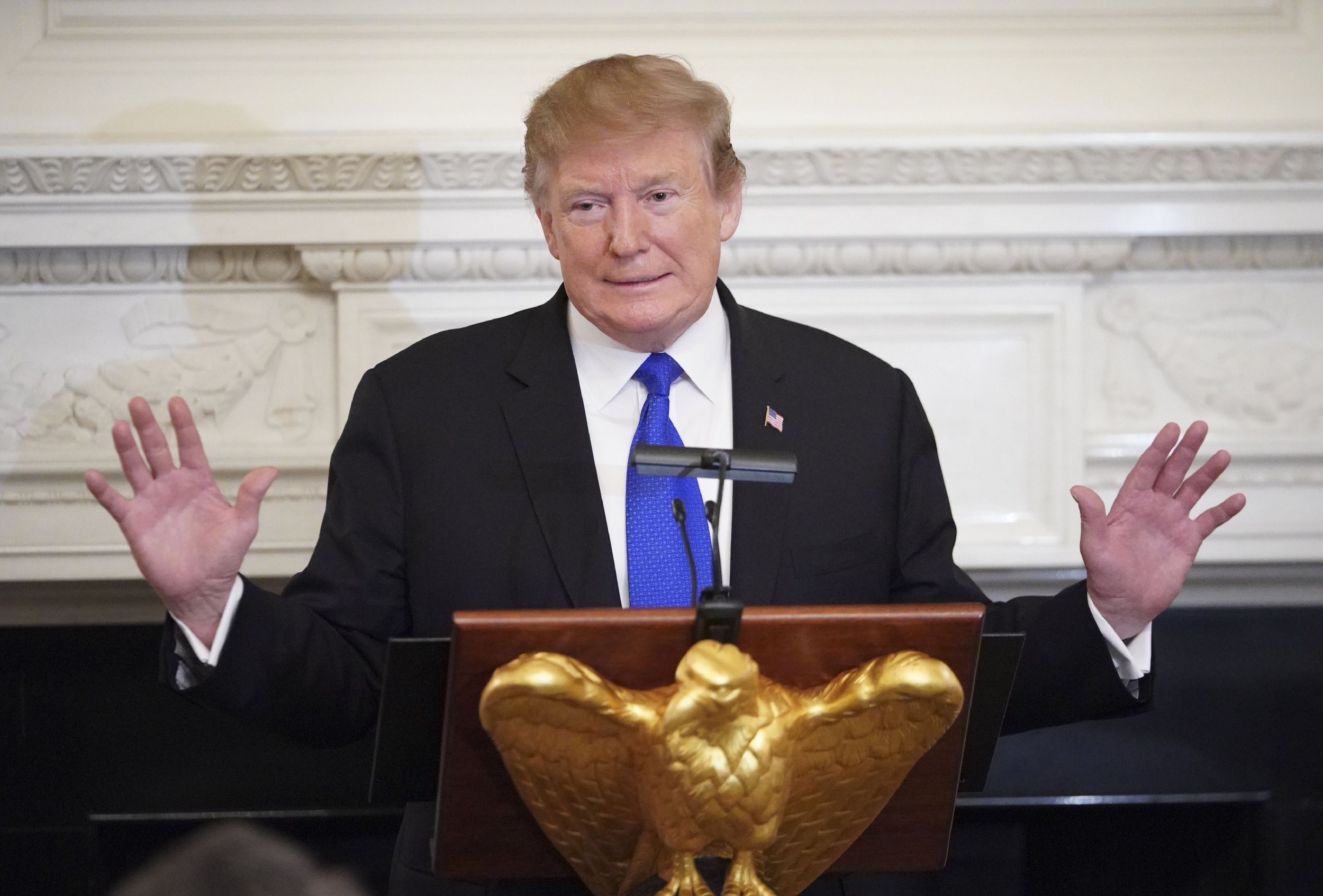 Kierna Mayo, the former editor-in-chief at Ebony Magazine, has accused President Donald Trump of being a "racist" who doesn't see black people as "fully human" following his comments about Spike Lee.
Mayo appeared on a CNN panel alongside basketball legend Kareem Abdul-Jabbar to discuss the president's tweet about the director in the wake of the latter's acceptance speech at the Oscars on February 24 with host Don Lemon.
Despite not mentioning him by name, Trump took exception to the speech Lee made after winning best adapted screenplay for BlacKkKlansman in which he reminded the audience that "the 2020 presidential election is around the corner."
"Let's all mobilize. Let's all be on the right side of history. Make the moral choice between love versus hate. Let's do the right thing," Lee said.
In a tweet the morning after the ceremony, Trump accused Lee of carrying out a "racist hit" against him.
"Be nice if Spike Lee could read his notes, or better yet not have to use notes at all, when doing his racist hit on your President, who has done more for African Americans (Criminal Justice Reform, Lowest Unemployment numbers in History, Tax Cuts,etc.) than almost any other Pres," Trump tweeted.
Discussing the speech with Lemon, Mayo described her surprise at Lee's remarks, but only because she felt he was actually "tucking it in" and the director's attacks are normally phrased "a little more clearly than that."
In response to Trump's follow-up tweet, Mayo added: "This is a president who knows he's on the wrong side of history," reported Mediate. "So you've hit the dog. In other words, he's barking because he knows that he exemplifies all that Spike and his courageous film are really standing against."
Lemon then asks Mayo if Trump "believes he's somehow solved racism and this is the best time ever for African-Americans" by repeatedly citing historically low black unemployment rates which have occured during his presidency.
"I don't really think the president sees black people as fully human," Mayo replied. "I don't think he sees us as having agency, intelligence, as noted by his comment about Spike, you know he [Trump] wishes he could read."
Mayo added: "I think most African Americans are offended by the president's language.
"Every night, every clip, leaves most African Americans feeling 'this is a person who actively hates me, this is a person who hates people who looks like me.'
"Despite these individual one-off wins, the legacy of Donald Trump and the future of Donald Trump is one and the same. He is racist."
Elsewhere in the segment, Lemon asked Abdul-Jabbar what would make Trump think Lee's speech calling for "love over hate" was a racist attack against him.
"I think he sees enemies everywhere he looks," Abdul-Jabbar replied.
Lee also criticized Trump backstage at the Academy Awards for failing to fully denounce the "Klan, alt-right and neo-Nazis" who took part in the 2017 rally in Charlottesville, Virginia.
Actual footage of the "Unite the Right" rally, in which activist Heather Heyer was killed when white supremacist James Alex Fields Jr. drove into a crowd of protesters, was used in the end of end of BlacKkKlansman.
"This film, whether we won best picture or not, this film will stand the test of time being on the right side of history," Lee said.