Donald Trump's Twitter use this month surged by over 100 percent compared to the same two-week period leading into the 2016 election against Hillary Clinton.
A tally of the president's social media channels, including Twitter activity and Facebook status updates, shows he has increased the frequency of posts throughout this year. And the trend became more apparent in the run-up to the next presidential election on November 3, when he is pitted against Democratic nominee Joe Biden.
Between Monday 28 September and Sunday 11 October this year, leaving roughly three weeks (23 days) to the polls opening on November 3 election, Trump's Twitter account was used 509 times—a figure that includes his personal posts and retweets.
In the same two-week period leading up to the November 8 2016 election—Monday 3 to Sunday 16—Trump's Twitter account was active 238 times, with the tally suggesting that posting this year increased by 114 percent.
On a wider timescale—between January 1 and October 1 2016—Trump shared a total of 3,363 tweets. During the same period this year, that number increased to 9,260, which suggests an increase of over 175 percent based on that ten month span.
The figures were compiled using databases maintaining records of the president's social media use, including Factba.se and the Trump Twitter Archive.
"The major difference between now and 2016 is Trump is tweeting significantly more often than he did in 2016," Angelo Carusone, CEO of Media Matters for America, a left-leaning media watchdog, told Newsweek via email when asked about the trend.
"From the beginning of 2016 until the middle of October 2016, Trump sent over 3,637 tweets; during the same period in 2020, Trump tweeted 10,017 times.
"Overall it's similar in tone and approach, just a lot more of it. The need to push it more intensely could be interpreted that Trump is leaning into a tactic that works. But looking at the tweets and the effect on the larger information, the increased volume is actually more reflective that his tweets are yielding diminishing returns and so he feels the need to send more to try and achieve [the] same effect that previously worked for him."
Trump has amassed a vast following across social media, with 87.3 million followers on Twitter and at least 30 million more on Facebook, which his political campaign has used to launch a series of aggressive advertising blasts targeting his Democratic rival.
And broadly echoing the pattern on his Twitter profile, a tally of Trump's Facebook posts covering the same two-week October period in 2016 and 2020 suggests his activity on the Mark Zuckerberg-led platform has surged by approximately 50 percent, rising from 166 Facebook status updates in 2016 to a total of 248 status updates in 2020.
The Facebook review was aided by a dataset of scraped statuses from Trump's account published online by Max Woolf, a data scientist at BuzzFeed.
A basic tally lacks context, and fails to show how the president's updates are shaped by talking points of the day. He is known as a ferocious tweeter, frequently using his mass following to lash out at political opponents and mainstream media coverage.
But the tally does reflect how Trump's social posting can swing heavily from day-to-day, hitting a low of three tweets on October 2 in the wake of his positive coronavirus test. On October 7, the president's Twitter account sprang to life, posting 83 times. The day prior, he had tweeted more than 40 times in the space of two hours.
As the election draws near this year, the tally suggests the president's activity increased further. He tweeted 100 times or more on both October 12 and October 13, aligning with a campaign rally that was spearheaded by the Trump in Sanford, Florida.
Some who see Trump's headline-grabbing updates on a daily basis say that while post frequency may have significantly increased, the tone is unchanged. "The tweetstorms have become more and more frequent and erratic as we get closer to the election," said Andrew Lazar, who is running an experiment called SuspendThePres, which involves accounts that mirror Trump's posts to test Twitter and Facebook's enforcement.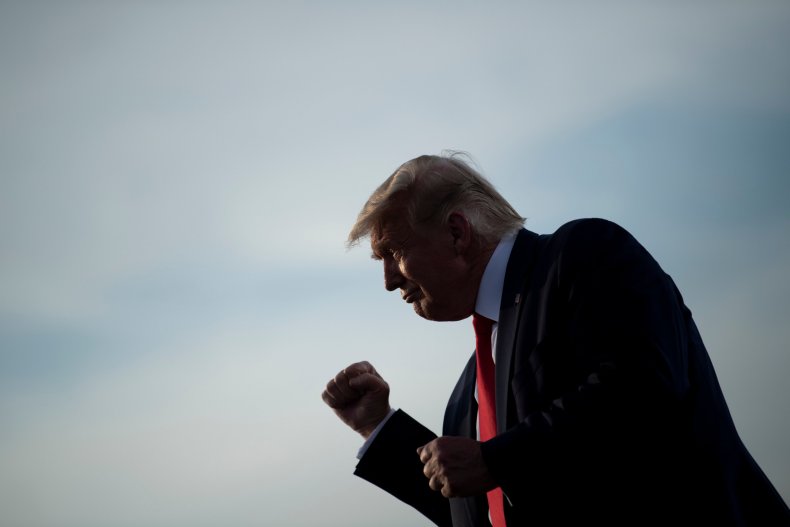 Lazar, who until now has kept his identity a secret, told Newsweek that the president's general campaigning style this year appeared to be "more of the same" from 2016 but the dangerous nature of the content had escalated in recent months.
"[Trump's] taken fringe ideas and conspiracies and placed them into a national spotlight, breathing life into false and dangerous narratives," Lazar said, referencing his spread of conspiracy theory QAnon and misinformation about mail-in election voting.
"With the drop of a tweet the president could have helped ensure a universal adoption rate for wearing masks but instead he flouted science and expert recommendations.
"While his tone hasn't changed much from the days where he was pushing birther conspiracies, his messaging has shifted to something more dangerous. It feels like more of the same from 2016. Same attacks on the media if it doesn't agree with him, same diversionary tactics, same divide and conquer messaging, same false narratives."
The Trump 2020 campaign did not immediately respond to a request for comment sent by Newsweek asking if its social media strategy had changed since 2016.
The following graphic, provided by Statista, details how President Trump's Twitter use has increased between 2016 and 2020, based on the number of posts per month: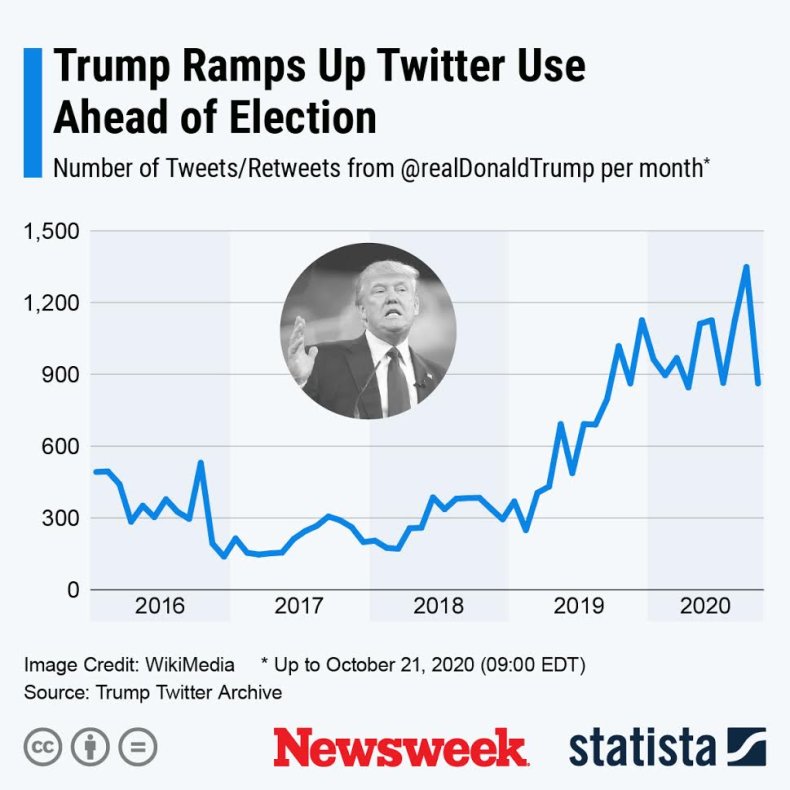 This year, both Facebook and Twitter have pledged to clamp down on the spreading of election misinformation, propaganda efforts and political influence attempts.
Twitter's integrity policy states that users cannot use the platform "for the purpose of manipulating or interfering in elections," while Facebook's billionaire boss recently said his site would add labels to misleading election claims, reduce the spread of militias or conspiracy networks and block political ads in the final week of campaigning.
Does the action mean the Trump campaign will have found itself more restricted than it did in 2016? Carusone told Newsweek that was "certainly the case."
"The campaign would have a much more difficult time running the kind of ads designed to suppress or neutralize participation of potential Democratic voters as they did in 2016," he said. "Additionally, it would be a greater challenge to make official claims or run ads that undermine the results or the integrity of the election. Lastly, the platforms have both been more vigilant about sniffing out and removing bot accounts.
"On the other hand Trump and the larger right-wing echo chamber's capacity to saturate the landscape with misinformation is as vigorous as ever. Almost every day, without fail, the right-wing's share of voice exceeds more than the news and left-leaning pages combined. Put another way, the right-wing is bigger and louder than ever on Facebook. And, much of the top trafficked content is riddled with misinformation."
Indeed, a daily ranking of the 10 top-performing link posts by U.S. Facebook pages by New York Times columnist Kevin Roose consistently shows the list being dominated by a handful of conservative news outlets or personalities, frequently including Fox News, Dan Bongino, Franklin Graham, Breitbart, Ben Shapiro and Donald J. Trump.
"The platforms are less vulnerable to the tactics that we saw in 2016 yet they remain ill-equipped to both identify and respond to camouflaged misinformation efforts that have come to define the latter portion of the 2020 [Trump] campaign," Carusone said.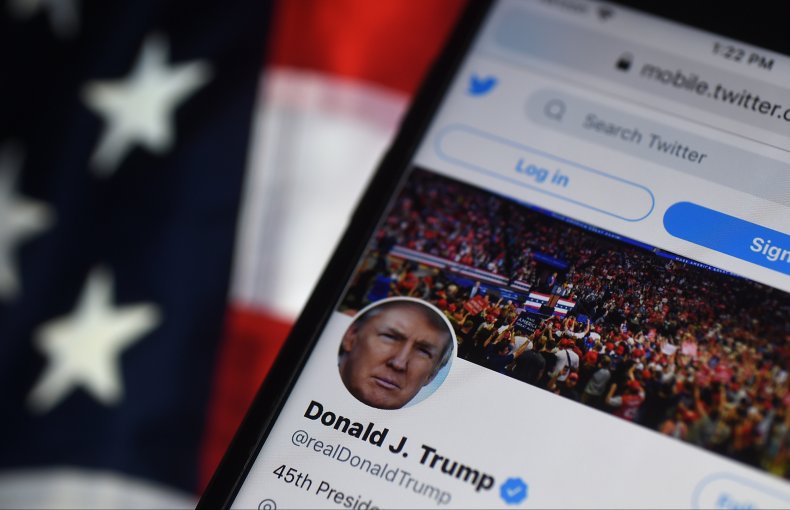 Update 10/21/20, 10:30 a.m. ET: This article was updated to include an infographic.