Donald Trump's Strategy to Walk, Not Talk, Is Making Life Difficult for Both Koreas
President Donald Trump walked away early from his second bilateral summit with North Korea earlier this year and now his administration has pulled a similar tactic on longtime U.S. ally South Korea, potentially setting a difficult tone for diplomatic moves in the region moving forward.
Amid reports that the Trump administration was asking for some $5 billion from South Korea as contribution for the U.S. military's deployment there, the two sides came together in Seoul in hopes of extending their Cold War-era partnership. After less than two hours, however, senior State Department negotiator James DeHart announced an end to the negotiations, telling reporters, "Unfortunately, the proposals that were put forward by the Korean team were not responsive to our request for fair and equitable burden-sharing."
His South Korean counterpart, Jeong Eun-bo, concurred that "there is a significant difference between the overall proposal from the United States and our position in principle," at a Foreign Ministry briefing, leaving the two sides at a rare impasse as experts discussed the ramifications of an especially hard-line U.S. approach toward South Korean President Moon Jae-in's administration.
"Seoul had made clear that it considers a $5 billion figure to be too high," Ramon Pacheco Pardo, KF-VUB Korea Chair at the Institute for European Studies in Brussels and Reader of International Relations at King's College London, told Newsweek. "The fact that this was the initial proposal from Washington in the formal negotiation process anyway suggests that the Trump administration will play hardball."
"It also suggests that Washington is sending a message to other U.S. allies hosting American troops, most notably Japan," he added. "On the South Korean side, the Moon government is in no mood to compromise on this matter. Thus why it has gone public in showing its displeasure with the U.S. side."
Mark P. Barry, a veteran U.S.-Korea observer who serves as associate editor at the International Journal of World Peace and founded the Asia Pacific Peace Institute, told Newsweek he saw "this demand for a five-fold increase as a veiled threat to pull out the requisite number of U.S. troops that the Trump administration believes the ROK cannot afford," using an acronym for South Korea's official name.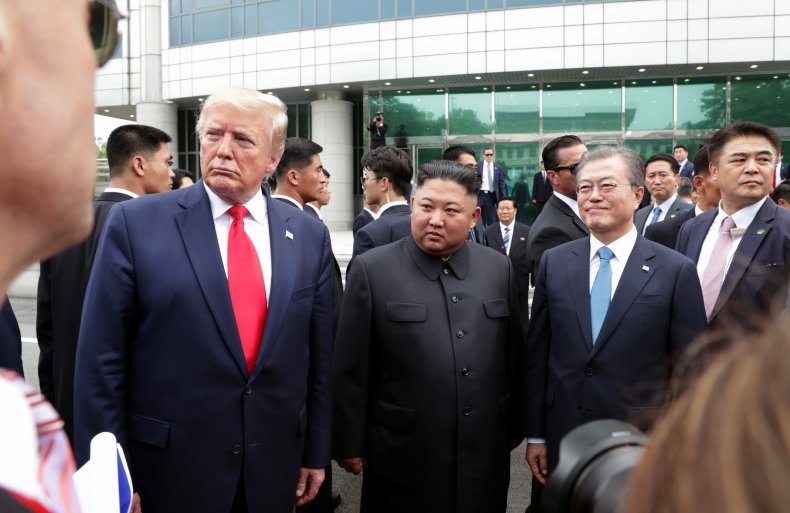 The Washington delegation's walk-out method was previously used in February following a breakdown of talks with Seoul's rival neighbor, Pyongyang. Decades after the U.S. and South Korea teamed up to face off with North Korea and its fellow communist allies China and the Soviet Union, the two were seeking peace with the now-nuclear-armed state ruled by the Kim dynasty, hoping to shutter their old foe's weapons of mass destruction program in exchange for security and sanctions relief.
Trump became the first sitting U.S. leader to meet a North Korean ruler last year, sitting down with young supreme leader Kim Jong Un at a Singapore summit in June. The historic meeting set off a peace process whose momentum, despite goodwill gestures on both sides, slowed in the following months and led to a second meeting in the Vietnamese capital of Hanoi.
Observers had high hopes for a potential peace-for-denuclearization deal, or at least solid steps to toward that end. Instead, the Trump administration abruptly exited the talks ahead of schedule.
"At the time it seemed wise for the U.S. to walk off the table if it wanted to show resolve to North Korea. However, in the months since the U.S. has indicated that it is willing to scale down its demands regarding denuclearization while offering more in return, in the form of sanctions exemptions or even relief," Pacheco Pardo told Newsweek. "It is thus difficult to read the U.S. position, other than that the Hanoi offer was not the final one."
"From this perspective, it would have made sense to have more detailed discussions in Hanoi, the DMZ and, especially, Stockholm," he added, referring to a third summit at the Demilitarized Zone in July and working-level talks in Sweden, neither of which produced any deals.
Barry told Newsweek that "Trump canceling the Hanoi summit, even the lunch with Kim on Feb. 28, was tragic."
"Trump's sending Kim home for a 60-hour train ride from Hanoi caused an enormous loss of face for Kim, which the U.S. greatly underappreciates," he added. "Kim would not tolerate that treatment from any leader he regarded as a peer, but he knows that with Trump and [Chinese President] Xi [Jinping], he has to endure potential embarrassment."
"Kim was sent home empty-handed, unable to meet with President Xi and then had to face domestic opposition at home. Trump wanted a 'big deal' or 'no deal' especially after the Michael Cohen testimony," he added, referring to Trump's former lawyer who accused the president of wrongdoing in front of a House Oversight and Reform Committee that consumed U.S. media attention around this same time in late February.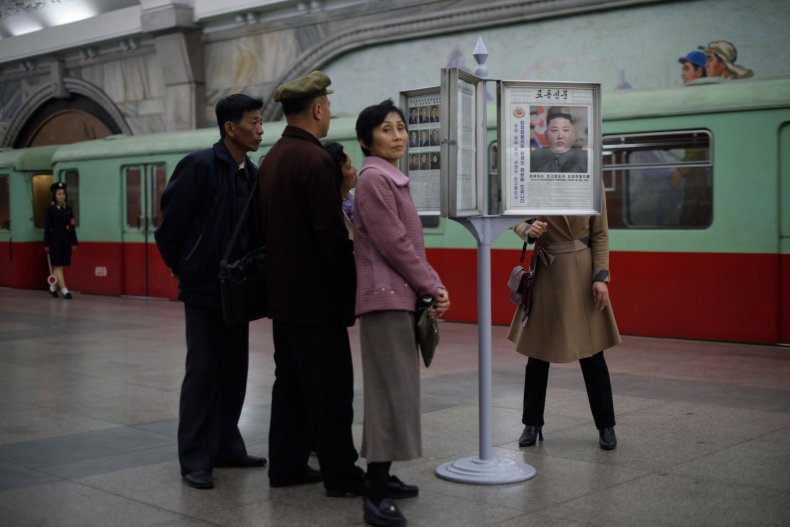 Barry said the success of the follow-up summit at the inter-Korean border "was contingent on implementing viable working-level talks quickly," but "this did not happen, and even after Stockholm, the U.S. still shows an unwillingness to meaningfully remove sanctions in a simultaneous manner with North Korean concessions."
Moon, who was also present at Trump's latest meeting with Kim at the border, has had to deal with the fallout of the Washington-Pyongyang dialogue stalling as well. The South Korean leader has pushed to accelerate diplomatic and economic relations with a country with which he was still technically at war, but a lack of results from the U.S. and North Korea's successive meeting has left his hands tied.
Kim applied further pressure with a months-long series of short-range missile launches and a medium-range submarine-launched ballistic missile test, all conducted in response to ongoing U.S.-South Korea exercises North Korea has long condemned. Defense Secretary Mark Esper announced Sunday that the Pentagon was suspending upcoming joint air drills as "an act of goodwill," but was met with a cool response.
"The U.S. tries to make a good impression as if it contributes to peace and stability on the Korean peninsula, describing the suspension as 'consideration for and concession' to someone. But, we demand that the U.S. quit the drill or stop it once and for all," Kim Yong Chol, chairman of Pyongyang's Korea Asia-Pacific Peace Committee, said Monday, according to the Korean Central News Agency. "The suspension of the drill does not mean ensuring peace and security on the Korean peninsula and is not helpful to the diplomatic efforts for the settlement of issues."
While South Korea's response has not nearly been as harsh as its northern neighbor, the Trump administration's insistence on forcing Seoul to pay more has already run afoul of the overwhelming majority of the country's citizens. A survey published last week by the state-sponsored Korea Institute for National Unification showed that 96 percent of South Koreans were opposed to raising the cost of U.S. defense.
Seoul was also not completely immune to the pressures of a more multipolar Asia. South Korea and China, once bitter enemies, signed an agreement to shore up defense ties at the sidelines of an Association of Southeast Asian Nations (ASEAN) gathering a day before talks with the U.S., which is locked in a global trade war with the People's Republic.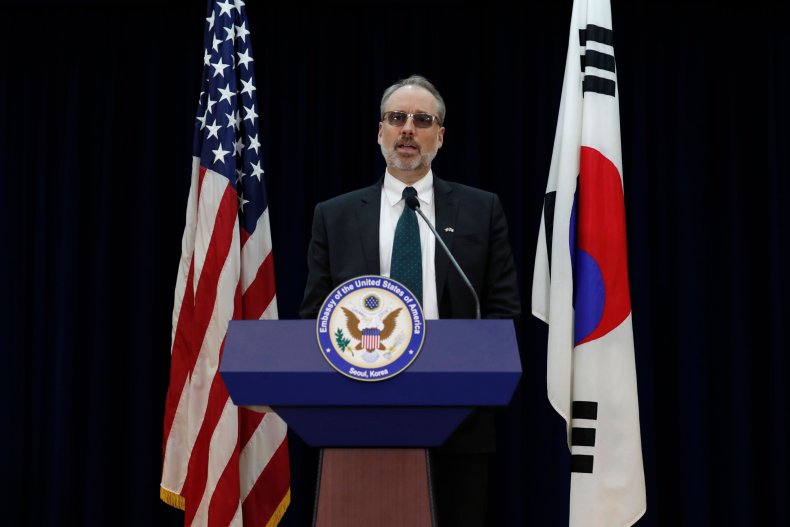 As Seoul warmed up to Beijing, however, it seemed to grow further from fellow Washington friend Tokyo as a dispute over Japan's World War II-era treatment of Korean workers under occupation devolved into an economic dispute involving modern-day Japanese companies in South Korea. Tokyo later lowered the export control rating of Seoul, compelling it to announce it would not renew the General Security of Military Intelligence Agreement (GSOMIA) intel-sharing pact, set to expire this upcoming weekend.
One Japanese Foreign Ministry recently told Newsweek this was "one of the worst phases" in the country's relations with South Korea, normalized in 1965.
North Korea, from the sidelines, has only encouraged South Korea's declining ties to Japan, the one member of the former Six-Party Talks with which Kim has not held a top-level meeting. Both Pacheco Pardo and Barry agreed that South Korea is unlikely to budge on GSOMIA unless Tokyo lifts trade restrictions.
In dealing with South Korea and Japan, two countries who have long managed to overcome their troubled past to maintain robust ties with the U.S., Pacheco Pardo said that "it would be wise for the U.S. to consider how it can build on this reality to strengthen diplomatic, security and intelligence cooperation."
"At the same time, however, the U.S. will have to learn that both countries neighbor China so they cannot afford to have an antagonistic relationship with Beijing," he added. "Therefore, they won't always support U.S. policies Washington also needs to understand that becoming too demanding can create rifts and mistrust. The case of the current defense cost-sharing negotiations illustrates this."