Donald Trump's Endorsements Met With Mixed Reaction From GOP Voters
Former President Donald Trump's endorsement in Ohio appears to have given GOP Senate candidate J.D. Vance a boost, while his endorsements in Pennsylvania and Georgia seem to have faltered or have had minimal impact.
Trump has received backlash from Republicans in Ohio, Pennsylvania and Georgia over his endorsements there.
Critics slammed his recent endorsement of Vance while also taking issue with his support for Republican Senate hopeful Mehmet Oz, a prominent television personality and physician in Pennsylvania.
In Georgia, Trump's gubernatorial endorsement appears to be due to a grudge against incumbent GOP Governor Brian Kemp, who declined to help Trump in his failed effort to overturn President Joe Biden's election victory in the state.
Recent polls show mixed results for candidates endorsed by the former president.
A Fox News survey released Tuesday showed that Vance, the author of Hillbilly Elegy, has surged from just 11 percent support among Ohio's GOP voters in March to 23 percent in April after Trump's endorsement. Vance's top opponent, former state Treasurer Josh Mandel, saw this support decline from 20 percent last month to 18 percent in the latest polling.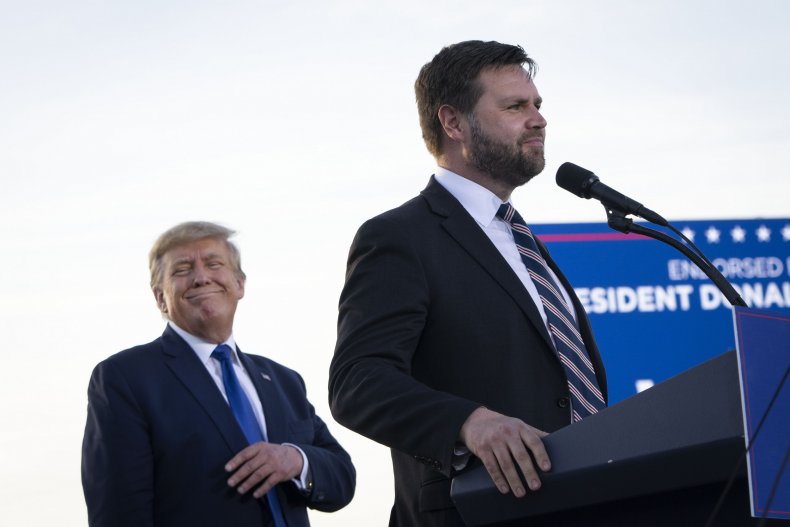 The poll was conducted from April 20 to 24 and has a margin of error of plus or minus 3 percentage points.
In Pennsylvania, polling released by Monmouth University shows Oz with a narrow lead in the GOP primary field. Meanwhile, the Trump-backed candidate also has the highest negatives in the race.
Oz, with 20 percent, investment consultant David McCormick, with 16 percent, and political commentator Kathy Barnette, with 12 percent, are the only GOP contenders with double-digit support. But McCormick, whom many more establishment Republicans in Pennsylvania support, has better favorability than Oz.
The new polling shows that McCormick is viewed favorably by 51 percent of Pennsylvania's Republicans, while just 15 percent view him unfavorably. Comparatively, 48 percent hold a favorable view of Oz and some 37 percent hold an unfavorable view.
The poll was conducted from April 20 to 25 and the margin of error was 4.9 percentage points.
"This is the kind of environment [in Pennsylvania] where a number of candidates could emerge as the nominee. Oz has the highest name recognition but also the highest negatives," Patrick Murray, director of the independent Monmouth University Polling Institute, said in a write-up about the survey results.
"Even Trump's endorsement has not brought clarity to the field."
In Georgia, Kemp, whom Trump has repeatedly criticized since the 2020 election, leads former Senator David Perdue, whom the former president endorsed, by a wide margin. More than half (53.3 percent) of likely GOP primary voters planned to vote for Kemp and only 26.8 percent backed Perdue, according to new polling by The Atlanta Journal-Constitution and University of Georgia's School of Public and International Affairs Survey Research Center.
The poll was conducted from April 10 to 22 and had a margin of error of plus or minus 3.3 percentage points.
A March poll conducted by Fox News showed Kemp with a smaller double-digit lead over Perdue. That survey had the incumbent Republican at 50 percent, while the former senator stood at 39 percent. The poll, carried out from March 2 to 6, had a margin of error of plus or minus 3 percentage points.
Whether Trump's endorsements carry the day remain to be seen. An analysis by Ballotpedia showed that Trump-backed candidates had a 77 percent success rate in 2020, up from 58 percent in 2018.
Ohio's primary is up first, scheduled for May 3. Pennsylvania's will take place on May 17 and Georgia's on May 24.