Donald Trump's Kids Appear to Favor Twitter Over Dad's Truth Social
Donald Trump's new media platform Truth Social has been taking heat for having an unusually slow launch and failing to attract some high-profile conservatives – and even some of the former president's own children appear to still favor rival Twitter.
Trump launched Truth Social on February 21 in an effort to "stand up to the tyranny of big tech," after he was banned from Twitter, Facebook and YouTube for his comments related to the January 6, 2021, riot at the U.S. capitol.
Since then, the app, which ironically has an interface that closely resembles Twitter, has been beset with problems. For the past six weeks, users have complained about bots and errors on the platform or being put onto waitlists with hundreds of thousands of other people.
Newsweek attempted to create a new account on Monday and was put on the waitlist in spot number 1,390,560.
Meanwhile, Trump's own family members don't appear to be overly enthusiastic about the platform. It wasn't until last week that Trump's eldest son, Donald Trump Jr., even joined the app. While Trump Jr., has been relatively active since then, posting 36 times since March 28, he still maintains a heavy presence on Twitter.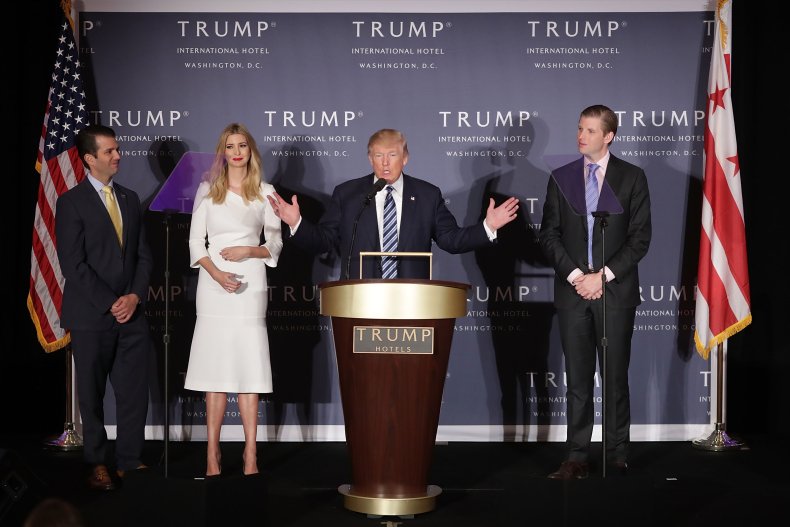 The former president's other politically active son, Eric Trump, joined Truth Social on February 20 but has only written eight "truths" since then. In that same time period, Eric Trump has used Twitter nearly twice as much, retweeting or tweeting at least 14 times, Newsweek has found.
Trump's two daughters, Tiffany and Ivanka, don't even have verified accounts on Truth Social. Tiffany is not as active on social media in general, but Ivanka maintains a regular presence on Twitter – showing that yet another Trump child appears to favor her dad's rival.
Trump himself has only used the app once since its launch. More than a month ago, the former president posted: "Get Ready! Your favorite President will see you soon!," and has been quiet ever since. As of Monday, Trump has 836,000 followers on Truth Social, compared to over 15 million followers that he had on Twitter during his presidency.
Other conservative voices that have been notably absent from Truth Social include Fox News host Tucker Carlson and conservative commentator Ben Shapiro, who have each railed against big tech "censorship" on mainstream social media sites.
Fox News in general does not appear to have an official presence on the app, and neither do other media organizations, such as CNN, NBC, ABC, The New York Times, and The Wall Street Journal.
Downloads of Truth Social have recently dropped to just ​​60,000 per week in Apple's App Store, according to mobile analytics firm Sensor Tower. That marks a 93 percent decrease from the 872,000 downloads it had during the week it launched.
Digital World Acquisition Corp, the acquisition company that merged with Trump Media & Technology Group (TMTG) ahead of Truth Social's launch has also lost 31 percent of its value since shares soared late in February, Bloomberg News reported. And on Monday, Reuters reported that two of Truth Social's key tech executives quit the app due to its rocky launch.
Newsweek contacted TMTG for comment but did not hear back in time for publication.