DoorDash Application Asking Applicant's Sexual Orientation Causes Stir
A screenshot of a DoorDash application went viral online after asking for the applicant's sexual orientation and pronouns.
The picture of the application, posted on Reddit by u/TheMonsher, received more than 61,000 upvotes and 5,700 comments. The post can be found here.
In the post titled "DoorDash is asking for my sexual orientation for a job application," u/TheMonsher shared a photo of the application, which had a drop-down menu for pronouns and sexual orientation.
However, a spokesperson with DoorDash told Newsweek that the image cuts off a bolded message stating that applicants can choose "I don't wish to answer" for any of the questions.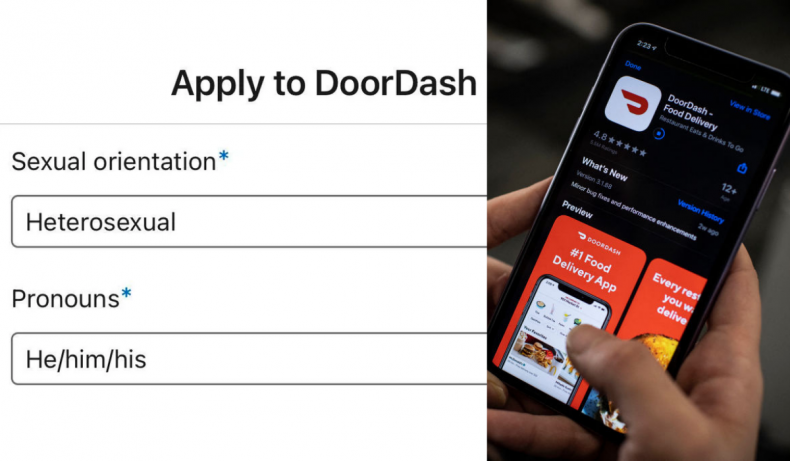 "All information collected is kept confidential and your data is never aggregated with other candidates and used only for statistical purposes," the statement above the questions reads.
According to a poll published in February by Gallup, the percentage of American adults identifying as other than heterosexual has doubled since 2012.
The poll also found that Americans are "increasingly embracing the LGBTQ label."
Gallup reported that nearly one in 10 millennials and one in five members of Generation Z identify as LGBT.
u/TheMonsher told Newsweek that he applied for a position at DoorDash through LinkedIn and was uncomfortable when he read the question on the application.
"Everything I put on a job application should be information for the employer to determine if my background and accomplishments fit their company goals," he told Newsweek. "I don't understand how sexual orientation could determine the quality of my work."
He said he did submit the application, but is nervous the information could potentially affect the hiring process. u/TheMonsher added that this was his first time seeing a job application ask about sexual orientation.
"If they want to have the statistics of their employees' sexual orientation they should do it anonymously after being hired," he said. "It should definitely not be in the first 10 questions of a job application."
But a spokesperson for DoorDash told Newsweek that the questions are there to provide information about recruiting efforts and sourcing and to "inform diversity and inclusion initiatives."
"We strive to create a culture of belonging at DoorDash, and are always working to ensure that diverse identities and perspectives are being valued and represented here," a spokesperson said.
The spokesperson added that in 2020, the company expanded the options available for answers, including sexual orientation, gender, pronouns, race, and ethnicity.
"In going beyond the EEOC's [Equal Employment Opportunity Commission] default options, our goal is to ensure that people can choose the identification that they feel best represents them, if they feel comfortable doing so," the spokesperson said. "While we encourage applicants to share personal demographic data if they are comfortable, all applicants have the option to select 'I don't wish to answer' for all questions."
More than 5,700 users commented on the Reddit post, many questioning why the question was on the application and others mentioning that if someone has an issue they can select "prefer not to answer."
"I always pick 'prefer not to say' so the algorithms imagination can run wild," one user commented.
"My wife is in HR. This is a normal question. If you prefer not to answer; just pick 'prefer not to say' or something like that. It's used for statistics and hiring optics. This applies to gender and race as well."
"This is on most job applications in the uk in my experience," another wrote.
"I mean, it's demographic information, and 90% of the time you can answer with choosing not to disclose it," another user commented. "It's really not that different from asking about race, they just want to fill quotas so they aren't accused of prejudice in their hiring practices."
Other individuals have come under fire for openly discussing sexuality and sexual identities.
In Florida, an art teacher was fired for allegedly speaking to students about her sexuality. The middle school teacher told her students she was pansexual and her termination caused heavy debate online.
One man was branded "selfish" online after his sister claimed he came out as gay during her wedding.