Dortmund Bus Attack: 'Islamist' Suspect Arrested as Letter Points to Possible 'Terrorist Link'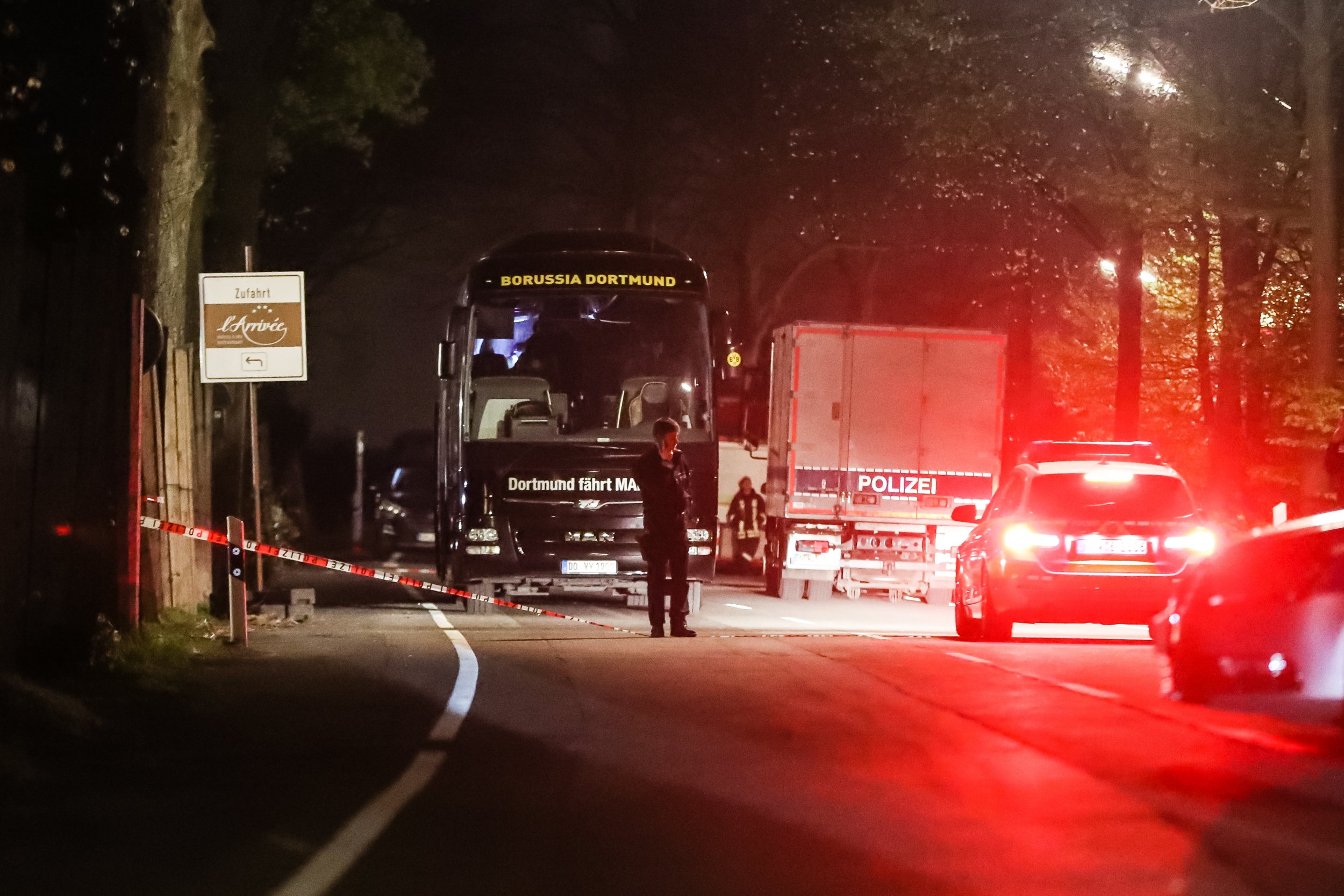 German authorities have arrested an "Islamist" suspect in connection with three bomb blasts that targeted the team bus of Borussia Dortmund ahead of a Champions League match, the country's federal public prosecutor said Wednesday.
Lead prosecutor Frauke Koehle, speaking during a press conference, said a letter found at the scene of the blasts on Tuesday seemed to support an Islamist motive and they were now investigating a "terrorist link" in the blasts.
"Two suspects from the Islamist spectrum have become the focus of our investigation. Both of their apartments were searched, and one of the two has been detained," Koehle said.
The attack shattered the windows of the team bus on one side, fracturing the wrist of Borussia defender and Spanish international Marc Bartra. But it did not harm any other players who were led to safety by the security services.
Koehle said investigators have "serious doubts" about the possibility of a left-wing motive for the attack, which they were also probing, according to German media reports. Authorities said the letter appeared to be written by the attacker, but did not provide further details. No group has claimed responsibility for the attack.
In reaction to the blasts, authorities rescheduled the Champions League quarter-final match with AS Monaco to Wednesday evening.
Read more: Borussia Dortmund bus attack in pictures
Germany remains on heightened alert after a series of attacks claimed by the Islamic State militant group (ISIS) in the past year. ISIS sympathizers carried out an ax attack on a train near Wuerzburg and a suicide bombing near a music festival in Ansbach, both took place in the southern region of Bavaria in the month of July last year. Both attackers were killed.
The deadliest was the Berlin truck attack, which killed 12 people in December. Tunisian national Anis Amri drove a hijacked truck into a Christmas market at the center of the German capital. ISIS later claimed responsibility and released a pre-recorded video of Amri pledging allegiance to ISIS leader Abu Bakr al-Baghdadi on a Berlin bridge.