Double Lung Transplant Working 6 Months Later for Man With Terminal Cancer
A 54-year-old man with terminal lung cancer successfully underwent a double lung transplant, a sign of hope for others suffering from the illness.
Albert Khoury, who is not a smoker, received the transplant in September and is doing well six months later. His body currently bears no signs of lung cancer, France 24 reported.
The use of a lung transplant as a treatment for lung cancer is extremely rare, but Khoury's story shows the potential success of the uncommon practice. Lung cancer is the top cause of cancer-related mortalities in the United States, accounting for nearly 25 percent of all cancer deaths, according to Northwestern Medicine.
Ankit Bharat, chief of thoracic surgery at Northwestern Medicine in Chicago, where Khoury underwent the transplant, said in a statement that a lung transplant is "considered a complete 'no-no'" for patients with stage 4 cancer. Bharat added that because Khoury's cancer was confined to his chest "we were confident we could clear all the cancer during surgery and save his life."
The operation took seven hours, according to France 24.
Khoury received his diagnosis at the start of the COVID-19 pandemic, according to a Northwestern Medicine news release. He initially thought that he had contracted the coronavirus when he began experiencing back pain, sneezing, chills and other symptoms but decided to speak with his doctor after he started coughing up blood.
"They discovered stage 1 lung cancer, but due to the COVID-19 surge, I couldn't begin treatment right away. By July 2020, my cancer grew to stage 2 and after several chemotherapy treatments, it kept growing to stage 3 and 4," Khoury said.
He said that doctors at other health systems told him that he had no chance for survival, but his sister encouraged him to make an appointment at Northwestern Medicine.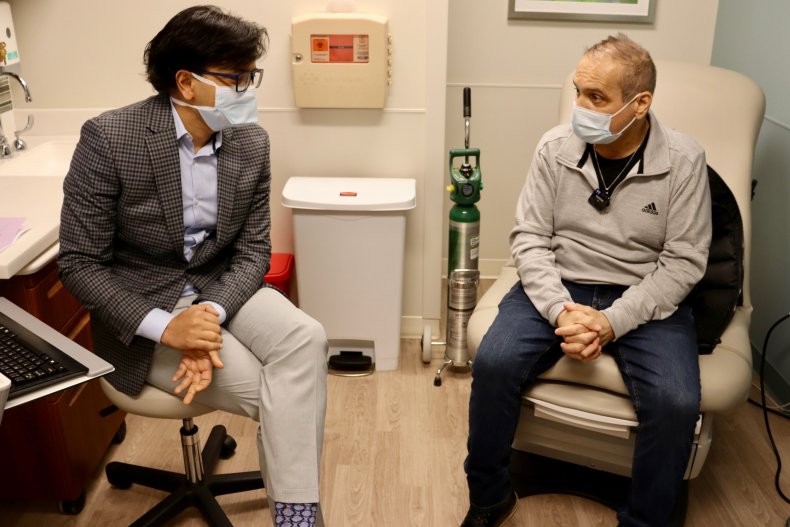 Dr. Young Chae, a medical oncologist with Lurie Cancer Center at Northwestern Medicine, initially wanted to explore alternative treatment options instead of a lung transplant. Before Khoury's surgery, Northwestern Medicine had not performed any lung transplants on lung cancer patients at the hospital, the release said.
But as Khoury's condition continued to worsen, putting him in the intensive care unit on a ventilator with pneumonia and sepsis, Chae said that he began to wonder whether a lung transplant was Khoury's best option.
He explained Khoury's situation to Bharat, and a subsequent evaluation determined that he was eligible for a transplant.
The operation took place on September 25 after Khoury waited for two weeks on the transplant list. The operating surgeons had to be extremely careful to prevent trillions of cancer cells from his original set of lungs from entering his bloodstream and chest cavity, according to the release.
"One of the biggest fears of performing a transplant on anyone who has cancer is the risk of recurrence after the transplant," Bharat said. "All transplant patients require medications to control their immune system, which has an immune-suppressive effect. The concern is that if you suppress someone's immune system and they have lingering cancer cells in the body, those will flare up very quickly."
Chae said that the team was "thrilled" with Khoury's progress half a year after the operation. Bharat and Chae are now creating a new set of lung cancer treatment protocols at Northwestern Medicine, the release said.
Update 03/24/22, 2 p.m. ET: This article was updated with additional information.
Update 03/24/22, 1:10 p.m. ET: This article was updated with additional information and background.