'Downton Abbey' Movie Hailed as 'Julian Fellowes' Avengers' in Charming First Reviews
The bells are ringing at Downton Abbey as the Grantham family is paid a royal visit in the upcoming movie follow-up to the hit British TV series that warmed hearts around the world.
The movie sequel to screenwriter Julian Fellowes' series, which aired between 2010 and 2015, is set to hit U.K. cinemas Friday, and a week later in the U.S. Reviews for the film suggest that the franchise has lost none of its charm in the transition from small screen to big screen.
Downton Abbey—written by Fellowes and directed by Michael Engler—has so far achieved an 81 percent fresh rating on Rotten Tomatoes, faring better than even some of the summer's biggest blockbusters (including Disney's Aladdin and The Lion King.)
TheWrap's Dave White said "this is Julian Fellowes' Avengers; they can assemble over and over, and there will always be enough tea cakes go around."
BBC.com's Caryn James in their review said: "The film is delightful fun, even though the plot is obvious almost to the point of stupidity, and there are few surprises for the well-known characters, some of whom are handed unnecessary subplots to give everyone some screen time."
Downton Abbey picks up after the events of Season 6 and is set in 1927 as the Grantham family prepare for a royal visit from King George V and Queen Mary (grandparents of reigning Queen Elizabeth.)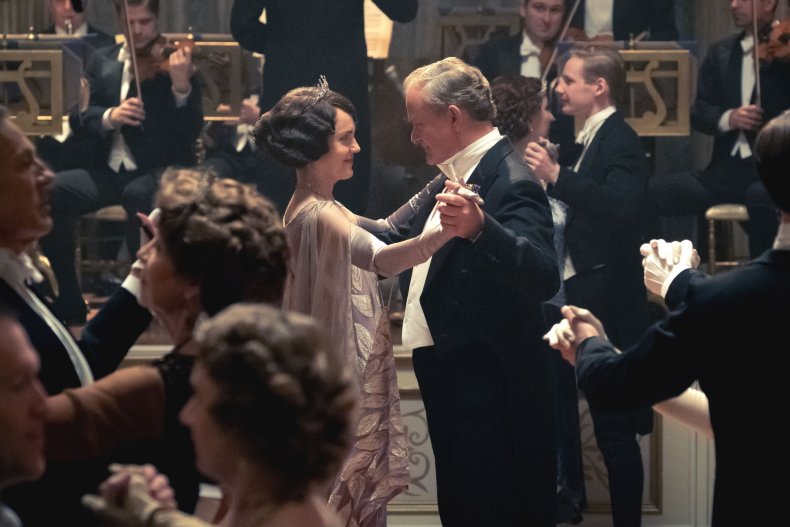 The Hollywood Reporter's Leslie Felperin calls Downton "sumptuously satisfying," adding the movie "is literally bigger, broader, more gem-encrusted, punctuated with more drone shots and monarchist pomp."
And for fans of Maggie Smith's spiky Dowager Countess, Violet Crawley, there is still plenty of bite to Grantham matriarch. "The homestretch gives Dame Maggie in particular a chance to pull some of her most beloved haughty expressions of indignation and bemusement," says Felperin.
The Guardian's Peter Bradshaw called the movie "at all times ridiculous" but "quite enjoyable."
Bradshaw points out, however, that there is little cinematic in tone about the movie sequel to the hit PBS series, saying it feels like an extended episode. "It is structured like any TV episode around a set of concurrent subplots, delivered in a series of little bitesized scenes, played in and out with strident little orchestral stings on the soundtrack. Every so often you can feel the rhythmic thud of where the ad break would normally go—where it will go, in fact, when this goes to TV."
Returning for the Downton Abbey are the upstairs cast Maggie Smith (Violet Crawley, Dowager Countess of Grantham,) Hugh Bonneville (Robert Crawley, the Earl of Grantham), Michelle Dockery (Lady Mary), Elizabeth McGovern (Lady Cora Crawley), and Laura Carmichael (Lady Edith,) as well as their myriad servants, valets and cooks, including fan favorites Anna and John Bates (played by Joanne Froggatt and Brendan Coyle respectively.)
The original Downton TV series won an Emmy Award for Outstanding Miniseries or Movie, as well as acting awards for Maggie Smith.