Dr. Fauci Says He Won't See His Children Until They Are Also Vaccinated
Dr. Anthony Fauci has said he probably won't see his children until they are also vaccinated against COVID-19.
The president's chief medical adviser and director of the National Institute of Allergy and Infectious Diseases (NIAID) made the comment in response to a question from CNN host Dana Bash on Sunday about whether or not he was seeing his family.
"Right now? Not yet," Fauci told CNN. "I would look forward to it within a reasonable period of time as the rest of my family gets vaccinated. "I'm with my wife every day—she has gotten her first dose and will soon get a second dose.
"But my children when they get vaccinated, obviously I look forward to seeing them. And I'm sure that by that time recommendations will come out to guide us in a more precise way."
During the interview, the NIAID director declined to make a recommendation in response to a question on whether or not it was okay for fully vaccinated people to spend time with their grandchildren, who haven't been vaccinated.
"I'm not going to make a recommendation now, except to say that these are things that we really do literally every day—we look at the data, we look at what's evolving about how many people are getting vaccinated, and there will be recommendations coming out," Fauci said.
"You will be seeing relaxation of some of the stringencies as more and more people get vaccinated."
Fauci also said he would like to see at least two million vaccine doses being administered per day by the end of April. Currently, the U.S. is administering around 1.5 million doses every day. More than 43 million people have received at least one dose of the Moderna or Pfizer-BioNTech vaccines in the country, while nearly 19 million of those have been fully vaccinated.
"I believe what you're going to start to see as we get more vaccines, you're going to see a lot more vaccines going into people's arms in a much broader way," Fauci said.
In order to accelerate the vaccine rollout, Fauci said the current administration was taking a number of steps.
"We're doing community vaccines centers, particularly in those areas where you have demographic groups that are generally underserved," Fauci said. "We're putting more vaccines into pharmacies, we're using mobile units to go out into underserved areas to do that.
"All of those things are being pushed very, I would say aggressively, to make sure we get those vaccines into people's arms as quickly as we possibly can."
In another interview with Fox News on Sunday, Fauci said that the country would have enough vaccine doses to offer one to anyone in the country who wants it.
"By July we will have enough. We will have the 600 million doses that we contracted for from two companies," Fauci told Fox.
"It is very likely that before then we are going to start vaccinating people who are outside of the priority groups and essentially represent anyone and everyone."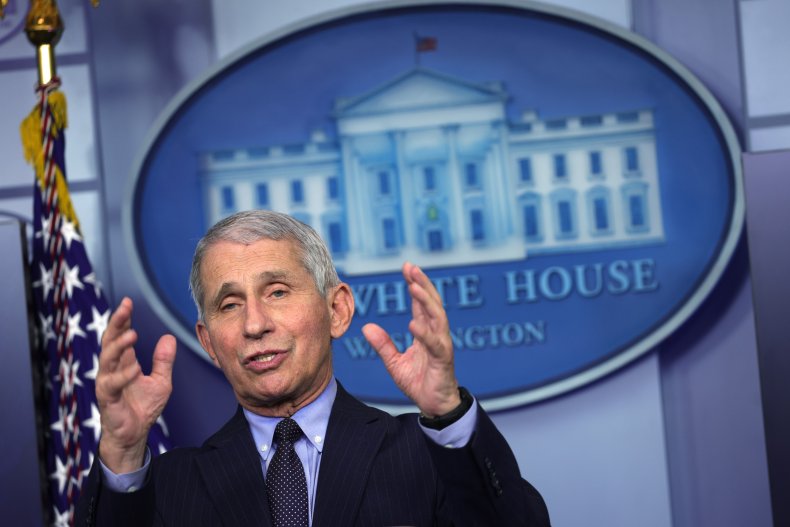 Newsweek, in partnership with NewsGuard, is dedicated to providing accurate and verifiable vaccine and health information. With NewsGuard's HealthGuard browser extension, users can verify if a website is a trustworthy source of health information. Visit the Newsweek VaxFacts website to learn more and to download the HealthGuard browser extension.