Fauci Calls U.S. Nearing 500K COVID Deaths 'Stunning,' Says 600M Vaccine Doses Coming by July
Dr. Anthony Fauci, the nation's leading infectious diseases expert, shared his dismay on Sunday as the U.S. approaches half a million COVID-19 deaths.
During a Sunday appearance on NBC News's Meet the Press, Host Chuck Todd asked Fauci how deadly the pandemic has been in his opinion, to which Fauci responded: "it's stunning."
"It's horrible," Fauci added. "I mean if you look at what has gone on now and we're still not out of it a half a million deaths, it's just terrible."
The U.S. has reported nearly half a million deaths due to COVID-19 since the beginning of the pandemic almost a year ago in March.
According to data from John Hopkins University more than 497,800 people have died of COVID-19 as of Sunday morning. Globally, 2.4 million people have passed due to the virus.
"It is historic. We haven't seen anything even close to this for well over 100 years since the 1918 pandemic of influenza," Fauci said. "It's something that is stunning when you look at the numbers. It's almost unbelievable, but it's true."
"This is a devastating pandemic," the doctor continued. "People will be talking about this decade and decades and decades from now."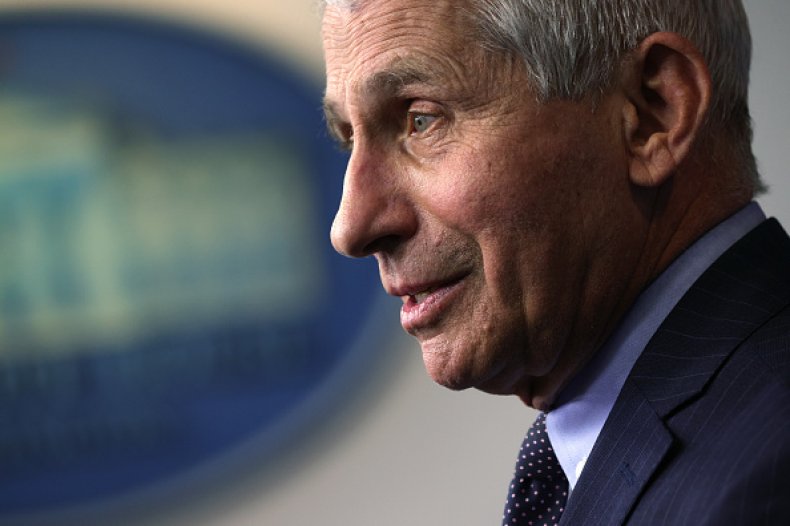 Fauci then addressed speculation that a single dose of the coronavirus vaccine could provide sufficient protection. He said it warranted further research, but right now, it was too early to say.
"We don't know what the durability of a single dose is, and it really is risky. Risky for lack of protection and risky to engender perhaps some variants," Fauci said.
"With regard to following infection, that's a different story, because the data looks really quite impressive if you've been infected," Fauci added. "And then you get a single dose, the boost that you get with that single dose is really enormous, so we're looking very carefully about that."
During an appearance on Fox News Sunday with Chris Wallace, Fauci shared that the U.S. will have 600 million doses of the coronavirus vaccine, enough to vaccinate the nearly country's entire population, by July.
"It is very likely that before then we're going to start vaccinating people who are outside of the priority groups and essentially represent anyone and everyone, but the number that the president gave or the month that the president gave was absolutely correct," Fauci said.
President Joe Biden pledged earlier this week to make 600 million doses of the COVID-19 vaccine available by the end of July.
"By July, we will have enhanced enough vaccines to be able to vaccinate virtually anybody and everybody," Fauci continued.
Newsweek reached out to Fauci through the National Institute of Allergy and Infectious Diseases, but didn't hear back in time for publication.