President Joe Biden has revealed the date that enough vaccines will be available for every American who wants one.
Speaking at a town hall meeting in Milwaukee hosted by CNN, the president said the U.S. would have enough doses by the end of July.
This is a more optimistic announcement from Biden, who last week warned that logistical and distribution problems could prevent many Americans from getting a jab by the end of summer.
So far, more than 55.2 Americans have received the vaccine, according to the U.S. Centers for Disease Control and Prevention.
Asked by CNN's Anderson Cooper when every American who wanted the vaccine would be able to get one, the president said: "By the end of July this year," adding that the doses would not have been administered to every adult by that date, but would be "available."
Biden said: "We came into office, there were only 50 million doses that were available. We will now, by the end of July, have over 600 million doses, enough to vaccinate every single American."
Cooper asked the president to clarify whether this meant that vaccines would be available or would have been administered by that date.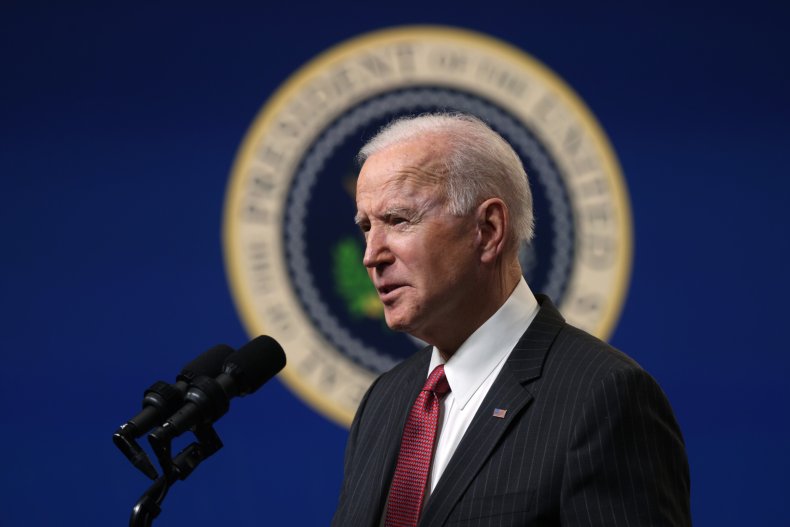 "They will be available," the president said. "What we did was, we got into office and found out the supply. There was no backlog, there was nothing in the refrigerator figuratively and literally speaking. And there are 10 million doses a day that were available. We've upped that in the first three weeks that we were in office to significantly more than that."
Biden also said his administration had spoken to Pfizer and Moderna and negotiated to increase the country's vaccine supply from 200 million to 600 million.
"We got them to move up the time because we used the national defense act to be able to help the manufacturing piece of it, to get more equipment and so on."
Cooper also asked how long it would take for all Americans to receive the vaccine, suggesting a couple of months after the end of July.
The president did not give a specific time frame, but added: "A lot will be being vaccinated in the meantime. Now there isn't just all of a sudden 600 million doses will suddenly appear. What's going to happen is, it will continue to increase as we go along.
"We'll have reached 400 million by the end of May and 600 million by the end of July."
Biden also explained that his administration had had to organise the logistics of rolling out the jabs to the population. He said: "How do you get the vaccine into someone's arm? So, you need the paraphernalia, you need the needle, you need the mechanisms to be able to get it in. You have to have people who can inject it into people's arms.
The president said the administration had made "significant strides" in increasing the number of vaccinators.
He said: "I've issued an executive order to allow former retired docs and nurses to do it. We've got over a thousand military personnel. "We've gotten the National Guard engaged. So, we have a significant number of vaccinators. Plus we've opened up a significant number of locations where you can get the vaccine."
Although the president said he did not want to "over-promise," he added: "By next Christmas, I think we'll be in a very different circumstance, God willing, than we are today."
He also said the country would be "significantly better off than we are today" when the school year begins in October.
The comments came after the White House said Biden remained laser-focused on delivering more aid to the American people in the COVID-19 pandemic.
The administration announced on Tuesday morning that it would extend the foreclosure moratorium and mortgage forbearance, which allows borrowers to pause or reduce payments, through the end of June.
Both programs were set to expire in March. The White House said more than 10 million homeowners had fallen behind on mortgage payments because of the economic effects of the pandemic.
COVID cases, deaths and hospitalizations in the U.S. have fallen in recent weeks. However, medical experts told Newsweek it might be too soon to view the pandemic as in retreat, particularly given the threat of new variants and of complacency growing as the vaccine roll-out continues.
Last month, Dr. Anthony Fauci, director of the National Institute of Allergy and Infectious Diseases and Biden's chief medical adviser, told Newsweek that the U.K. variant of COVID-19 was likely more widespread in the U.S. than is known.
Newsweek, in partnership with NewsGuard, is dedicated to providing accurate and verifiable vaccine and health information. With NewsGuard's HealthGuard browser extension, users can verify if a website is a trustworthy source of health information. Visit the Newsweek VaxFacts website to learn more and to download the HealthGuard browser extension.