Dr. Anthony Fauci Says States Ending Mask Mandates 'Inviting' Another COVID Surge
Dr. Anthony Fauci, the nation's leading infectious diseases expert, said on Wednesday that states that are lifting their mask mandates are "inviting" another surge of COVID-19.
During an interview on CNN's New Day, Fauci was asked what he thinks about states that are removing their mask mandates, such as Texas and Mississippi.
"It's [a] concern," said Fauci, the director of the National Institute of Allergy and Infectious Diseases. "We understand people's need to get back to normal and we are going in that direction, but when you start doing things like completely putting aside all public health measures, as if you're turning a light switch off, that's quite risky."
He added, "We don't want to see another surge, and that's inviting one when you do that."
Fauci's comments on Wednesday come on the same day that the lifting of Texas's mask mandate goes into effect. Last week, Governor Greg Abbott announced the end of the mandate and also eased restrictions on businesses, saying, "It is now time to open Texas 100 percent."
According to Johns Hopkins University, Texas has had more than 2.7 million confirmed cases of the coronavirus.
Businesses across the state are still permitted to require mask wearing. Texas officials have warned that if a business requires masks and patrons refuse to wear one, they can be denied service and even face criminal trespass charges.
Abbott has faced backlash from some local leaders in the state for lifting the mask mandate, with some mayors calling it "premature." Others have urged residents to continue following public health measures to mitigate the spread of the virus.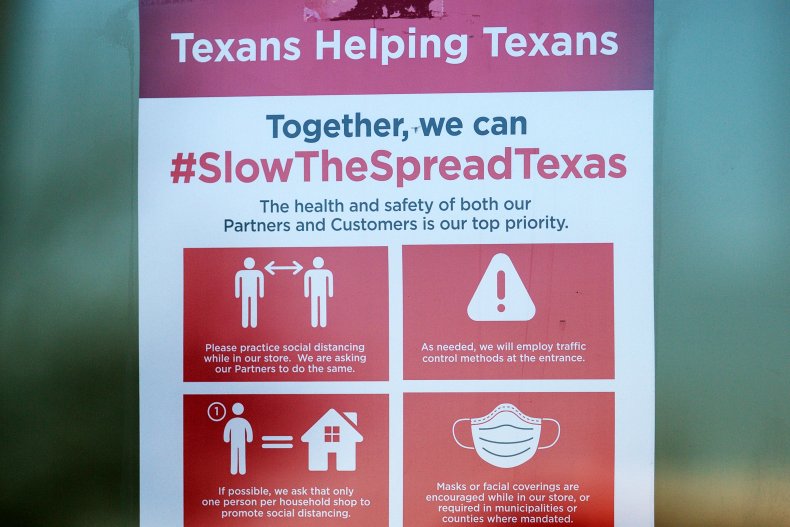 In addition to Texas, several other states have announced the end of their mask mandates, such as Mississippi, Iowa, Montana and North Dakota.
The director of the U.S. Centers for Disease Control and Prevention (CDC), Rochelle Walensky, has also urged states not to reopen too soon.
"I am really worried about reports that more states are rolling back the exact public health measures we have recommended to protect people from COVID-19," Walensky said. "I understand the temptation to do this—70,000 cases a day seems good compared to where we were just a few months ago—but we cannot be resigned to 70,000 cases a day, 2,000 daily deaths."
During an interview with NPR last week, Walensky made similar comments, saying, "Now is not the time to stop to stop wearing a mask."
According to data from the CDC, daily cases have declined from previous months but have started to slightly increase again. On March 2, the seven-day moving average number of daily cases was 63,938, but it has since risen to 68,180, as of Monday.
Newsweek reached out to Fauci for comment but did not receive a response in time for publication.
Newsweek, in partnership with NewsGuard, is dedicated to providing accurate and verifiable vaccine and health information. With NewsGuard's HealthGuard browser extension, users can verify if a website is a trustworthy source of health information. Visit the Newsweek VaxFacts website to learn more and to download the HealthGuard browser extension.