Dr. Birx Defends Feds' Handling of COVID Crisis, Says U.S. Is in a 'New Phase' of the Pandemic
Dr. Deborah Birx defended the federal government's handling of the novel coronavirus outbreak on Sunday.
The physician and White House Coronavirus Task Force coordinator addressed criticisms of the federal response to COVID-19 during an appearance on CNN's State of the Union. She countered correspondent Dana Bash's inquiries about why the government has not significantly altered its approach to virus mitigation, given outbreak resurgences across the country, by insisting it already has.
"I think the federal government reset about 5 to 6 weeks ago, when we saw this starting to happen across the South," Birx told Bash, referencing upward trending outbreak curves first reported by a handful of southern states in early June. By the end of July, almost half of the country was placed on the Task Force's watch list due to rising case counts.
"Rather than generic federal framework, we've gone to very specific, state and local, city-by-city, county-by-county [recommendations]," Birx continued during the interview. "And what we are starting to see across the West and across South, which the American people should find a little bit reassuring, is these mitigation efforts are beginning to work."
The White House health official also responded to backlash against her COVID-19 recommendations specifically. On Sunday, House Speaker Nancy Pelosi told ABC News' This Week she does not "have confidence" in Birx's expertise, since "the president has been spreading disinformation about the virus and she is his appointee." Pelosi's comments followed a New York Times article published last week that criticized the Trump administration's pandemic response in general and suggested Birx's approach was too optimistic.
"This was not a pollyannish view. I've never been called pollyannish, or non-scientific, or non-data driven," Birx replied, according to Reuters. "I will stake my 40-year career on those fundamental principles of using data to implement better programs and save lives."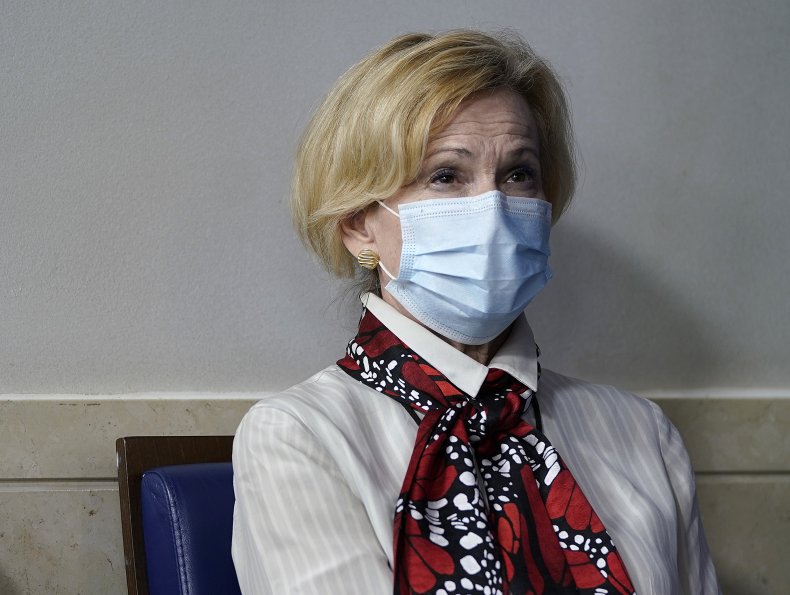 Last week, the Times published a federal report sent to state officials across the U.S., which contained individualized guidance related to mitigation and reopening procedures. The report, issued by members of the Task Force, based its recommendations on states' COVID-19 data released throughout the week prior.
It labeled 21 states with a "red zone" designation, meaning they each confirmed at least 100 new cases of the novel coronavirus per 100,000 people during the previous seven days. Eighteen of those states met "red zone" criteria two weeks earlier. Missouri, North Dakota and Wisconsin were added to the list after reporting higher diagnosis numbers during the latter half of July.
"I want to be very clear. What we're seeing today is different from March and April," Birx said Sunday, telling Bash the U.S. is "in a new phase" of the virus outbreak. "It's extraordinarily widespread," she added.
As of Sunday, more than 4.6 million people have tested positive for COVID-19 in the U.S. since March. Of those who contracted the illness, nearly 155,000 deaths have been reported, and hospitalizations are up in a number of states nationwide.
The U.S. confirmed nearly twice as many average cases per day during the second half of July than it did during the country's initial virus peak in April. Data shows at least 60,000 new cases are diagnosed and roughly 1,000 deaths are reported daily in July.
Newsweek reached out to the White House for comments, but did not receive a reply in time for publication.