Dr. Fauci Says Coronavirus Has 'Phenomenal' Ability to Spread 'Like Wildfire' as Lockdowns Are Lifted
Dr. Anthony Fauci has warned that the novel coronavirus has a "phenomenal" ability to spread as states began to unveil plans to reopen.
Appearing on CNN on Monday night, Dr. Fauci said COVID-19 had "enormous capabilities of spreading like wildfire" as he urged states to approach reopening with care.
The National Institute of Allergy and Infectious Diseases (NIAID) director also said he was "very sensitive" to the pain being caused by the novel coronavirus' impact on the U.S. economy and employment.
Speaking about the infectiousness of COVID-19, Dr. Fauci said: "One thing this virus has that's really different from so many other viruses that we have experience with, it has phenomenal capability and efficiency in spreading from person to person."
"This virus has enormous capabilities of spreading like wildfire, we know that," the NIAID later said. "We've seen it in general, and we've seen it in confined situations."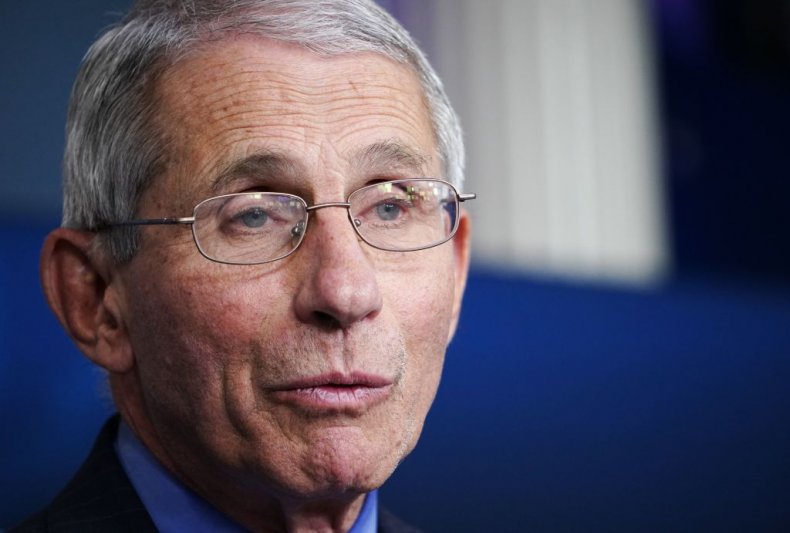 He added: "This is a virus that spreads as easily as any virus that I've ever known, apart from maybe measles."
Dr. Fauci's comments came after it was revealed yesterday that a Federal Emergency Management Agency (FEMA) report projected that the current daily level of COVID-19 deaths could roughly double to 3,000 by June 1.
It also predicted that the number of daily infections will rise by 700 percent to about 200,000 a day by the end of this month.
Addressing the FEMA projections earlier in his interview with CNN, Dr. Fauci said: "I have skepticism about models, they're only as good as the assumptions you put into them. But they're not completely misleading.
"They're telling you something that's a reality: When you have mitigation that's containing something, and unless it's down in the right direction and you pull back prematurely, you're going to get a rebound of cases."
Asked how authorities could balance economic and public health interests amid the pandemic, the NIAID director said: "I'm very sensitive to the potential downsides of the kind of economic crisis that we're having. The suffering of people who are not working.
"That's something that you'd have to be so callous not to feel the pain that people are feeling."
But he added that there was "nothing wrong" with a careful approach to reopening the economy with the current public health risk.
"There is a balance and you've got to look at both sides of it," Dr. Fauci added.
Newsweek has contacted the NIAID for further comment and will update this article with any response.
Dr. Fauci cautioned state authorities to reopen carefully as several had begun rolling back some lockdown measures or revealing plans to end stay-at-home measures.
Georgia Gov. Brian Kemp announced last month that some non-essential businesses such as gyms and bowling alleys could reopen from April 24, with restaurants and theaters following suit three days later.
Republican Florida Gov. Ron DeSantis also allowed some areas of the state to lift certain restrictions in mid-April, and plans a further rollback of lockdown measures this week.