Dr. Fauci Praises Trump for 'Wise Investment' in COVID-19 Vaccine Development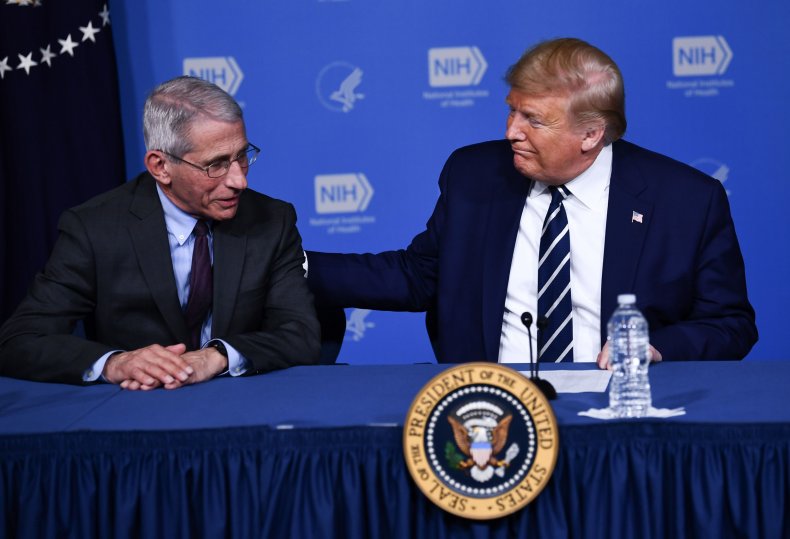 Dr. Anthony Fauci on Thursday praised the administration of former President Donald Trump for its role in the accelerated development of COVID-19 vaccines.
Fauci, who has served as an adviser to every U.S. president since former President Ronald Reagan, made the remarks during a White House press briefing with President Joe Biden's COVID-19 response team.
Fauci addressed concerns about the vaccine being developed "too fast" while explaining that although vaccines typically need to go through multiple lengthy phases to be approved, Trump's Operation Warp Speed initiative significantly helped to accelerate the process.
"Because of the wise investment in Operation Warp Speed — and we give credit to the Trump administration for doing this, particularly Secretary Alex Azar, who was an important component of that — what you did was make an investment to prepare for phase two and phase three, even before you knew that phase one worked or not, and to start manufacturing," Fauci said.
"When you do that, you make a major investment in resources," he continued. "If the vaccine doesn't work, you've lost a lot of money; if the vaccine does work, you save a lot of time. And that's exactly what happened."
Fauci noted that some key groundwork had already in place for the quick development of the vaccines. The viral vector vaccine produced by Johnson & Johnson used technology that had been in development for decades, while the mRNA technology used in the Pfizer and Moderna vaccines was reaching maturity just as the pandemic arrived. Clinical trial sites previously used to study HIV and the flu were repurposed to test the new vaccines.
Although there appeared to be little public friction between Trump and Fauci in the early days of the pandemic, while Fauci was a key member of the White House Coronavirus Task Force, that quickly changed in April 2020, when Fauci suggested that the Trump administration could have done more to mitigate the initial spread of the virus.
During a May 2021 interview with Newsmax, the former president said he "always got along with pretty well" with Fauci but "usually did the opposite of what he wanted." Trump also boasted about the quick development of COVID-19 vaccines during the interview, claiming that it "probably wouldn't even happen" without his input.
Multiple surveys and the political makeup of areas with low vaccination rates suggest that Republicans are significantly more likely to resist COVID-19 vaccination than Democrats, despite Trump—who is still a major force in the party—being vaccinated himself and repeatedly touting his role in developing the vaccines.
While the highly-contagious Delta variant is currently driving a new surge of the virus, Fauci has warned that more vaccine-resistant variants could emerge if transmission is not reduced by increasing the vaccination rate.
About 50 percent of the total U.S. population had been fully vaccinated as of Thursday, according to the Centers for Disease Control and Prevention. Experts estimate that a vaccination rate = between 70 and 90 percent is likely needed to reach herd immunity.
Newsweek reached out to the office of Trump for comment.