Drake Stays Silent as Anger Grows Over Astroworld Concert Mayhem
Drake is facing increasing pressure from fans as he continues to remain silent on the tragedy at the Astroworld festival that left eight dead on Friday night.
The Canadian rapper was brought out onto the stage at the NRG Park stadium in Houston, Texas, by banner star Travis Scott. The show ended in tragedy when the crowd of around 50,000 surged toward the stage, sparking a deadly stampede.
With scores of attendees at the concert left injured and families mourning their dead, questions have arisen as to why Drake—full name Aubrey Drake Graham—has opted to remain silent on the matter.
On Monday, days after the event, the last post from the "God's Plan" hitmaker was a series of photos of the star performing at the show alongside Scott at Astroworld.
An accompanying caption read: "Hit up errrrr tell him do the errrrr for sureeeee," in reference to his track, "Knife Talk."
His last post on Twitter, was a retweet from his record label, OVO Sound, prompting the video for his "Knife Talk" track.
His silence has not gone unnoticed among Twitter users, with one writing: "It's really not sitting right with me that Drake didn't release a statement about #ASTROWORLDFest."
Wrote another: Can someone point me to Drake's thoughts and prayers victim statement about #AstroWorld? I literally can't find anything from him and I'm sure I'm missing it. Thank you."
"Though I'm a huge @Drake fan it's disheartening that he has yet to release a statement of concern or sympathy regarding the deaths that took place at #ASTROWORLDFest," said another. "Big shoutout to @kanyewest though for dedicating his Sunday service to the individuals that lost their lives. 🙏🏼"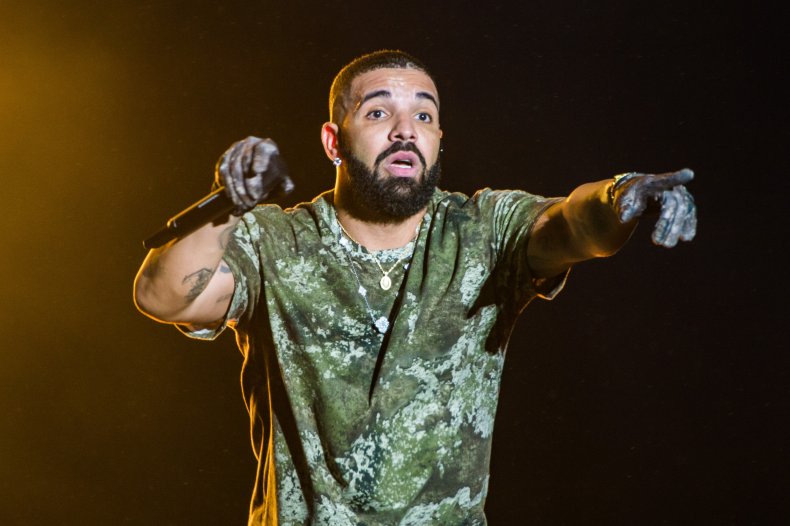 "Not feeling good about Drake posting cool concert pics and no statement out yet," stated another Twitter user.
"I was really expecting Drake to put out a statement recognizing the Astro World situation in some way," read a further tweet. "His team may regret staying quiet when people get done dismantling Travis Scott and go after everyone else that touched that stage."
Another fan wrote that it's "kinda upsetting drake didn't acknowledge what happened at astrofest yet... it's obv not his fault OR his event but i personally think he should acknowledge what happened since he was there. but that's just my opinion."
Meanwhile, others came to the star's defense, with one writing: "y'all PLEASE! drake does NOT have to acknowledge anything. for all we know, he could've done something for these people in PRIVATE. not everything has to be in the know. + he DAMN SURE doesn't have to make a statement about anything. why? bc it wasn't his festival!"
In the aftermath of the event, Drake and Scott have been sued by an Astroworld attendee, who has accused the stars of "inciting" the crowd before the stampede.
Several videos have emerged, showing attendees pleading with security to stop the show, while others in the crowd were seen shouting for the performance to stop.
In his lawsuit, Kristian Paredes has accused Drake of continuing to perform with Scott as things went "out of control" and "while the crowd mayhem continued."
Live Nation Entertainment Inc. and Harris County Sports and Convention Corporation have also been named as defendants in the lawsuit.
When contacted by Newsweek, a representative for Drake declined to comment. Newsweek has contacted representatives of Scott, Live Nation, and Harris County Sports and Convention Corporation for comment.
Over the weekend, Scott released a statement on Twitter saying that he was "absolutely devastated," adding: "My prayers go out to the families and all those impacted by what happened at Astroworld Festival.
"Houston PD has my total support as they continue to look into the tragic loss of life. I am committed to working together with the Houston community to heal and support the families in need. Thank you to Houston PD, Fire Department and NRG Park for their immediate response and support. Love you all."
Scott's partner, Kylie Jenner, said in her own statement that the rapper was not aware of the deadly situation that was taking place as he performed onstage.
"Travis and I are broken and devastated," she wrote on Instagram "My thoughts and prayers are with all who lost their lives, were injured or affected in any way by yesterday's events.
"And also for Travis who I know cares deeply about his fans and the Houston community. I want to make it clear we weren't aware of any fatalities until the news came out after the show and in no world would have continued filming or performing.
"I am sending my deepest condolences to all the families during this difficult time and will be praying for the healing of everyone who has been impacted."