When Will Drew Brees Return? Saints QB to Start in Week 8 vs. Arizona
Drew Brees is set to make his return to action after six weeks out with a thumb injury when the New Orleans Saints host the Arizona Cardinals on Sunday.
The veteran quarterback hasn't played since September 15, when he was forced out of the game in the first quarter of a 27-9 loss to the Rams in Los Angeles after his right hand hit Rams defensive tackle Aaron Donald's hand at the end of an incomplete pass.
In the impact Brees tore the ligament of his right thumb and had to undergo surgery the following week to address the injury.
ESPN and NFL Network's Ian Rapoport reported on Saturday that the 40-year-old had returned to full fitness slightly ahead of schedule and will be under the center on Sunday.
Brees practiced during the week and suggested he would return to action only when he felt comfortable and the decision would come down to "just making sure I can be me."
When the 12-time Pro Bowl selection underwent surgery in Los Angeles, an internal brace was inserted to stabilize the ligament that was repaired. Brees will also have to wear a splint to prevent further damage, as the injury will not be fully healed until the beginning of December.
"It's not fully healed I think until three months," Brees told reporters earlier this week, as per ESPN. "But that internal brace obviously provides some stability and support, as does the splint."
The injury was Brees' first major setback in a career that has otherwise been characterized by an almost unblemished injury record.
The quarterback had missed just one game since high school, when he was ruled out of a road game against the Carolina Panthers in Week 3 of the 2015 season because of a shoulder injury.
While playing for the San Diego Chargers in 2005, Brees sustained a shoulder injury in the final game of the season, but was back in time for Week 1 of the following season.
The Saints haven't missed Brees at all this season, winning all five games without their starting quarterback as Teddy Bridgewater has excelled in place of his teammate.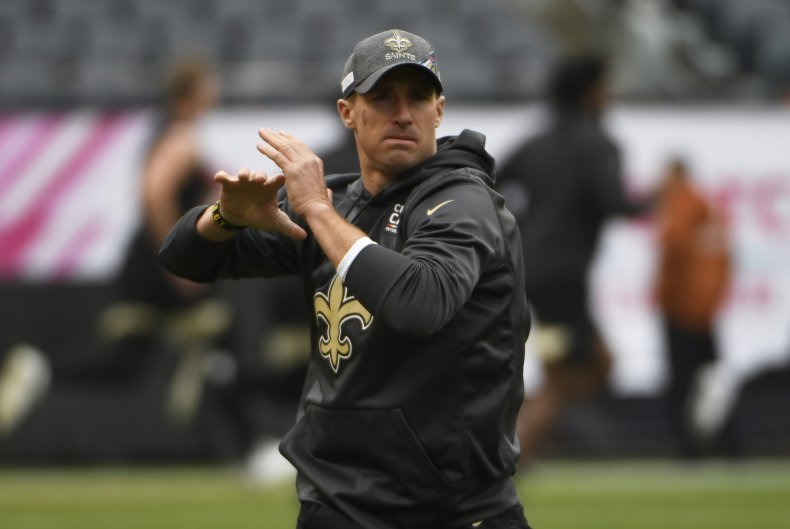 The 26-year-old has thrown for 1,370 yards, nine touchdowns and two interceptions this season, with a completion rate of 67.7 percent.
The decision to start Brees on Sunday is somewhat surprising given the Saints have a bye in Week 9 and starting Bridgewater against the Cardinals would have allowed Brees an extra two weeks to recover.
Arizona is 3-3-1 so far this season but its defense leads the league with 12 forced fumbles so far this season and Chandler Jones and Terrell Suggs have combined for 13.5 sacks, eight strip sacks and 14 quarterback hits.