Drew McIntyre Talks WrestleMania 36, Brock Lesnar & Being the Champion People Need
This year's WrestleMania is going to be unlike anything WWE fans have seen before.
The ongoing coronavirus pandemic has prohibited fans from attending the "Showcase of the Immortals" or any WWE live shows leading up to the event. Traveling, which comprises a lot of WWE Superstars' time, is virtually non-existent as the performers remain home until they are called upon.
Drew McIntyre is one of those WWE Superstars, and he's home much more than he's used to. During the pandemic, he's been able to spend time with his wife and cats and build his own gym in his garage, something that he's been talking about doing for years.
But he also plans to use this time for other activities.
"I spend a lot of time in the gym, but there's only so much time you can spend there. [Me and my wife] watch quite a bit of television, like to go on walks when I have the time. We try to find the local trails in the area and go on adventures. That's how we pass the time," McIntyre told Newsweek. "Most recently I've been thinking either getting back into video games - I used to love Resident Evil as a kid, hope that's still a thing - and two, my guitar has been sitting up there for eight years untouched. So maybe I'll bring that out and start getting good again and start a band. Not the three-man band, something fresh."
McIntyre will also have this time to think about his journey to WrestleMania 36, which is an especially unique one. After his debut on WWE television in 2007, there was a lot of boasting from the higher ups about his abilities, suggesting he was going to be a future star. That's a lot of pressure for a 22-year-old. Unfortunately, McIntyre didn't live up to his potential and he was cut from the company.
After spending years on the independent circuit, McIntyre would return to the WWE through the NXT brand and then to Monday Night RAW, where he's now set to take on Brock Lesnar for the WWE Championship.
Newsweek caught up with the WWE Superstar to talk about his journey to his match with Brock Lesnar, his feelings on this year's WrestleMania and how he's coping with the change in format.
Note: This interview has been edited lightly for clarity and length.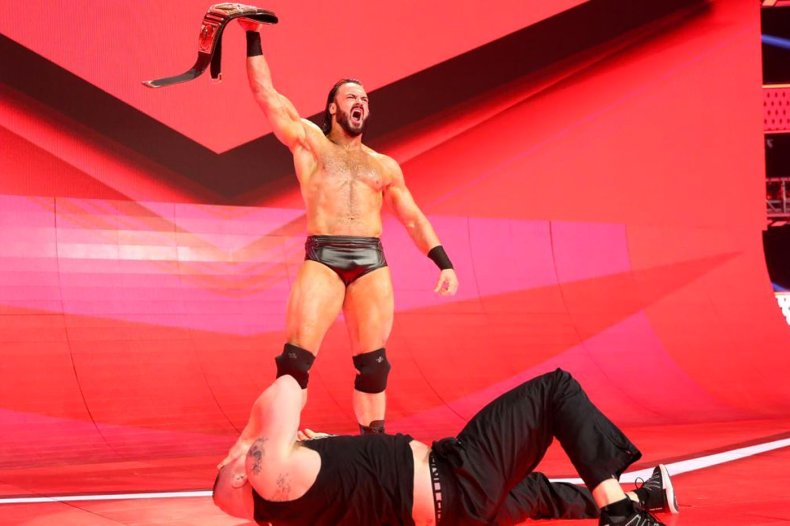 This year's WrestleMania is unlike anything you've experienced. How are you feeling going into your match?
I'm feeling good, I'm staying positive. Obviously the way things shook out I'm disappointed. It's not the way I envisioned when I was a kid, being in a big stadium with thousands of people going crazy; which even more shocking is that they probably would have been behind me in this match for the title with Brock [Lesnar]. And having everybody close to me being able to share in that moment, having that change was a bit disappointing. But once I got that out of my system I looked at the bigger picture and realized this isn't just a Drew thing or a WWE thing, it's a world thing. With what's going on right now WWE is one of the few places pushing forward and trying to give people an escape with original content and to look forward to something. The fact that we're pushing ahead to get WrestleMania ready and to have me in the biggest match of that show, to give the world that escape is a huge deal for me. And no matter what, even though like I said it's not how I pictured it, this WrestleMania won't be forgotten. It will be remembered, and I want to be remembered as the guy who won on this historic WrestleMania.
A year ago you faced Roman Reigns at WrestleMania and now you're both fighting for the top titles of your respective brands. How was it working with him and seeing where you both are now?
It's crazy. To watch Roman go from an FCW developmental... I remember one of his earliest matches when I went down to FCW, and I was about 25 at the time so around nine years ago. And I was in a tag match with him and the trainers told me to keep an eye on this guy, he's going to be good. But I didn't realize how good he would become and how far he would go. I was away from the company for a few years and came back and had the opportunity to be around him and work with him. And I was "wow this guy has advanced faster than anyone I've been around." I was learning from him even though I've been around a lot longer than him, and I was actually learning from Roman.
So I was like "ok this guy really gets it." Obviously it's in his blood and he's such a phenomenal performer and leader I can learn a thing or two about this guy. I was the big feud for him coming back from his illness, and we got a lot of time to work together and he was helping me out to learn how to be a top-level WWE Superstar. And one year later it's crazy that I got to eliminate him last from the Royal Rumble and now we're both going for our respective titles. If I can be a champion like Roman has been it's something to be proud of.
Anything in particular Roman would teach you about performing at the top level?
Yeah there's a lot of nuances that he mastered. A lot of people can get good at this job and get a crowd to react. And when I say react I mean clap their hands for that particular moment or match and have people truly invested and care about you. The room feels different when you walk into it, that's a true top-level superstar. Like I said, even though he hasn't been doing it as long as myself, a lot of people around at the time [felt] it was in his blood and he got it very quickly. And it's about how you present yourself as that top-level superstar It worked for so many of the legends in this business, and he was a sponge the whole way. He got the opportunity to work with a lot of guys who aren't around anymore, and to have that knowledge that was passed onto him passed onto me, he was willing to teach.
Your road back to the WWE and to WrestleMania is unlike anyone else, and it started with NXT. What was it like to be there even when you were already a name?
Being in NXT was what I wanted to do. It was by choice. It was Triple H's vision for me to return to NXT and his NXT brand. That was the only place I was willing to return to, and just because I've been gone for awhile. I didn't re-sign with TNA. New Japan was on my mind. Had it not [been] for a 40-minute phone call with Triple H, during that call he said a lot of positive things. He was keeping an eye on me. He was very proud that I was finally living up to my potential and what himself and Mr. McMahon saw in me all those years ago. But during that call I made my feelings very clear that I wanted to be in NXT, and he made it clear that was his thoughts, to reintroduce me to the WWE and show them who Drew is now.
The NXT fans are the hardcore fans. They know what I've done outside the company, so that was a very good place to reintroduce Drew but at the same time be a leader and teach everybody around me the things that I did well and not to make the same mistakes that I did. So I really thrived and loved to be a champion and leader down there before I got sent to RAW.
Alongside Wrestlemania, NXT Takeover: Tampa has also changed. Takeovers are always a big for the talent of NXT. How do you feel about seeing that changed?
I'm sure they feel the same: a little disappointed that it's not going down as they envisioned it, but again very proud to give the people something to look forward to. Takeovers are something I look forward to personally. Every match they always knock it out of the park. Everybody who is lucky enough to be on a Takeover realizes that they are very lucky because there are so many people at the PC. When I was there, I was there for a year, and when I was injured I was going down there to work with Shawn Michaels. I would meet about 200-300 people every time I was down there. So many people at the PC it's unbelievable, and if you're lucky enough to get on a Takeover you've earned it and deserve it. I know those guys give it a 110 percent at every Takeover. And I believe they're going to do [the Takeover matches] on Wednesdays, and I know they are going to knock it out of the park and I'm excited.
On the topic of NXT, it's getting its first representation at WrestleMania with the Rhea Ripley and Charlotte match. What's it like to see that and to have the black and gold brand go to the "big leagues" so to speak?
It's awesome, but it's not like how it used to be. Like going from FCW to RAW or SmackDown. That was moving to the "big leagues" because you were in a warehouse training. With NXT you're in the Performance Center for one, which is an insane multi-million dollar facility that has everything you can possibly imagine. And NXT has a show every week on USA, and then you have Takeover the way it is now. So it's not such a big jump the way it used to be. It used to be not knowing how it's going to be and jumping into the deep end. Now you're ready for when you're dropped in the deep end and the audience knows the character. But there is a difference from getting an opportunity on RAW or SmackDown with a bigger audience to being on WrestleMania.
I know for Rhea Ripley. She's young but she's been doing this for a very long time. She's figured herself out and remained true to herself and is over with the crowd. She figured out this unique character, and she's in the ring with Charlotte and they are both phenomenal athletes. That's a match I'm looking forward to. I don't want to be following that match. I'm just kidding, I'm going to main event [laughs].
Your WrestleMania moment isn't what you envisioned and there are a few Superstars who will feel the same way. How are you coping with that, and what advice do you have for others?
I've been thinking about this. It came to me as I was talking in a prior interview. After cooling off and putting the stamp on an 18-year career, becoming WWE Champion, the first British WWE Champion. How is it going to be sitting in that ring, potentially, by myself with the title? And the way I described it earlier was, you have your moment with the crowd, adrenaline is pumping high, you go to the back, everyone is there. You go to the locker room, everyone is there. You get congratulations and eventually everyone leaves and you're going to come down and after I'm last, I'm the last one to leave the locker room. And when I finally get to that hotel room and you're with your significant other, in my case my wife, and finally once you're alone, that's when the real emotions come out. And I can imagine this particular situation being something like that. Like you get a peek at you when you're away from the public. I'm not the most emotional person in the world, but after winning the Royal Rumble I got emotional because it was such a huge moment for me. And I get a flash of everything I've been through to this stage.
But this time, in the ring by myself, you're really going to get a glimpse of what happens when we get back to the hotel. And the hotel room closes and you're staring at the title and I know a lot of other people are going to be worried about their entrance and how they react afterwards, celebrating, etc, but that's what I would say. Do what you always do, relax, be in the moment and the cameras are going to pick everything up, so just pretend you're in that hotel room afterwards and just let the world in, and whatever real emotion comes out, comes out.
How is it having Brock Lesnar be that last obstacle for you?
This is something I envisioned in my head when I was gone from WWE, and I've told this story a few times and I keep telling it because it's true and it doesn't even feel real that it's happening.
When I was outside the company I did a lot of visualizing and preparation of exactly where I want to go and how to get there. And one thing I thought when I was outside the WWE was "which is the biggest possible match I could be in wrestling right now?" It would be Brock Lesnar. He's a killer, a special attraction in the WWE and only used for special occasions. That would be the match.
The stage? WrestleMania, obviously, it's the biggest show in the world. What would I have to do to walk into WrestleMania and look believable against Brock Lesnar? One, I have to get as big as possible because anyone who stands in front of Brock Lesnar, including me at the time, would look ridiculous in front of the average fan. If you're a WWE fan you have a particular favorite and you want them to wrestle Brock and you'll enjoy it. But if you're an outside fan, just a casual person off the street who doesn't watch WWE, to look at an image of Brock Lesnar and myself and go "woo wow look at these two big guys." That's phase one.
Two, he's so intense in the ring and is an insane athlete. I have to keep up with him. I have to up my intensity, and I was already known for being intense and aggressive, but I had to up that even more. OK that's another thing I have to work on.
Three, there's that Paul Heyman guy by his side. One of the best talkers of all-time. I better get better at verbalizing myself on the mic and on the camera. Those are the things I used in my head.
OK program. I get a match at WrestleMania against Brock Lesnar. So outside the company I'll be ready for that match, any other opportunity that comes my way, because that's the ultimate goal I've had. So I've been training for this match for about five years now. And it's actually materializing the vision in my head, which is insane to me. And I tell people that maybe I should have envisioned something bigger like being the first Scottish President of America or something, because that's how I pictured it and it's happening.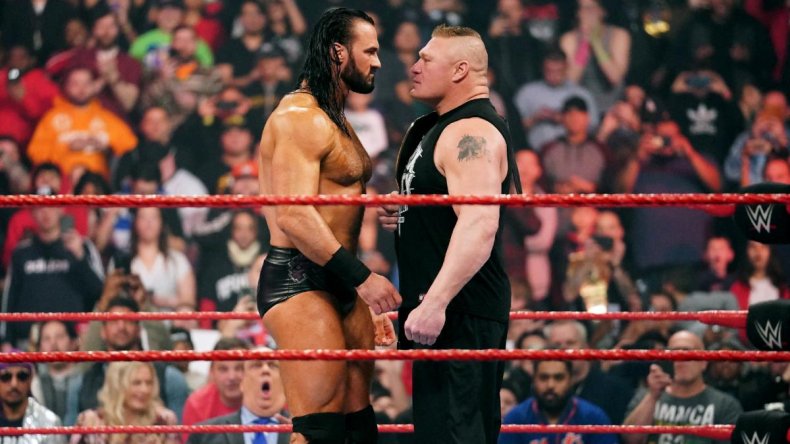 What does this match mean to you and your career, and what should the fans expect?
It's not what I expected but I'm past that now. I'm just very proud to be a part of something so big, and hopefully the world will be able to watch and get their mind off of what's going on right now. And the idea that I can be a champion during this time is a big deal for me.
There have been down times in WWE. There have been wrestlers like Bret Hart, Shawn Michaels, Diesel who were champions when there were tough times for WWE. But this is not just a down time for WWE, it's a down time for the world. And I want to be that champion, be that positive story that puts a smile on people's faces. If I can win that title and tell that 19-year journey and tell that story and the build up I got to tell that story, I can be that guy at the end of the night who can put a smile on their faces. That would mean the world to me. That would be my moment. And when we're all back together and I get to raise that title, that will be our wrestling moment.
WrestleMania 36 will take place on two nights on Saturday April 4 and Sunday, April 5.