WrestleMania 36 is less than two weeks away and although the world is dealing with a growing pandemic the WWE continues to build to its myriad of matches with tonight's Monday Night RAW.
Not much is known about the March 23 episode of Monday Night RAW. WWE has only confirmed that Brock Lesnar and Randy Orton will be on tonight's show to address their respective WrestleMania feuds.
Lesnar has been bested by Drew McIntyre the last few weeks, but how will Brock and his advocate Paul Heyman respond to this current string of momentum from the 2020 Men's Royal Rumble winner?
Edge appeared on last week's show to challenge Randy Orton at WrestleMania 36 in a Last Man Standing match. Will Orton accept his former friend's challenge or does he have something else planned?
Becky Lynch has challenger Shayna Baszler breathing down her neck to win the RAW Women's Championship at WrestleMania, but is Lynch taking the challenger seriously? Becky is confident after defeating Ronda Rousey at last year's WrestleMania, but is "The Man" getting overconfident?
The Undertaker made The OC look like chumps last week during his contract signing with AJ Styles and the dispatching of Luke Gallows and Karl Anderson. Styles is expected to address his WrestleMania opponent tonight.
Two more matches for WrestleMania 36 were announced on Monday.
Aleister Black will take on Bobby Lashley for the first time in the WWE. Tonight could be the night where the build to that match begins.
The other match is a RAW Tag Team Championship match between The Street Profits, and Andrade and Angel Garza. The Street Profits are looking to successfully defend their titles again while Andrade looks to be a dual champion—he already holds the US Championship.
Garza and Andrade have run afoul of both Humberto Carrillo and Rey Mysterio in recent weeks, but will that come into effect at WrestleMania, and will we see that build tonight?
Here's everything that happened on the March 23 episode of Monday Night RAW.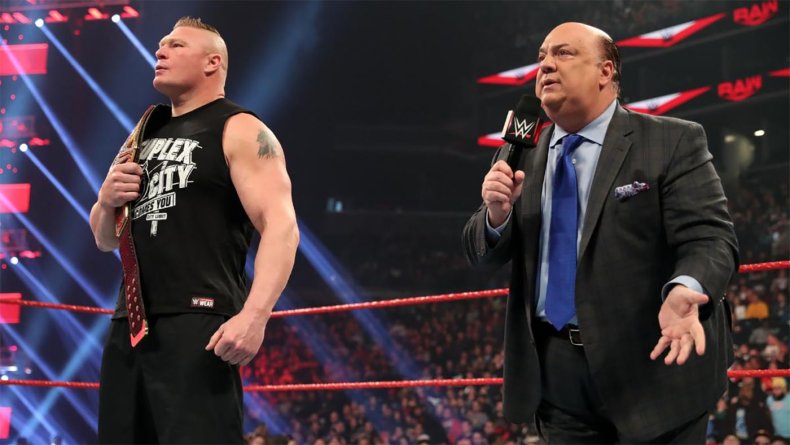 WWE MONDAY NIGHT RAW RESULTS
Opening Segment
After a video package of Brock Lesnar and Drew McIntyre's feud, Paul Heyman and Lesnar are in the ring in front of the empty crowd.
Heyman says that we are living in uncertain times, but the only certainty is Brock Lesnar.
McIntyre will be another name on a list of people who tried to defeat Brock Lesnar and failed.
John Cena vs Seth Rollins vs Brock Lesnar—WWE Championship Match
This is a rematch from the Royal Rumble 2015.
Brock Lesnar wins via pinfall after an F-5 on Rollins
AJ Styles Promo
Styles comes out with Gallows and Anderson and says that 'Mania is too big for one night and he doesn't care if his match with Undertaker is on Saturday or Sunday.
He starts running down Undertaker and even shows that YouTube video of Taker and Michelle McCool in a pool with a tiger. Styles says where has the real Undertaker gone. He says he doesn't want Mark Callaway at WrestleMania, he wants the Undertaker.
Styles says he's going to give the fans what they want and fight Undertaker in a "boneyard" match and bury him where Michelle buried Undertaker's career.
Backstage
Zelina Vega says that Andrade and Angel Garza are going to prove they are the best team later tonight.
Andrade says that The Street Profits want the smoke, but they want the titles. Angel Garza says they are men who know what they want, before he starts smiling at Charlie Caruso.
Andrade and Angel Garza (with Zelina Vega) vs Ricochet and Cedric Alexander
Ricochet attacks Andrade and Angel before the bell and before Cedric gets in the ring
During the match, Street Profits show up to join commentary
Andrade pins Cedric after a back elbow
After the bell, Street Profits come to the ring and the two teams start to fight with the Profits clearing the ring.
Street Profits vs Shane Thorne and Brendan Vink
Ford pins Thorne after a Frog Splash
Shayna Baszler Interview
Shayna is asked why she wants the RAW Women's Championship. Shayna says she loves to destroy and it will destroy Becky to take her title from her.
Before the interview is over Becky Lynch comes up from behind and hits Shayna with a chair and hits her a few times
Aleister Black vs Leon Ruff
Black wins via pinfall after a Black Mass in a squash match
Kevin Owens Promo
Owens says that if Seth Rollins has something to say, he should come out and say it. Rollins' music hits and he comes and says he has a few questions about Owens' comments from last week.
Rollins says that wrestling in the Performance Center doesn't give KO a homefield advantage. He asks KO if he understands how he got the opportunity. He didn't train at the PC because it didn't exist and instead he wrestled in a warehouse. The PC was built on Rollins' blood, sweat and tears. He says he came back for people like KO. None of this exists without Seth Rollins. NXT doesn't exist without him.
He questions why KO would challenge him at WrestleMania where he's at his best. Owens has no WrestleMania moments and even says that he wasn't good enough to get on last year's card. At WrestleMania, Rollins
Charlotte Flair (c) vs Asuka - SmackDown Women's Championship Match
Replay from WrestleMania 34
Charlotte wins via submission after a Figure 8
Charlotte Interview
Charlotte says that she's had so many WrestleMania moments that Rhea Ripley can study them all. But next week she'll make Ripley another part of another 'Mania moment for Charlotte.
Randy Orton Promo
Orton says he lied to Beth Phoenix when he said Edge was a junkie for the roar of the crowd. He's actually a junkie for his own ego
Orton says he was given an opportunity because of his name, but his titles weren't given to him. He calls Edge a hypocrite because he would have taken the opportunities like Triple H asking him to join Evolution if given the chance. Edge speaks of grit, but to Randy that means longevity in an industry that rarely has it
He accepts Edge's challenge
Uncommon Knowledge
Newsweek is committed to challenging conventional wisdom and finding connections in the search for common ground.
Newsweek is committed to challenging conventional wisdom and finding connections in the search for common ground.
About the writer
Phillip Martinez is a game and culture reporter for Newsweek. Prior to joining Newsweek in 2018, he was a reporter and editor for iDigitalTimes and Player.One. A Bronx native, he graduated with his Bachelor's degree in Journalism from St. John's University in 2010. An avid Nintendo fan and wrestling mark, he's always looking to become a Pokémon Master while fantasy booking this year's WrestleMania. You can contact him at p.martinez@newsweek.com