'Raise the Pay': Driver Says DoorDash Threatens Workers for Declined Orders
A DoorDash driver has gone viral for claiming the company retaliates against workers who decline delivery orders.
"So instead of DoorDash just raising the base pay on each order, they decided to threaten our Top Dasher status," said TikTok user @swizzlebalarkey, who goes by Cyn. Her video posted on April 13 has racked up 927,000 views.
Cyn showed a screenshot of her DoorDash app, which asked if she was sure about declining an order. After declining, her "Acceptance Rate" would be 6 percent. "Keep your Acceptance Rate above 70% to maintain Top Dasher status," the app said.
Laughing aloud, Cyn responded, "Oh my gosh, just raise the pay!"
DoorDash's Top Dasher program rewards drivers with the opportunity to schedule a delivery in any nearby zone for any time, according to the company's website. In addition to a minimum Acceptance Rate of 70 percent, workers must have a customer rating of at least 4.7 and complete 100 deliveries in the past month to qualify for Top Dasher status.
The website also said that DoorDash pays drivers a base of $2 to $10 per delivery, depending on the "estimated duration, distance, and desirability of the order."
Cyn argued that drivers would decline orders less frequently if they simply received a higher base pay, rather than relying on often paltry tips from customers. "Raise the base pay so customers won't have to tip more to compensate for the $2 base pay," she said in a comment below the video.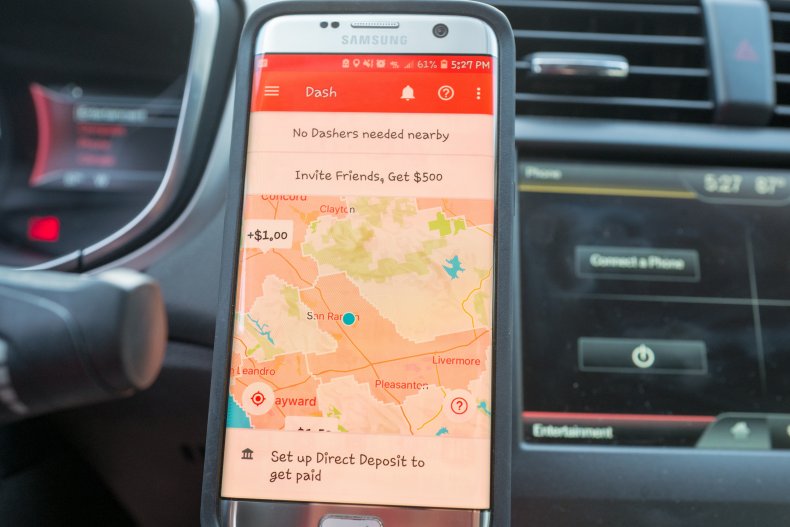 The internet's response to her complaint was divided, with some viewers telling her to "Get a real job," while other DoorDash drivers sympathized.
"All this b**ching reinforces my desire to never use these services," said one scathing comment. "Stay broke."
"Sounds like they are listening to customers. People tired of food sitting when every dasher is declining orders," said another critic.
But another purported DoorDash worker agreed with Cyn, writing, "Shouldn't get penalized for declining orders. We're supposed to be in charge of what we earn. And a 2$ tip ain't worth 30 mins of my time."
"Imagine how much less complaints and how much more deliveries there [would] be if there was high enough base pay that any extra tips is a nice reward," said another supporter.
DoorDash told Newsweek in a statement, "Nationally, on average, Dashers earn over $25 per hour they're on a delivery, including 100 [percent] of tips, and work fewer than four hours a week. Dashers are always shown a guaranteed minimum amount they will earn for completing a delivery before they even accept the delivery, as well as the location and name of the restaurant, and estimated total mileage for the delivery so that they can make the best decision for themselves while dashing."
Demand for food delivery services like DoorDash surged during the COVID-19 pandemic. Over 112 million Americans said they have ordered food delivery, with over 60 percent of consumers ordering takeout or delivery at least once a week, according to Fundera.
Newsweek reached out to Cyn for comment.