Driver of Stolen Big Rig Leads California Highway Patrol On Hours-Long Chase
Officers with the California Highway Patrol ended up in a standoff with the driver of a stolen big rig who led them on an hours-long chase through several cities.
The pursuit began after the vehicle was stolen at around 8:15 p.m. from a food service lot in East Los Angeles, CHP Officer Patrick Kimball said.
NBC Los Angeles reported that an employee of Individual Food Service, a food service company based in Bell, called police to report the tractor-trailer he was driving had been stolen.
When officers caught up to the vehicle, the driver refused to pull over and led officers on a chase along several freeways.
Officers chased the driver in helicopters and patrol vehicles as the big rig traveled through cities in the San Fernando Valley. According to ABC7, the driver traveled just under the freeway speed limit, between 50 and 60mph, during much of the chase.
At least nine spike strips were used during the chase in a bid to stop the suspect, who continued driving even after one attempt managed to take out at least two tires as the vehicle entered the Thousand Oaks area.
By early Thursday morning, the big rig had stopped on the 55 Freeway war MacArthur Boulevard in Santa Ana but the driver refused to get out, according to ABC7.
The California Highway Patrol has been contacted for additional comment.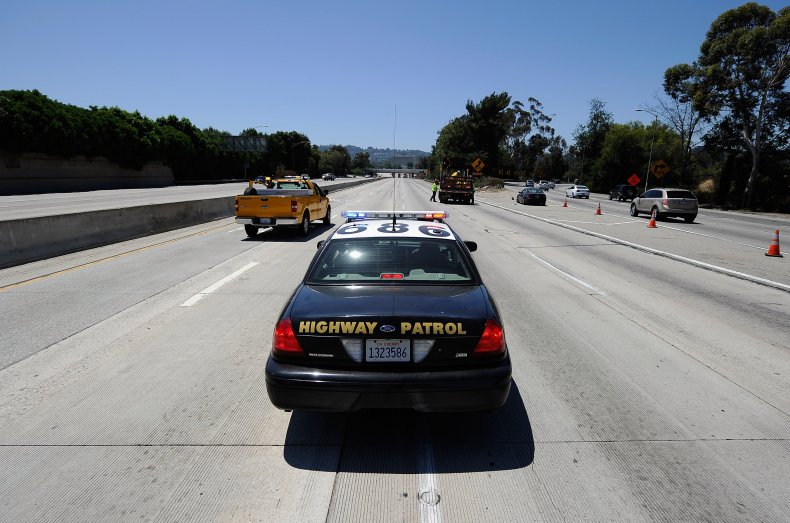 It comes after a tow truck driver led officers on a slow-speed pursuit through San Diego for almost an hour last month. The driver reportedly told police during the pursuit that he could not stop or a bomb on the truck would explode, mirroring the plot of the 1994 movie Speed starring Keanu Reeves and Sandra Bullock. No bomb was found on the truck when it finally stopped, police said.
And last week, a man in a stolen school bus led police on a 15-minute chase in Seattle, leaving a trail of damaged cars in his wake.
The suspect reportedly led officers on a chase through several neighborhoods at speeds of around 50 miles per hour. He swerved across lanes of traffic, ran red lights, and rammed into other vehicles throughout the chase, according to police.
Officers said that up to 20 cars were damaged over the course of the chase, which came to end after the man crashed the school bus into a public transit bus and then into a light rail station construction site.
Updated on 11/4/21 at 9.45 a.m. ET: This article has been updated with additional information.