Drought Battle Is Looking Up for California
The drought-ridden state of California has managed to climb out of the arid conditions it has been facing for months, with nearly half the state currently being classified as drought-free.
Data from the U.S. Drought Monitor shows that 44.66 percent of the state is free of any degree of drought condition as of March 14, which has jumped up from the 26.84 percent recorded on March 7, only a week prior.
Additionally, the 19 percent of the state experiencing "severe drought" on March 7 has also dropped to 8.49 percent this week. Six months ago, on September 27, 2022, 53 percent of California was suffering from "severe drought", 24.32 percent was under "extreme drought", and a further 16.57 percent was in the highest classification of "exceptional drought."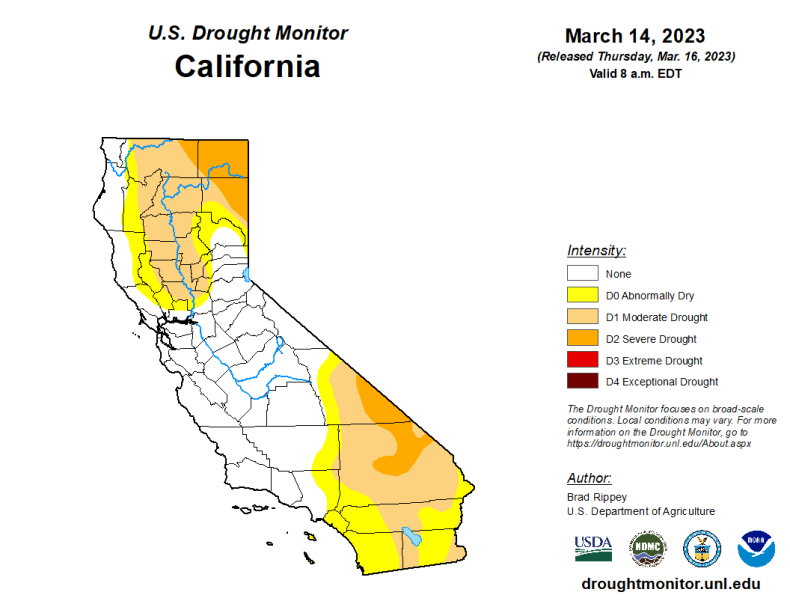 This may be related to the severe rain and snowfall across the state as a result of the atmospheric river storms that have buffeted California over the past few weeks. This precipitation is much needed, as California has been suffering from a megadrought for the past two decades, but has also led to massive flooding across the state.
A "megadrought" is an extended period of low rainfall across several years, with the current drought being the longest and driest period in the U.S. West for more than 1,000 years. The current megadrought began around the year 2000.
"This region of the Americas has experienced long periods of drought before, with perhaps two or three megadroughts each century over the past 2,000 years. But this megadrought stands out from the record as being particularly long-lasting," Hannah Cloke, a professor of hydrology at the University of Reading in the U.K., previously told Newsweek.
This—combined with expanding populations in the U.S. West—has diminished the amount of water available for people and agriculture.
"Water availability is always a balance between supply and demand," Rick Relyea, director of the Darrin Fresh Water Institute at Rensselaer Polytechnic Institute, New York, told Newsweek in January. "For many regions in the western U.S., cities have experienced rapid growth over the past century but the water supply remained relatively steady. When the megadrought began, it caused water availability to decline while water demand continued to grow."
The recent rainfall will help to refill the reservoirs that have been emptying as a result of the dry and hot conditions seen in the summer of 2022.
Richard G. Luthy, a professor of civil and environmental engineering and water infrastructure expert at Stanford University, previously told Newsweek. "The recent rains are very important in helping to prevent another dry year. 2020, 2021, and 2022 were exceptionally dry years. In 2022, January, February and March—normally wet months—were the driest since records were kept in the late 1800s."
However, a lot more rainfall is needed to pull the state fully out of drought and to cure the megadrought once and for all. This is because the groundwater supplies have been slowly depleted over the last 20 years, leaving the soil itself dry and arid.
"Over the last 25 years, we have lost more than 150 km3 [121,600,000 acre feet] of groundwater from California, which would take many, many years of rain to replace, even if there were no consumptive use for municipal or agricultural purposes," Aakash Ahamed, a hydrologist and co-founder of the Water Data Lab, told Newsweek in October last year.
Therefore, for the drought to be lifted entirely, this groundwater needs to be replenished.
"It will take several years of above normal precipitation—both rain and snow during the appropriate times of the year," Lara Fowler, an environmental and energy issues attorney and interim director of the Penn State Sustainability Institute at Penn State University, previously told Newsweek.
"As soil moisture and surface water supplies have become depleted, more and more groundwater pumping has also led to a decline in aquifer levels in many places. Such groundwater contributes to baseflows in streams. So not only would surface water (streams/rivers) need to refill, so does soil moisture and groundwater levels (the last of which can be very slow to recharge)."
This may be helped by new legislation from the California State Water Resources Control Board and the U.S. Bureau of Reclamation, which plans to take more than 600,000 acre-feet from the San Joaquin River to restore groundwater levels, the Los Angeles Times reported this week.
However, the effects of climate change may make it more difficult to combat the drought, as it is expected to only worsen the dry conditions: one Nature Climate Change study published in 2022 showed climate change can be attributed to 42 percent of the dry and hot conditions across the U.S. over the last two decades.
"We know that climate change as a result of human activity is already making droughts worse. This is because of shifting weather patterns, influenced by the changes in temperatures in oceans and the atmosphere, in part because warmer air holds more moisture. This is one of the reasons why extreme weather is getting more extreme—heavy rainfall can be even heavier, and droughts can last longer," Cloke said.
Despite these challenges in California's future, for now, the drought is lessening, and the rain keeps pouring.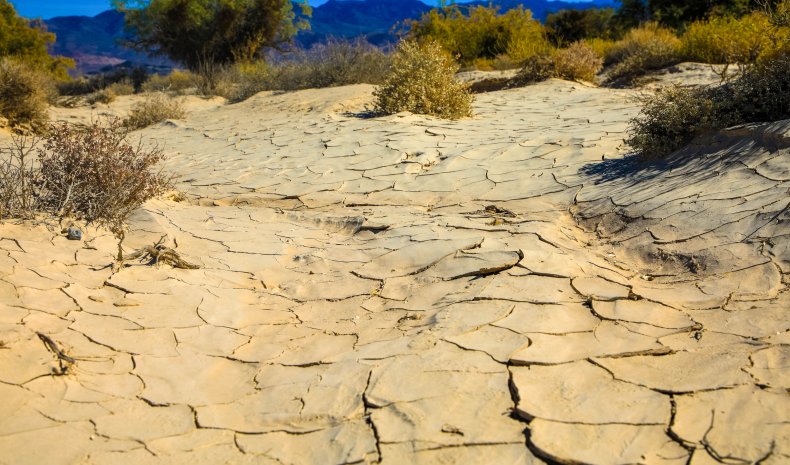 Do you have a tip on a science story that Newsweek should be covering? Do you have a question about megadroughts? Let us know via science@newsweek.com.