Ducey Hailed by Dems for Congratulating Hobbs: 'Leadership at Its Finest'
Arizona Governor Doug Ducey was thanked for "showing others how it's done" after meeting with Governor-elect Katie Hobbs to discuss transition procedures before Hobbs is set to take office in January.
Hobbs, a Democrat who is currently serving as Arizona's secretary of state, posted photos of her meeting with Ducey, a Republican, on her Twitter account Wednesday. The governor-elect said she was "so grateful for the support and guidance" from Ducey's office so far, and promised to facilitate "a smooth transition" between the two leaders.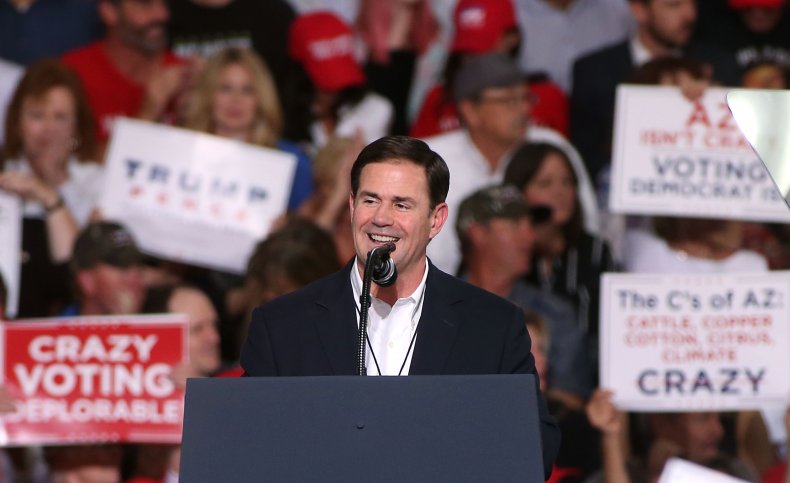 Arizona state Representative Marcelino Quiñonez reposted Hobbs' photos, calling the meeting between the two "leadership at its finest."
"This peaceful transfer of power makes our democracy stronger in Arizona," Quiñonez wrote. "Thank you Gov. @DougDucey for showing others how it's done."
The Democratic leader of Arizona's House of Representatives, Andrés Cano, also praised Ducey and Hobbs' meeting Wednesday: "This is what a peaceful and principled transition of power looks like."
Hobbs won her tight race against Republican nominee Kari Lake, who was endorsed by former President Donald Trump and has yet to concede. Lake, along with several other Republican nominees who lost on Election Day, have continued to claim that same-day voters were disenfranchised due to ballot machines malfunctioning in Maricopa County, which surrounds the city of Phoenix.
Arizona's Election Board was also accused of committing voter fraud by Trump following the 2020 election. The accusations have since been dismissed but Lake continued to back Trump's allegations during her campaign.
Two counties in Arizona are also delaying certification of their ballots in protest of the same-day issues. Mohave County has agreed to certify results on Monday—the state's deadline to do so—while Cochise County's board of supervisors tabled the idea in its meeting on Friday.
While Cochise County has not promised when, or if, it will certify its ballots, Jane Montgomery, public information officer for the county board of supervisors, told Newsweek on Wednesday that the subject is on the board's agenda for a special meeting on Monday.
Ducey, who was elected governor in 2014, has not released a direct statement regarding the election fraud claims from his fellow Republican. However, the governor did post on his Twitter account Wednesday afternoon that he congratulated Hobbs in their meeting "on her victory in a hard-fought race," adding that the governor-elect has his "full cooperation."
"All of us have waited patiently for the democratic process to play out," Ducey wrote in a following post. "The people of Arizona have spoken, their votes have been counted and we respect their decision."
Newsweek has reached out to Ducey's office for comment.