Ducklings Rescued After Small Bird 'Knocks' on Library Door for Help
A small duckling desperate for help managed to alert some sympathetic librarians that its family was in trouble by knocking on the door with its beak.
According to a report from KIRO-TV, Stanwood Library employees Marlene Moodie and Vicky Beatty rescued a group of distressed ducklings trapped in an access well connected to the building on June 22.
"Marlene went outside and scooped the ducks out of the hole, but they went running in several different directions," Stanwood Library Manager Charles Pratt said in a statement to Stanwood Camano News.
According to the outlet, Moodie and Beatty only realized there were a group of birds in distress after hearing a knock on the library's front door during operating hours. When they went to investigate, they found one of the ducklings jumping up and down and rapidly tapping its beak on the window in the door frame.
"You never know who will show up at the library!" the Stanwood Library jokingly shared on their Facebook, along with a photo of the smart duckling knocking on the door to alert the staff of its predicament.
KIRO-TV reported an older mother Mallard attempted to corral their little ones after the initial rescue, but they scurried off all in different directions.
"The mama duck pursued some, but she wasn't able to round them all up apparently because Marlene returned to the area later to check, and several of the ducklings had made it back into the same spot and became trapped again," Pratt told the outlet. "We never saw the mama duck again after Marlene first helped her."
After searching unsuccessfully for the mother after the ducklings found themselves in the access well again, Moodie took four of them to the Sarvey Wildlife Care Center. Pratt told Stanwood Camano News that animal welfare responders rescued two more under the building, after Beatty reportedly heard more birds crying for help.
Suzanne West, executive director for the Sarvey Wildlife Care Center, confirmed with Newsweek that two batches of ducklings had been delivered to their facility in late June.
"They came in actually in two different groups. They were the same duckling [family] ... they came a couple hours apart. They were all healthy, just orphaned," she said. "They got separated from mom because they had fallen into ... an opening in the ground that they got trapped in.
"Some of the other siblings were able to be, I guess, pulled out, but then these guys ended up in there a second time," West added. "They were having a very bad day!"
Fortunately, the ducklings were delivered in good health and are now reportedly being raised with two others of the same size and age class.
"They'll be released in about a month," West told Newsweek. "The way we do it with Mallards ... our facility is on a large piece of property with two ponds. So we do something called a 'soft release,' and that basically means when they're ready they go into our big open ponds. The area is fenced off from predators and such, but they're able to fly away when they're ready."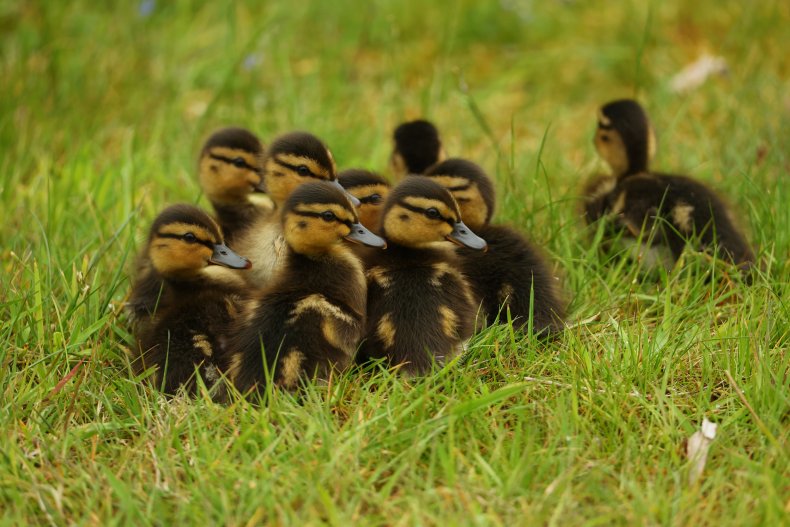 Pratt also thanked his staff for their quick thinking and kindness shown toward the animals in distress. "Thanks to all of you for being such caring and compassionate folks. Y'all are a bunch of 'good eggs,'" he said in a statement to Stanwood Camano News.
West also noted that should anyone find an abandoned baby duck or goose, they likely have been orphaned and will need rehabilitation.
"Ducklings and goslings as well are species that should never be alone. So, if you find a duckling or a gosling that is alone, or just two or three of them together without mom, something is wrong," West told Newsweek. "They're really good parents, if they get separated from mom, it's not a matter of looking for the nearest duck to give them back to. Unless we are 100 percent sure that's the mother, the ducks have to go into rehab.
"It's really important that if people find an animal that's orphaned ... ducklings and goslings are species that should never be left alone. Mom would not leave them unless something is wrong," she added.
Newsweek reached out to the Stanwood Library for additional comment, but did not hear back in time for publication.
Earlier in June, an adorable viral video emerged of a duck leading her young through the busy streets of New York City. In April, a TikTok user shared a sweet video sharing how she came to care for her pet duckling Hiccup.
Updated at 5 p.m. to include statements the Sarvey Wildlife Care Center issued to Newsweek.