Republican Duncan Hunter Illegally Used Campaign Funds for Multiple Extramarital Affairs, Prosecutors Allege
Republican Representative Duncan Hunter, currently awaiting trial for allegedly spending $250,000 in campaign funds illegally on vacations and personal expenditures, also improperly used funds to "pursue a series of intimate personal relationships," according to prosecutors in a new court filing late Monday night.
The sixth term California congressman and his wife, Margaret Hunter, who managed her husband's campaign finances, were indicted by a federal grand jury in August 2018. Margaret, unlike her husband, has agreed to cooperate with the government and pleaded guilty earlier this month for illegally using campaign money for personal use.
Now, as Hunter's September trial looms, prosecutors accuse him of embezzling campaign funds in order to fund five romantic relationships with women involved in politics, including lobbyists, an aide to a leadership member and even one of his own staffers.
"Among these personal expenses were funds Hunter spent to pursue a series of intimate personal relationships," prosecutors alleged in new court filings. "This evidence is necessary to establish the personal nature of the expenditures... to demonstrate Hunter's knowledge and intent to break the law, and to establish his motive to embezzle from his campaign."
Hunter's office declined Newsweek's request for comment.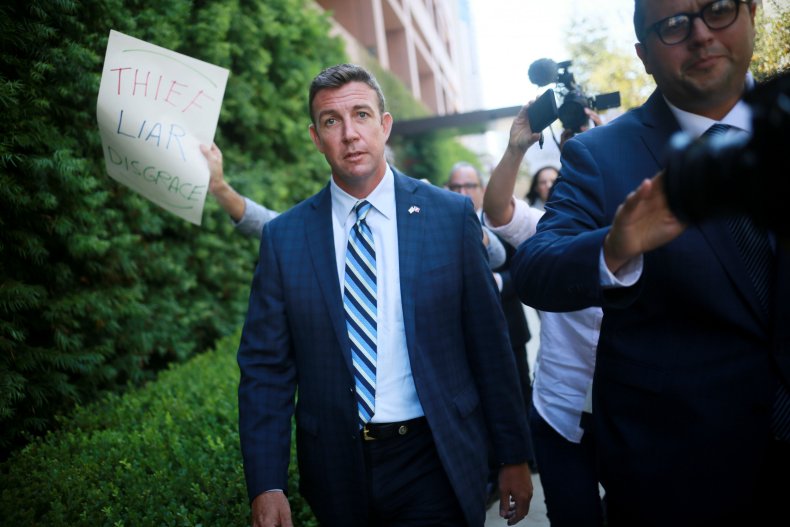 Despite the alleged affairs with congressional staffers and political influencers in Washington, House Republican leadership showed no intent on requesting the sitting congressman to resign.
"I'm not going to do hypotheticals. I don't know about these allegations," GOP House Minority Whip Steve Scalise told reporters when asked whether the allegations were concerning. "He's playing it out in the courts and that's what the judicial system is all about."
Hunter has argued his indictment is the result of corrupt prosecutors with political motives, something prosecutors in their court filing requested the judge put a halt to so as to avoid poisoning "the pool of potential jurors." They also further detailed Hunter and his wife's poor financial status, despite the two earning a cumulative household salary of more than $200,000 per year.
In order to "make ends meet," prosecutors said, "they began to use campaign funds for such basic expenses as cigarettes, gasoline and groceries... They lived a lifestyle well beyond their means, routinely spending money they did not have on luxuries like overseas travel, upscale hotel rooms, fine dining, and seemingly endless rounds of golf," they added.
Prosecutors allege that "shortly after" he was first elected and arrived to Washington, D.C., in January 2009, Hunter started using campaign funds "to carry out a series of intimate relationships."
Through testimony, texts, emails, phone logs, photographs and social media interactions, prosecutors said they will present evidence at trial that "will demonstrate that Hunter improperly used campaign funds to pursue these romances wholly unrelated to either his congressional campaigns or his official duties as a member of Congress."
In April 2009, Hunter met a lobbyist, and their relationship "soon blossomed beyond a mere friendship," according to prosecutors. Aside from spending campaign funds on food and beverages, Hunter and the lobbyist allegedly took a ski vacation in January 2010 and used campaign money for portions of the getaway, including a $1,008 hotel tab.
In March, the two allegedly took "a weekend 'double date' road trip to Virginia Beach with their friends, one of whom was also a congressman," prosecutors said. There, Hunter allegedly spent $905 in campaign funds for a hotel bar tab, among other things.
In June 2011, Hunter's wife planned a trip to Washington and booked a hotel room from June 21-24. Hunter was scheduled to attend a dinner event at the same hotel on that first night hosted by a non-profit advocacy group and organized by the lobbyist with whom he was allegedly having an affair.
Prosecutors said Hunter's wife rebooked her flight from California for June 22, and that Hunter "kept the June 21 room reservation and spent the night there with" the lobbyist.
"They paid the $455 hotel bill, for all three nights, using campaign funds," prosecutors said. "In describing this expenditure to his campaign treasurer later, Hunter never explained the reason he kept the first night at the hotel."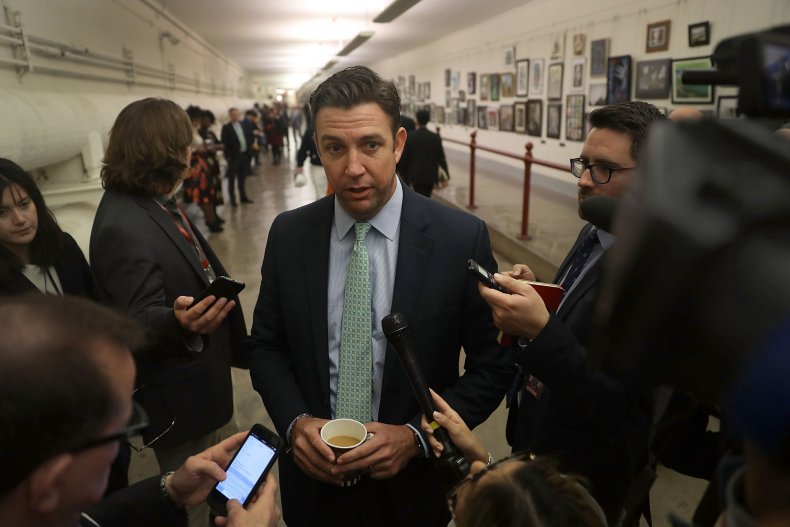 Between roughly August 2012 and February 2014, Hunter allegedly again misused campaign funds during an affair with a woman who "worked in the office of a member of the House of Representatives leadership," including for Uber rides and cocktails.
Shortly after a woman began working in Hunter's congressional office in January 2015, prosecutors allege they began a romantic relationship.
"The two occasionally spent nights together at his office, and Hunter took [the staffer] out to socialize with his friends, using campaign funds to pay for their dates," prosecutors said. Those expenses also allegedly entailed bar tabs and Uber rides.
Hunter allegedly had affairs with two more lobbyists, one in 2015 and another in 2016, and illegally spent campaign funds with them, including on Uber rides.
"That night, however, was not about business," prosecutors said of an evening in October 2015 that Hunter spent with one of the lobbyists. "[A]t around 11:00 pm, Hunter and [another lobbyist] departed the Hamilton [Hotel] together for her home, where they engaged in intimate personal activities unrelated to Hunter's congressional campaign or duties as a member of Congress."
Ammar Campa-Najjar, Hunter's Democratic opponent who narrowly lost to the incumbent Republican in California's conservative 50th Congressional District last election, is again running to unseat Hunter. He told Newsweek in a text message that he knew one of the staffers with whom Hunter allegedly had an affair.
"Hunter's actions have hurt a lot of people, it's time for us to turn the page on him," Campa-Najjar said. "I'm done talking about Hunter."
This story was updated to include comment from GOP Representative Steve Scalise, a member of Republican House leadership, as well as a refusal to comment by Hunter's congressional office.