Durbin Slams Hawley's 'Inaccurate and Unfair' Criticism of Judge Jackson
Senator Dick Durbin on Sunday slammed fellow Senator Josh Hawley's recent claims that Supreme Court nominee Ketanji Brown Jackson has been too lenient toward child sex offenders in court rulings, calling the criticism "inaccurate and unfair."
In an interview on ABC's This Week, Durbin, an Illinois Democrat, dismissed a series of tweets in which Hawley, a Missouri Republican, claimed that Jackson has displayed an "alarming pattern" when handing out prison sentences to child pornographers. Hawley, a member of the Senate Judiciary Committee, made the accusations ahead of Jackson's Senate confirmation hearings beginning on Monday.
"As far as Senator Hawley is concerned, here's the bottom line—he's wrong. He's inaccurate and unfair in his analysis," Durbin said Sunday, adding that independent fact-checking from The Washington Post and CNN "have discredited" the claims.
"There's no truth to what he says," Durbin continued. "And he's part of the fringe within the Republican Party. This was a man who was fist-bumping the murderous mob that descended on the Capitol on January 6th of the last year. He doesn't have the credibility he thinks he does."
In a Twitter thread arguing Jackson has been soft on child sex offenders, Hawley wrote on Wednesday:
"Judge Jackson has a pattern of letting child porn offenders off the hook for their appalling crimes, both as a judge and as a policymaker. She's been advocating for it since law school. This goes beyond 'soft on crime.' I'm concerned that this a record that endangers our children."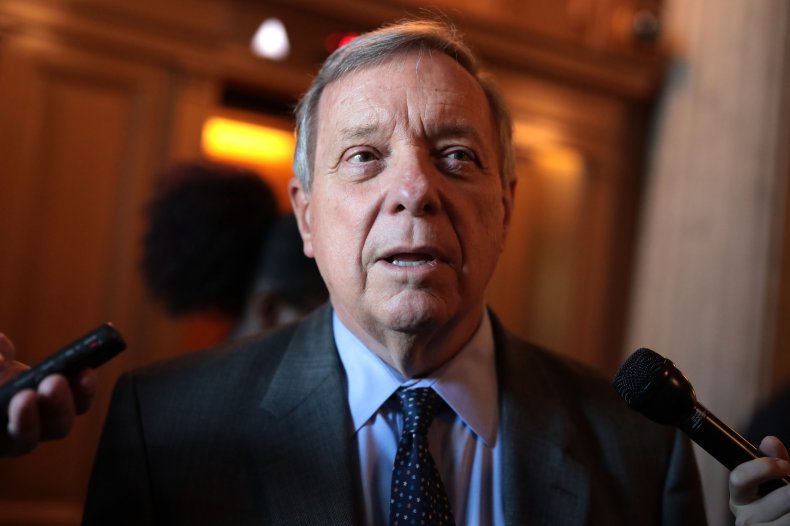 A number of analysts and fact-checkers have reviewed Hawley's tweets, along with Jackson's history as both a federal judge and member of the U.S. Sentencing Commission, and determined his statements to be misleading.
Focusing on just a few of Jackson's cases, Hawley suggested that she often gave sentences to sex offenders below the recommended guidelines, without contextualizing a widely-held debate within the judicial community about whether those recommendations are too high in some cases. He also took several of Jackson's comments out of context by claiming they were opinions, when instead they were simply questions she posed to subject matter experts.
Democratic lawmakers and President Joe Biden's administration have pushed back against Hawley's claims, with White House spokesperson Andrew Bates calling them "toxic and weakly-presented misinformation that relies on taking cherry-picked elements of her record out of context—and it buckles under the lightest scrutiny."
Nonetheless, Hawley's claims will likely resurface during Jackson's confirmation hearings. Also on Sunday, Senator John Barrasso, a Wyoming Republican, signaled that his party will push her on the matter.
"In going through the record, there are some concerns that people have about her being perceived as soft on crime," Barrasso told ABC's This Week. "That's all going to come out with the hearings, but they're going to be respectful, they're going to be thorough, and they're going to be fair."
Jackson is the first Black woman to be nominated to the Supreme Court. Her lengthy judicial history includes working on the D.C. Circuit Court of appeals, and serving for nearly a decade as a federal district judge. Earlier this week, the American Bar Association deemed her to be a "well-qualified" Supreme Court nominee, while recent polling has suggested that a majority of Americans hold the same view.