American Bar Assoc Says Judge Jackson 'Well Qualified' to Serve on SCOTUS
The American Bar Association has deemed Ketanji Brown Jackson, President Joe Biden's Supreme Court nominee, a "well qualified" choice to serve on the nation's highest court.
The association's Standing Committee on the Federal Judiciary gave Jackson its highest marks on Friday in a letter addressed to Senate Judiciary Committee Chair Dick Durbin, a Democrat from Illinois, and ranking Republican member Chuck Grassley of Iowa. The association typically evaluates and issues a qualifications rating for Supreme Court nominees just ahead of Senate confirmation hearings. All three of former President Donald Trump's picks were given the same rating.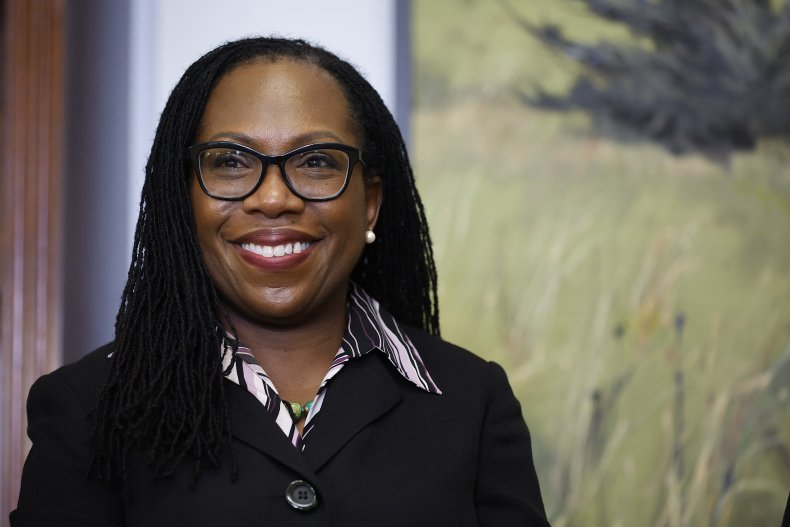 "As you know, the Standing Committee confines its evaluation to the qualities of integrity, professional competence, and judicial temperament," states the letter. "The Standing Committee is of the unanimous opinion that Judge Jackson is 'Well Qualified' to serve on the United States Supreme Court."
In a statement on Thursday, Durbin said that Jackson's "qualifications are exceptional," while praising her for "a reputation for thoughtfulness, evenhandedness, and collegiality."
Jackson is the first Black woman to be nominated to the Supreme Court. She was confirmed by the Senate to the D.C. Circuit Court of Appeals last year and previously served for over eight years as a federal district court judge. In addition, Jackson has experience as a public defender and with the U.S. Sentencing Commission.
Senate hearings to confirm Jackson's place on the Supreme Court are set to begin on Monday. The judge has met with senators from both parties in advance of the hearings. Democratic leaders in the Senate are hoping to fast-track the hearings and hold a final vote by April 8.
A YouGov poll conducted on February 25, the day Jackson was nominated, found that most Americans who had an opinion agreed that she was qualified. According to the poll, 39 percent of Americans were confident that Jackson was qualified to serve on the court, while 13 percent said that she was not qualified. However, a 48 percent plurality were undecided.
Perhaps unsurprisingly, opinions on Jackson differed depending on political affiliation. A 66 percent majority of Democrats said that she was qualified. Although most Republicans and independents were undecided, 32 percent of independents and 20 percent of Republicans said that Jackson was qualified.
Race was also a predictive factor, with 56 percent of Black Americans agreeing that she was qualified, compared to 35 percent of white Americans. If confirmed, Jackson would be only the third Black justice to serve, with the court having two sitting Black members for the first time.
This week, Black students at Jackson's alma mater Harvard Law School told Newsweek that she—not the court's only current Black member, the conservative Justice Clarence Thomas—would more accurately "speak for" them on the court.
"I haven't felt as though [Thomas] necessarily speaks for me or for most of the Black people I know," Harvard law student Robert Clinton told Newsweek. "In some ways, it feels like this is finally having Black representation on the court from someone who seemingly is more aligned with the perspective of most of the Black people that I know."
"You don't always see yourself [on the court]," added Mariah Watson, president of the Harvard Black Law Students Association. "To know that there will be a Black woman on the court, who has had similar experiences [as myself]...it's so exciting it's hard to describe what that would mean."
Newsweek reached out to the offices of Dick Durbin and Chuck Grassley for comment.