Durham Blasted by Experts After New Acquittal: 'Laughed Out of Court Twice'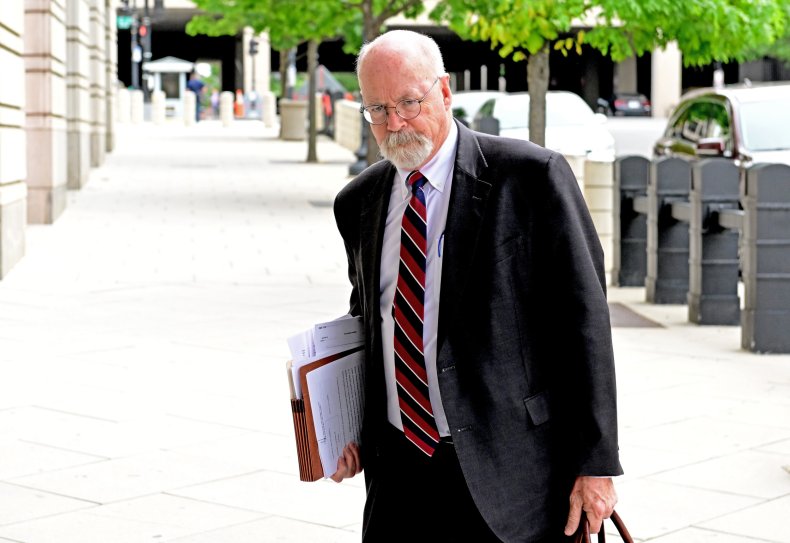 Special Counsel John Durham is being mocked by experts after a man accused of lying to the FBI about the creation of the so-called "Steele dossier" was acquitted by a jury in Virginia.
Igor Danchenko, a Russian analyst, provided information that was used in former British spy Christopher Steele's now-discredited dossier of unsubstantiated allegations and rumors concerning former President Donald Trump's ties to Russia. Durham charged Danchenko with multiple counts of lying to the FBI about the source of the information. He was acquitted of all charges on Tuesday.
Former Attorney General William Barr appointed Durham to investigate possible misconduct in the FBI's probe of alleged Russian interference in the 2016 presidential election. While Trump and his allies claimed that Durham's investigation would uncover evidence of a massive "deep state" conspiracy against the former president, it has failed to do so.
Instead, the investigation has only resulted in three indictments that do not include any allegations of a conspiracy against Trump. In addition, the only two indictments that Durham took to trial resulted in full acquittals. Michael Sussmann, a cybersecurity lawyer with links to the 2016 presidential campaign of former Secretary of State Hillary Clinton, was also acquitted this year of lying to the FBI.
Durham said in a statement that he was "disappointed in the outcome" of the trial on Tuesday but had "respect" for the jury's decision, according to the Associated Press.
Laurence Tribe, professor emeritus of constitutional law at Harvard University, told Newsweek that the acquittal was evidence Durham's "groundless mission has now failed yet again, putting yet another dismal marker on William Barr's shameful record as Trump's henchman and the worst Attorney General in our nation's history."
Analysts and other experts also denounced Durham's investigation and mocked his latest failure on social media.
"John Durham racks up another acquittal, this time on a case he tried personally," legal analyst and former federal prosecutor Elie Honig tweeted. "His investigation will go down as a shameful abuse of prosecutorial power in service of political vengeance. Juries - our most basic civilian bulwark - have firmly rebuked this abuse of power."
"I remember distinctly being told over and over how the Durham probe was going to indict half the Beltway and send all kinds of evil Trump haters to jail," tweeted national security lawyer Bradley P. Moss. "Durham couldn't convict a ham sandwich."
"Poor John Durham," Moss added in a subsequent tweet. "Leads investigation into CIA's destruction of interrogation tapes. Brings no charges. Leads investigation into CIA enhanced interrogation techniques. Brings no charges. Leads the 'make Trump feel better' investigation. Gets laughed out of court twice."
"The John Durham investigation is a disgrace and a fiasco," attorney and former CNN analyst Jeffrey Toobin tweeted. "Two acquittals at trial in a system where the feds win 95% of their cases. Trump and Barr said Durham would prove the Russia investigation unjustified. He's proven the opposite.
"Now it's time to see if John Durham's 'investigation' was legally conducted, if he behaved ethically, and if he and others remaining from Trump's DOJ should be prosecuted," tweeted former MSNBC host Keith Olbermann.
"John Durham is gonna finish with a worse record than the Nationals had this season and they were the worst team in baseball," data analyst and former CIA officer Jeff Asher tweeted.
"Durham wins about as much as every other Trump lawyer," tweeted Supreme Court lawyer Neal Katyal, a former acting U.S. solicitor general.
Trump told Fox News this year that the Durham probe would uncover evidence of "the crime of the century," while predicting that the investigation was "just the beginning."
The former president had not weighed in on the acquittal as of Tuesday evening, although he did claim that his administration had "fully" uncovered "'Deep State' corruption" in a Truth Social post earlier in the day.
Newsweek has reached out to Trump's office for comment.
Update 10/18, 10:20 p.m. ET: This article has been updated to include a comment from legal expert and scholar Laurence Tribe.