Dwayne Johnson Lambasts Trump in His Most Fiery Political Speech Yet
Dwayne 'The Rock' Johnson has delivered an impassioned speech directed at President Donald Trump in response to the widespread protests taking place across the country following the death of George Floyd.
The former pro wrestler, 48, posted an eight-minute video to social media addressing the government's response to the demonstrations against police brutality and systemic racism.
"Where are you? Where is our leader?" Johnson says, as he repeats this phrase throughout his speech.
"Where is our leader at this time when our country is down on its knees, begging, pleading, hurt, angry, frustrated, in pain with its arms out, just wanting to be heard?"
Though Johnson doesn't refer to Trump by name, it is clear that he is addressing the president throughout.
Trump has faced increasing criticism in the wake of the unrest that has broken out across the U.S., with even some of the president's long-term Republican allies speaking out against his response to the protests.
Johnson continued: "Where is our compassionate leader who's going to step up to our country who's down on its knees, and extend a hand and say, 'You stand up, stand up with me because I got you. I hear you, I'm listening to you.
"And you have my word that I'm going to do everything in my power, until my dying day, my last breath, to do everything I can to create the change that is needed, to normalize equality because Black lives matter.' Where are you?"
He later added: "Like the majority of Americans, I'm not a politician and I've never been elected to office and I am not the president of the United States.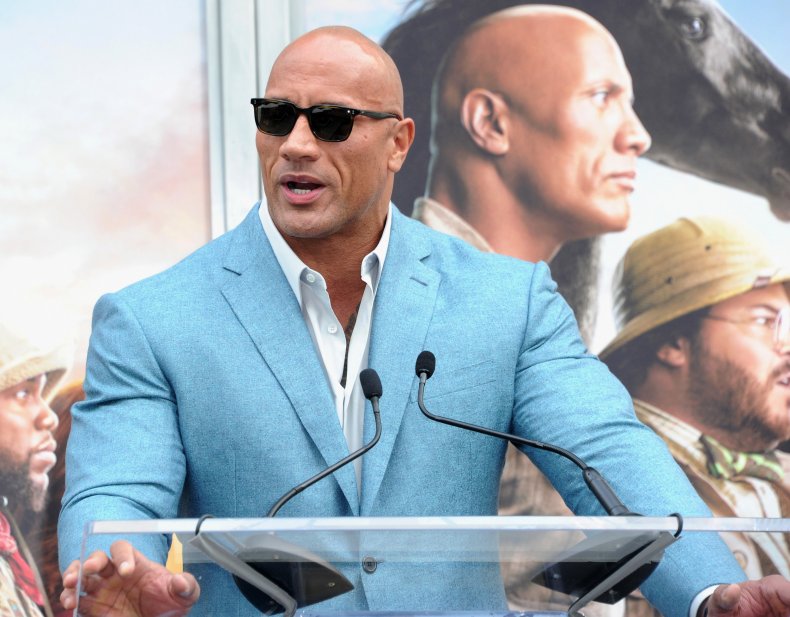 "But I am a man and I am a father who cares so deeply about my family, about my children and the world they will live in. I care so deeply about our country and every single person in it.
"That's who I am. I am a man who is frustrated, I'm disappointed, I'm angry but I'm also doing my best to stay focused and as calm as I can possibly be in the pocket, to make the best decisions for my family and make the best decisions for our country."
Johnson also used the opportunity to call out the #AllLivesMatter movement.
"Of course, all lives matter, but in this moment right now, this defining, pivotal, explosive moment where our country is down on its knees...we must say the words: Black lives matter."
The powerful speech has seen many people praise Johnson's speaking ability with some comments mentioning how presidential he comes across.
The Jumanji star has previously said he "wouldn't rule out" a potential presidential run.
In 2018, he told Rolling Stone: "I'm not ruling out the idea if I could make a bigger impact somehow, or potentially surround myself with good people."
When asked about a potential move into the world of politics last year, Johnson told IndieWire, "certainly not right now."
He said: "I saw Kamala Harris' speech the other day and thought it was good. Just for me, I lack the experience, I lack a lot of things. Certainly not right now."
Johnson spoke out against police brutality last Friday when he shared a photo of Floyd's dying words–"I can't breath"–and asked for more accountability.