Dwyane Johnson has paid a heartfelt tribute to his mother Ata Johnson for Mother's Day, reflecting on her "tough life."
The former professional wrestler, 49, posted a photo with his 72-year-old mom on Sunday to mark the occasion and told his 234 million followers how "lucky" he was to have Ata as a mother.
"Proper Mama's Day pic," he began "I always say if you gotta good mom, then you have a real shot at turning out to be a decent human being. Man I got lucky."
The Jumanji star went on to describe some of the hard times he and his mother have been through, including a road accident and a suicide attempt.
"My mom's been thru it all....cancer survivor, evictions, head on collision by a drunk driver, suicide attempt (still to this day she has zero recollection of me pulling her off the middle of the highway avoiding oncoming traffic) and decades of being married to a ramblin' pro wrestler," he continued. "Tough life. Tougher woman."
However, The Rock said that despite her "tough life" his mom "exemplifies a remarkable grace, gratitude, compassion, wicked sense of humor and finds her greatest joy in her granddaughters," he added jokingly, "and her scratch off lottery tickets."
"She's earned this life and I'm a lucky son to provide a little for her these days," he added. "If you gotta good mom, then you gotta shot at decency. I got lucky.
"Happy Mother's Day @atajohnson and to ALL you incredible mamas out there who raised the good eggs."
In 2018, Johnson revealed his mother attempted to kill herself in front of him when he was just 15 years old.
"Struggle and pain is real," he wrote on Instagram at the time. "We've all been there on some level or another. My mom tried to check out when I was 15.
"She got outta the car on Interstate 65 in Nashville and walked into oncoming traffic. Big rigs and cars swerving outta the way not to hit her.
"I grabbed her and pulled her back on the gravel shoulder of the road. What's crazy about that suicide attempt is to this day, she has no recollection of it whatsoever. Probably best she doesn't."
He also spoke about the incident in 2015 on Oprah's Master Class. He said: "In that moment, one of the greatest lessons I've ever learned was how precious life is and how in an instant, it can all go away."
Dwayne and Ata Johnson both recently starred in the sitcom about the star's life, Young Rock.
Playing themselves, the finale of season one showed mother and son delivering a touching unscripted scene together.
"In this moment, I went with my gut (and off script) and told my mom that I wished dad could've been here to see where we're at right now," Dwayne Johnson said of the scene on Instagram.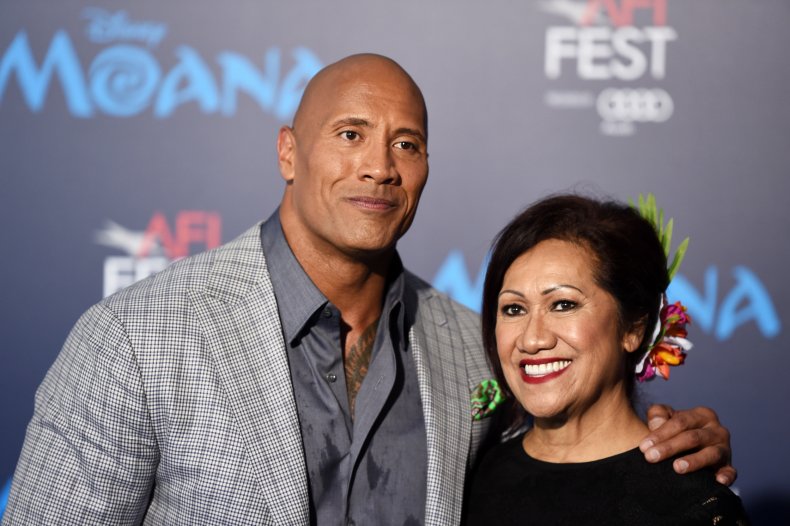 The Rock's father, Rocky Johnson, died in January 2020 at the age of 75 after a successful career as a professional wrestler. The actor posted a touching tribute on the anniversary of his death earlier this year.
"We all know loss... we've all been there... then it's our job to rise and live as greatly as we can," Johnson wrote. "My old man was a trailblazing bad dude in the game for our cultures. He passed away suddenly, exactly one year ago. The show must go on. #soulman."
If you have thoughts of suicide, confidential help is available for free at the National Suicide Prevention Lifeline. Call 1-800-273-8255. The line is available 24 hours every day.