A study out of the United Kingdom has found that students who skipped breakfast did not perform as well on standardized tests as those who ate a morning meal.
The study, published Wednesday in the journal Frontiers in Public Health, was conducted by researchers from the University of Leeds. According to the researchers, it was conducted to discern if there was any measurable correlation between "breakfast consumption frequency and academic performance."
Academic performance, as defined by the study, referred specifically to how well students scored on General Certificate of Secondary Education (GCSE) exams, subject-specific standardized tests that U.K. students must pass in order move on to college programs. Students typically begin taking them when they are 16 years old, the same age an American student would be in the tenth and eleventh grades.
Researchers defined breakfast as any food or drink consumed before 10 a.m. on school days that contained greater than or equal to five percent of the students' total energy expenditure (TEE) for that day.
For the study, researchers had 294 students between the ages of 16 and 18, about three-quarters of whom were female, complete a week-long food diary as well as a questionnaire in which they reported their GCSE grades in the subjects of English and mathematics.
Analysis determined that students who rarely ate breakfast in the morning on school days repeatedly reported lower scores on the tests than those who frequently ate it. The association was consistent across the students' sexes, ethnic backgrounds, ages, standardized body mass indexes and socioeconomic statuses.
"This cross-sectional study demonstrates that habitual school-day breakfast consumption amongst adolescents is a significant correlate of GCSE attainment," the study determined.
The study's lead author, Dr. Katie Adolphus of the University of Leeds' School of Psychology, told British newspaper the Telegraph that her team's findings reinforced the correlation between poor nutrition and academic performance.
"Our study suggests that secondary school students are at a disadvantage if they are not getting a morning meal to fuel their brains for the start of the school day," she said. "The UK has a growing problem of food poverty, with an estimated half a million children arriving at school each day too hungry to learn. Previously we have shown that eating breakfast has a positive impact on children's cognition."
In the United States, students can get free meals as part of the National School Lunch Program—which, according to its website, is the nation's second-largest food assistance program after the Supplemental Nutrition Assistance Program (SNAP). Data presented by the Food Research and Action Center reported that 22 million low-income students at 96,000 schools participated in the program in the 2017-2018 school year.
Still, some students in the U.S. have difficulty obtaining meals on school days. School districts across the country have come under fire this year for implementing "lunch debts" and giving unwholesome "alternative meals" to students whose families could not pay. In October 2019, the governor of California was compelled to step in to end the practice in the country's most populous state.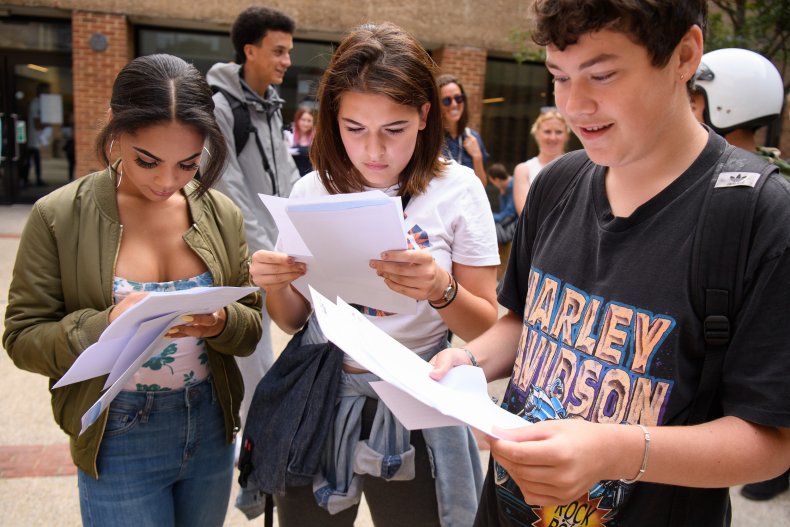 Uncommon Knowledge
Newsweek is committed to challenging conventional wisdom and finding connections in the search for common ground.
Newsweek is committed to challenging conventional wisdom and finding connections in the search for common ground.