Eddie Van Halen Gets Hometown Memorial in Pasadena
The city of Pasadena on Monday unveiled a memorial for hometown rock and roll legend, Eddie Van Halen. Often hailed as one of the greatest guitar players in history, Van Halen passed away at age 65 from a stroke in October 2020 following a years-long battle with throat cancer.
Pasadena Mayor Victor Gordo unveiled a special black and gold plaque commemorating Van Halen at the Pasadena Civic Auditorium, a venue the guitarist played with his iconic self-named band frequently in their early years. Gordo was joined by city council members Felicia Williams, Andy Wilson, Tyron Hampton and Gene Masuda.
"This event brings together history and community to celebrate a world-renowned artist," councilwoman Williams said. "It's not just the history of Eddie as a guitar legend, but also the challenges he faced growing up mixed-race in Pasadena, which always spoke to me. And the community support and initiative to make this happen is inspiring. Thank you to everyone."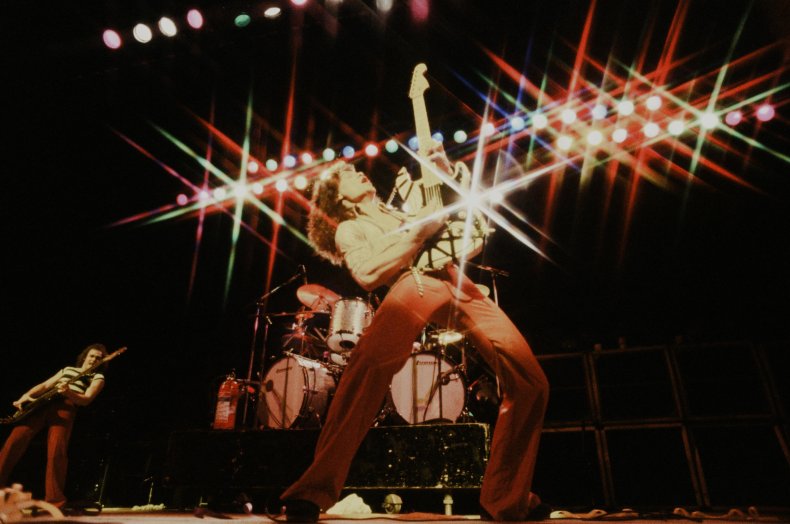 While he was originally born in Amsterdam in 1955 to Dutch and Indonesian parents, Van Halen moved to Pasadena with his family in 1962. It was there that he attended high school and eventually formed the band, Van Halen, with his brother, Alex Van Halen, in 1972.
The band made it to the big time when the president of Warner Records heard them at a small gig in Pasadena and offered them a contract in 1977. The line-up at that time included Van Halen and his brother on guitar and drums, respectively, along with lead vocalist David Lee Roth and bassist Michael Anthony. Over the decades, the band became one of the most successful rock and roll acts in history, selling over 80 million records worldwide across 12 albums. In 2007, they were inducted into the Rock and Roll Hall of Fame.
They disbanded in 2020 following Van Halen's death. He was survived by his wife, Janie Liszewski, and his son, Wolfgang Van Halen, the latter of whom played bass in the band during its later years.
"The Van Halen family emigrated from the Netherlands to Pasadena in 1962," the plaque reads. "Alex and Eddie Van Halen attended schools in Pasadena and began playing music together with Eddie on guitar and Alex on drums. Years later, the brothers formed the band VAN HALEN, along with bassist Michael Anthony and vocalist David Lee Roth.
"Between 1975 and 1978, VAN HALEN performed 14 concerts at the Pasadena Civic Auditorium and Conference Center. Regarded as one of the most successful bands of all time, VAN HALEN will forever be remembered for reinventing Rock 'n' Roll and their connection to Pasadena."
Van Halen's family was not able to attend the private unveiling ceremony but gave the memorial their blessing. The funds for the plaque, around $6,500, were raised through a GoFundMe campaign spearheaded by local residents Randa Schmalfeld and Julie Kimura.