El Paso Migrant Holding Pen 'Looks Like a Concentration Camp' Says Women's March Spokesperson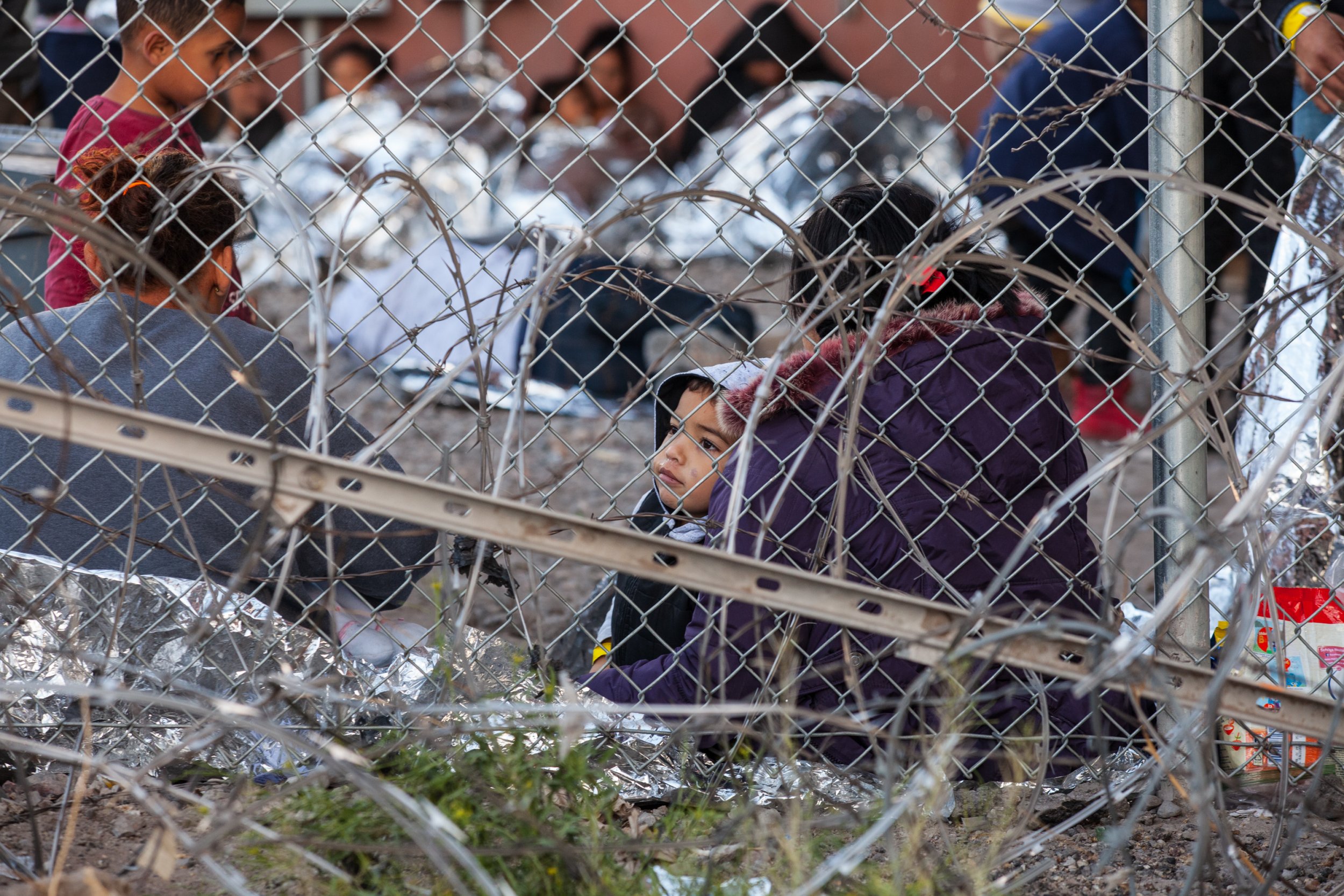 As immigration advocates sound the alarm over "inhumane" conditions for asylum seekers who have been forced to wait under an overpass outside a Border Patrol station in El Paso, Texas, some activists have started to draw comparisons between the holding site and "concentration camps."
Commenting on photos showing hundreds of predominantly Central American asylum seekers, including many families, being forced to wait under an overpass in El Paso for their asylum claims to be processed, Women's March director of communications and digital outreach Sophie Ellman-Golan said on Twitter that the site "looks like a concentration camp."
The Women's March spokesperson was not the only one to make the grim comparison, with writer Lauren Hough, who is based in Texas, sharing images of the holding site with the caption: "This is a f***ing concentration camp. We are running concentration camps."
The images of hundreds of women, men and small children forced to wait in a crowded area behind fencing barbed with concertina wire have sparked fresh outrage over the Trump administration's handling of the situation at the border, where thousands of families have sought asylum in the U.S.
"This is an inhumane and inexcusable way to treat people," Taylor Levy, legal coordinator for the El Paso migrant shelter Annunciation House, told Reuters of the situation in El Paso.
According to the news agency, asylum seekers held in the El Paso enclosure were being given thermal blankets, as well as access to some shelter, water and medical evaluations.
However, Levy said some asylum seekers told her they had been waiting in the area for their asylum claims to be processed for as many as four days, with young children, including toddlers, left sleeping on dirt and gravel below a bridge.
In a news conference in El Paso on Wednesday, U.S. Customs and Border Protection Commissioner Kevin McAleenan told reporters that the "breaking point" his agency has warned about for weeks had finally arrived, with March set to be "the highest month" in apprehensions and encounters with migrants in over a decade.
According to the CBP chief, the agency was on track to detain more than 100,000 people in March alone, representing the highest monthly total in 10 years.
"CBP is facing an unprecedented humanitarian border security crisis all along our southwest border," McAleenan said. "And nowhere has that crisis manifested more acutely than here in El Paso."
The CBP commissioner said that for the first time in over a decade, the agency had started to perform "direct releases" of migrants at the southern border, leaving Border Patrol agents to "expeditiously" decide on whether migrants should be accepted into custody or be released pending a court hearing "on a risk basis."
The infographic below, provided by Statista, illustrates the number of people granted asylum in the United States since 1975.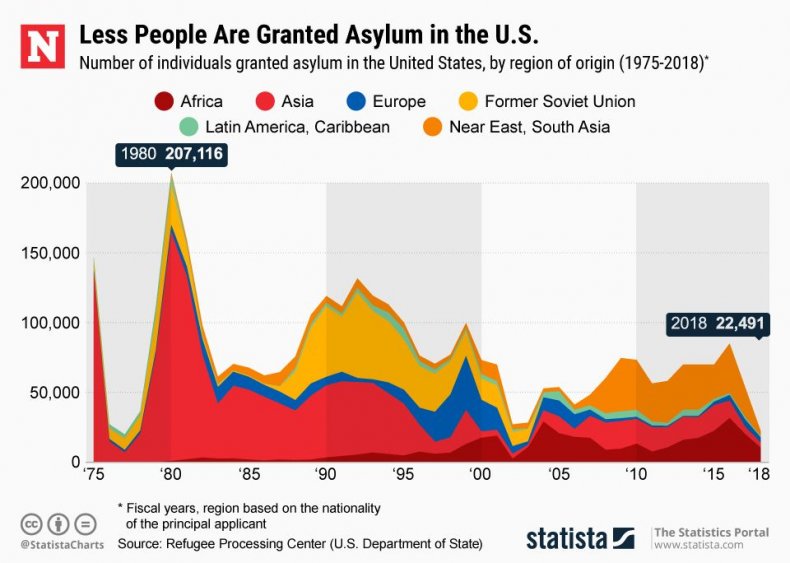 The situation in El Paso has unfolded as Mexico's interior minister, Olga Sanchez-Cordero, warned that "the mother of all migrant caravans" has been gathering in Honduras with plans to head north.
In response to pressure from Mexico and the Trump administration, the governments of Honduras, Guatemala, El Salvador and the U.S. announced on Thursday that they had come to an agreement to enforce a number of measures to deter "irregular migration," including enhancing border security and joint policing efforts.
The announcement came after Trump lashed out at Mexico and Central American countries and threatened to shut down the U.S. border on Thursday.
"Mexico is doing NOTHING to help stop the flow of illegal immigrants to our Country," Trump said in a Twitter statement. "They are all talk and no action."
"Likewise, Honduras, Guatemala and El Salvador have taken our money for years, and do Nothing. The Dems don't care, such BAD laws. May close the Southern Border!" the president said.
Mexican President Andrés Manuel López Obrador rejected Trump's rhetoric, saying, "This is a problem of the United States, or it's a problem of the Central American countries. It's not up to us Mexicans, no."