Mexican President Andrés Manuel López Obrador pushed back against harsh criticism issued by President Donald Trump on Thursday, saying that immigration issues along the southern U.S. border were not the fault of Mexico.
Posting to Twitter on Thursday morning, Trump wrote: "Mexico is doing NOTHING to help stop the flow of illegal immigrants to our Country [sic]." The president continued, "They are all talk and no action," before shifting to blame Central American nations as well. "Likewise, Honduras, Guatemala and El Salvador have taken our money for years, and do Nothing [sic]." Trump also threatened that he "may close the Southern Border!"
López Obrador said Mexico respected Trump's position, Reuters reported, but he took issue with the president's characterization. "This is a problem of the United States, or it's a problem of the Central American countries. It's not up to us Mexicans, no," the Mexican leader told reporters.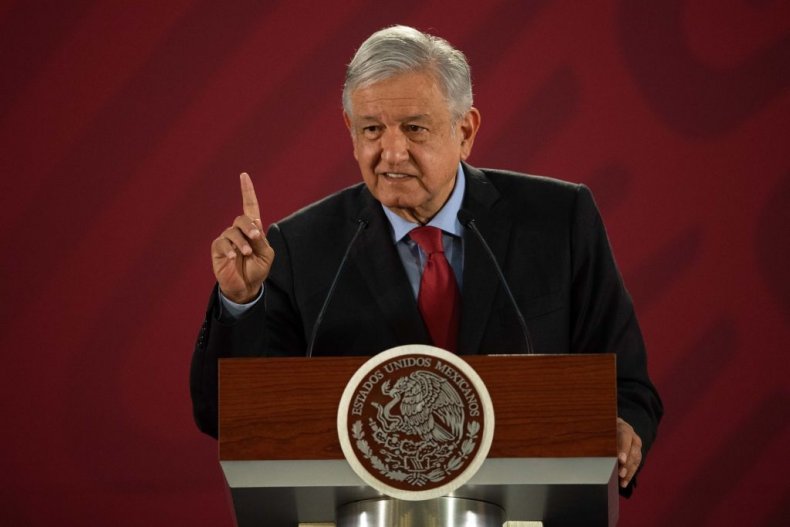 "I just emphasize that migration flows of Mexicans to the United States are very low, a lot lower," he continued. "The Mexican is no longer seeking work in the United States. The majority [of migrants at the border] are inhabitants of our fellow Central American countries."
"Trump overlooks how Mexico has increased its immigration enforcement efforts since 2014 and which have continued with the López Obrador administration," Maureen Meyer, director for Mexico and migrant rights at the Washington Office on Latin America, told Newsweek, noting that López Obrador, who took office on December 1, 2018, took immigration seriously in his first few months.
"Mexico's immigration officials have apprehended over 22,000 Central American migrants, and Mexico's interior minister announced this week that they would be developing a contention plan to address migration through southern Mexico," Meyer continued.
As López Obrador pointed out, undocumented immigration from Mexico has declined sharply over the past two decades. According to a December 2018 report by Pew Research Center, U.S. Border Patrol apprehended 130,454 Mexicans attempting to cross the border illegally in the 2017 fiscal year, a steep fall from the peak of 1.6 million detained in 2000. Mexicans still make up the largest immigrant group to the U.S., with a population of about 12 million as of 2016. However, less than half (45 percent) were in the U.S. illegally.
"Mexican migration to the United States has been a net zero in recent years," said Meyer. "The Mexican-born population in the U.S. reached its height in 2007 and has declined since then, while the number of Central Americans fleeing poverty and violence in their home countries has increased dramatically."
Trump has long pushed forward a hard-line stance against undocument immigrants, routinely lashing out at Mexico and other Central American nations. The president's policies have come under intense scrutiny and drawn international condemnation, particularly last summer, when it was revealed that migrant children were being separated from their parents and held in secretive detention facilities.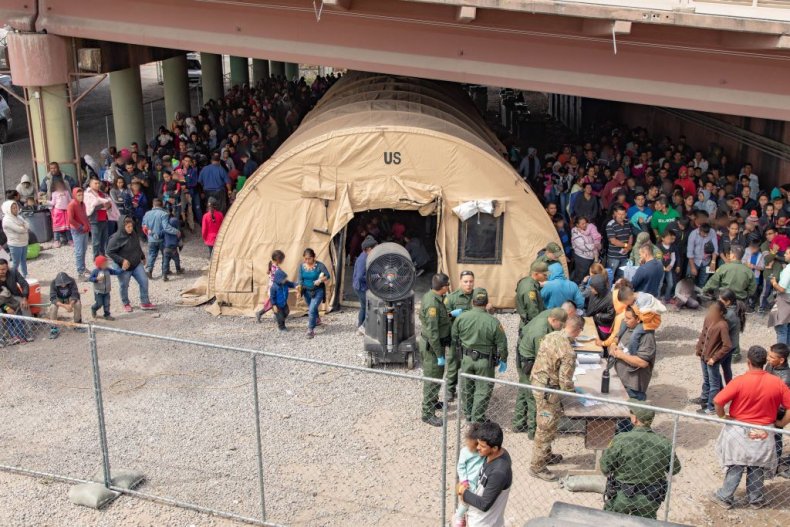 Although a federal judge ordered that the policy end, the Department of Homeland Security has struggled to reunite separated children with their parents, admitting that it did not even know how many youth had been affected. Reports have also documented sexual abuse and mistreatment that occurred while migrants were detained, and several immigrants have died in border patrol custody.
A large number of immigrants attempting to enter the U.S. through the southern border with Mexico come from Honduras, Guatemala and El Salvador.Although Trump has inaccurately referred to migrants as criminals and terrorists, activists and humanitarian workers have pointed out that those who arrive at the border are generally families or individuals fleeing economic and security issues. All three Central American nations have high crime rates, and the U.S. this week agreed to carry out joint policing operations with local authorities in all three countries in a bid to slow migration.
"López Obrador has made clear that addressing the economic factors that contribute to migration is a priority for his government's relationship with Central America and the United States, as well as Mexico's commitment to expanding its capacity to provide asylum to those fleeing violence and persecution," Meyer pointed out, saying Trump should follow this example.