El Paso Offers Morgue Workers $27 an Hour as Texas Region Overwhelmed by COVID Deaths
El Paso County leaders are recruiting extra morgue workers as the Texas region becomes increasingly overwhelmed by COVID-19 deaths.
The area has emerged a coronavirus hotspot with at least 855 people dying from the disease, including more than 300 since October, according to local government statistics.
On Friday, the Texas National Guard sent a 36-member team to the border region to help out in the overrun morgues. The team were sent to replace jail inmates who had volunteered to move bodies, according to CNN.
Local leaders are now offering temporary morgue assistants a wage of $27.20 an hour.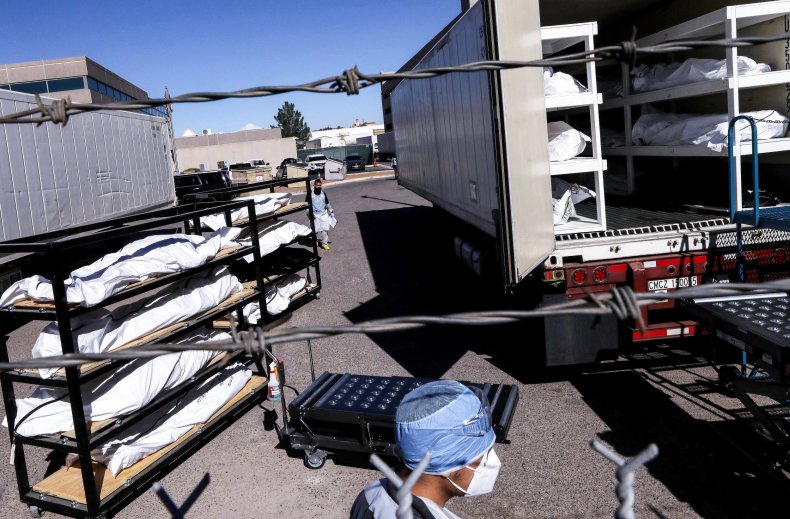 The job description reads: "The Morgue Attendants will be provided maximum PPE [personal protective equipment], and will receive a COVID test prior to starting."
The public notice continues: "All Morgue Attendants will be tasked with physically moving Decedents [...] Not only is this assignment physically taxing, but it may be emotionally taxing as well."
It comes as the number of statewide cases continues to soar. The Texas health department announcing a daily record of new 12,597 new cases on Saturday.
More than 20,500 people have died in the state after contracting coronavirus, and there have been more than 8,200 hospitalizations, since the pandemic began.
About 15 family members in Texas reportedly contracted the coronavirus after gathering for a birthday party earlier this month.
Texas could witness an escalation of the situation over the next few weeks with the state expecting a wave of Thanksgivings travelers, despite the Center for Disease Control and Prevention urging people to stay at home.
What local leaders have said
In El Paso, County Judge Ricardo Samaniego wrote to Texas Gov. Greg Abbott on the weekend asking for his support to reimpose a 10 p.m. to 5 a.m. curfew in the county due to mortuaries being overwhelmed.
Samaniego wrote that the local medical examiner's office said 247 bodies were being held at the main morgue and nine mobile morgues.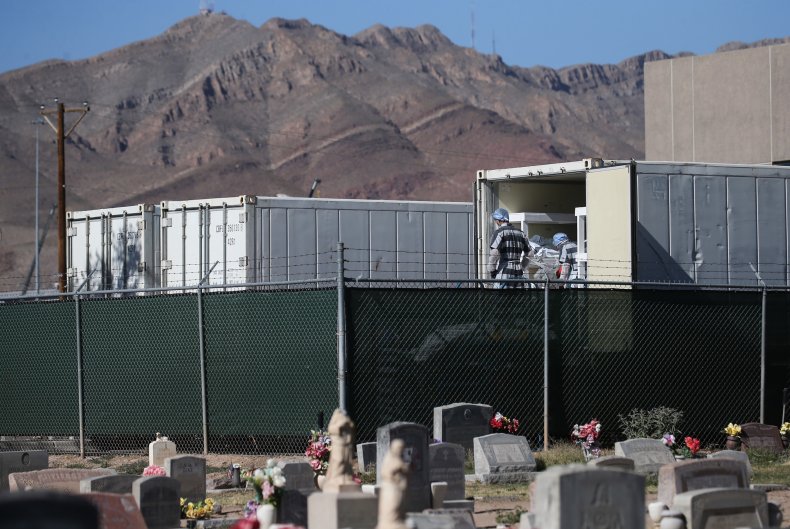 He said: "With the upcoming Holiday season I am concerned that without some additional measures, we will continue in a downward spiral, therefore, I am once again seeking your assistance in this emergency situation.
"The curfew I intend to impose will be limited in nature and is designed to stem recreational and international traffic after 10:00 p.m.," he said.
A curfew had been imposed in the area from October 26 for two weeks. An extension has not been confirmed by Abbott since Samaniego's request.
After the National Guard was deployed, El Paso Mayor Dee Margo tweeted on Friday: "As we've seen a rapid increase in cases and hospitalizations, we are unfortunately also seeing a spike in deaths.
"We have been working closely with funeral homes and mortuaries to assist with increased capacity and coordination of resources.
"The Texas Military will provide us with the critical personnel to carry out our fatality management plan and we are very grateful to them for their ongoing support."
Margo said that El Paso city and county have secured a central morgue location to add additional capacity, but he would not reveal its exact location citing privacy concerns.
Samaniego also told KIVA how the National Guard would support morgue workers, saying: "Right now they're helping us with the overflow of transporting where the trailers are, trying to get some movement so we don't have any backup."
"We've got a lot of loved ones waiting for relatives and moms and dads."
Newsweek has contacted the City of El Paso and El Paso county for comment.