Electric 2024 Chevrolet Blazer SS Has Super Cruise, 320 Miles of Range
The 2024 Chevrolet Blazer SS EV joined the bowtie brand's lineup on Monday. It joins an increasingly crowded electric SUV market that includes the Tesla Model Y, Ford Mustang Mach-E, Hyundai Ioniq 5, Nissan Ariya and Kia EV6.
The SUV is set to go on sale in the summer of 2023 and will be sold alongside the gasoline-powered Blazer model that is currently on sale.
"The 2024 Blazer EV sets a new tone for electric SUVs, with options and intuitive technologies that help position Chevy for leadership in one of the fastest-growing EV segments," said Scott Bell, vice president of Chevrolet in a press release.
"Along with the all-new Silverado EV and Equinox EV coming next year, we are making great strides in offering more choices for zero tailpipe-emissions vehicles — choices that make switching to an EV easier than ever."
The Blazer EV isn't all-new. It is a take on the Blazer the automaker already sells. The electric SUV stays similar to the shape and style of the gas-powered version. The grille is enclosed, as is customary with electric cars, and the rear roof still floats, though differently than the traditional version.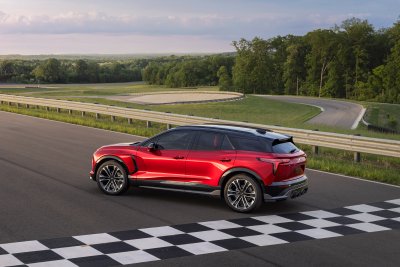 The 2024 Blazer EV arrives in four trim level: 1LT, 2LT, RS and SS. The LT comes with a monochromatic look and 19-inch wheels. Blazer EV RS adds a black grille and standard 21-inch wheels. The SS model comes with the black roof and A pillars, a unique grille and 22-inch wheels.
SS and RS models also feature dual-element LED lights that activate when a driver approaches or walks away. Like the GMC Hummer EV, the front lights also show the state of charge when the Blazer EV is plugged in.
Inside, the Blazer EV has turbine-style air vents like the gas-powered Blazer and Chevy Camaro before it. A flat-bottom wheel and 17.7-inch touchscreen infotainment system are also included. An 11-inch digital instrument cluster displays relevant information like speed, direction, safety features and more.
Ambient lighting is standard, and SS and RS models have a personalization option. The RS has red and blue contrasting stitching while suede microfiber adorns the SS. Heated and ventilated front seats are standard on both sportier trims. Heated rear outboard seating positions are standard on SS and available on RS.
"The Blazer EV's design evokes the same sort of emotional response as Chevy's performance cars," said Phil Zak, executive director, Chevrolet Design in a release. "There's true SUV functionality, but inside and out, it has the sort of passionate proportions and feel that make you want to slide behind the wheel and explore what's beyond the horizon."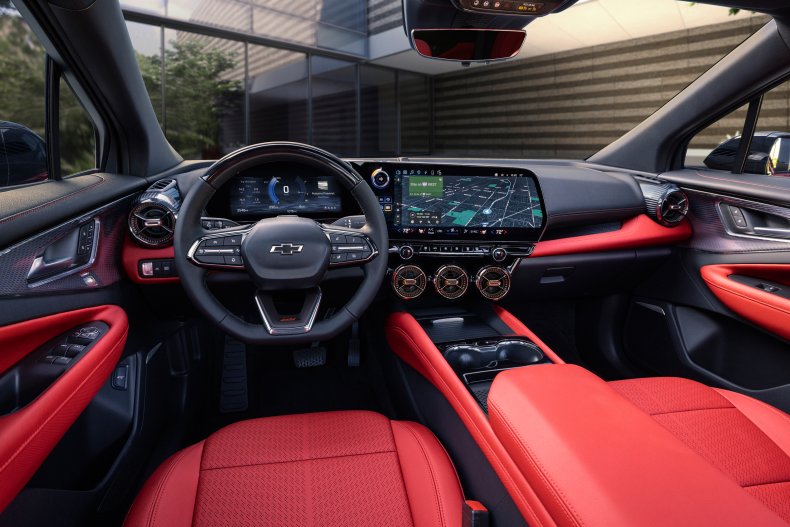 The new SUV uses parent company General Motors' Ultium platform to get 557 horsepower and go 320 miles on single charge. It uses its 648 pound-feet of torque to get make the zero-to sixty miles per hour (mph) sprint in less than 4 seconds, according to the company. It will be offered in front-, rear- and all-wheel drive configurations.
Chevy says Blazer EV will charge at a speed of up to 190 kilowatts, regaining up to 78 miles of range in 10 minutes on a DC fast charger.
Owners will have access to the Ultium Charge 360 charging network, with more than 100,000 publicly available charging points in the U.S. and Canada.
In addition to Super Cruise, which controls the steering, braking, and accelerating hands-free on certain roads, the Blazer EV family comes with emergency braking, including in reverse and for pedestrians, park assist, a following distance indicator, lane keeping, lane departure warning and automatic high beams.
The 2024 Chevrolet Blazer EV 2LT and RS go on sale next summer, priced starting at $47,595 and $51,995, respectivrly. The Blazer EV SS comes later the same year, starting at $65,995.
The least expensive Blazer EV, the 1LT comes last, and will start at $44,995.
Blazer EV's rivals have higher and lower prices than the Chevy. The Mustang Mach-E is about $1,000 less expensive than the cheapest BlazerEV and the Tesla Model Y has a base price of $65,990, about the same as the bowtie's most expensive Blazer EV.
Reservation books for the 2024 Blazer EV are open now.