Electric Cadillac Celestiq Shown in New Detail Ahead of Official Debut
The latest look at the Cadillac Celestiq showcases the future of the premium automaker's design language that leans heavily into sweeping body design and new-age illumination.
It's a concept car, or show car, designed to give a preview of what potential buyers could see in a forthcoming production model.
Cadillac spokesperson Katie Minter told Newsweek that the company is committed to selling the Celestiq in the future, "Celestiq will still be a production electric vehicle but the images released today are of a show car that was hand built by our Design team. It's fairly similar to the production version but there will be differences."
The Celestiq show car features LED lighting at the front and rear that projects a "soulful choreographed symphony of light" according to a press release. They're design is reminiscent of the lights on the Lyric all-electric crossover.
An illuminated fender graphic is also seen in photos provided by the brand.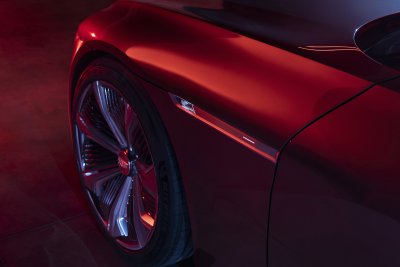 Those photos also provided a glimpse into where the Cadillac brand aims to be in the coming years. The tagline "The Standard of the World" originates with the Dewar Trophy, an award given out in the early part of the 20th Century that celebrated feats of automobile engineering that was referred to as the "Standard of the World Trophy". Cadillac won in 1908 and adopted the motto.
The new images released by the company show the re-emergence of that slogan.
Cadillac has already revealed some information about the powertrain, drivetrain, technology and features the Celestiq will have when it comes to market. Like the GMC Hummer EV, it will offer four-wheel steering. A dual-motor all-wheel drive powertrain will be propelled by General Motors' Ultium battery pack.
It will feature Super Cruise driver assist technology, which currently allows for hands-off driving on select roads in North America when certain conditions are met. Cadillac's parent company has said that next-generation Super Cruise technology is on the way.
The model also has a panoramic glass roof and large infotainment displays.
Cadillac plans to bring the Celestiq electric luxury large sedan to market in 2025, in limited production, at a high price. It is aimed at being a direct competitor to the Mercedes-Benz EQS and Tesla Model S.