In all of Elisabeth Moss' career, the actress admits The Handmaid's Tale has without doubt given her the toughest day on a set so far.
Moss has won numerous awards for her performance as June Osborne across four seasons of the intense Hulu show. Taking on a new television project, Moss will star in the upcoming Apple TV+ show Shining Girls, based on the popular novel by Lauren Beukes.
Speaking to Newsweek ahead of the launch of Shining Girls on April 29, Moss touched on her arduous experiences filming The Handmaid's Tale.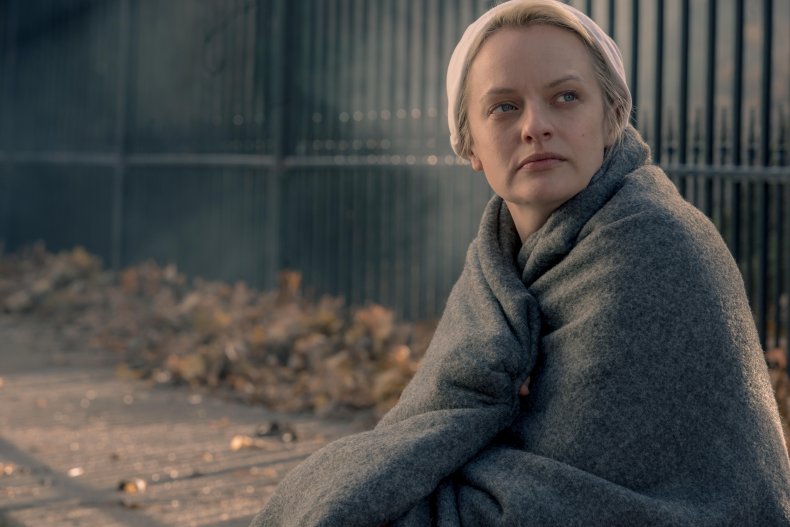 The Toughest Day of Elisabeth Moss' Career
Moss had starred in the likes of The West Wing, Mad Men and Top of the Lake to name just a few, but perhaps unsurprisingly, it's the sometimes sinister show The Handmaid's Tale that has provided the actress with her toughest day of her career so far.
"There's no way that the toughest day would not be on Handmaid's Tale because there's just a lot more episodes to deal with," Moss told Newsweek.
Recalling the specifics of this particularly challenging shoot, Moss revealed it was weather related. "I think the toughest day on that was one day when—we were so lame but honestly—one day when we were shooting at City Hall in Toronto, and it was a brutally brutally brutally cold day," she recalled.
"And shows were shutting down that were shooting because it was so cold." She laughed. "That was a tough day. That was hard. I'm not trying to sound weak but it was really cold, I'm telling you it was freezing. That was the hardest day."
The Handmaid's Tale has shot in various locations across Toronto throughout all four of its seasons, with production also officially underway in the city now for Season 5. The average temperature can drop to as low as 28 degrees Fahrenheit in the Canadian city.
The cast have been spotted out in the city many times over the years since they started shooting in 2016. Local news site blogTO reported a scene being shot featuring the recognizable red garbs and white bonnets, at Toronto City Hall in February and March 2019.
Moss said her experience should remind viewers that the freezing tundra of Gilead isn't faked for the show. "Oh, it's real snow. It's real snow," she said.
However, her new show presented her with the opposite problem. "Now in Chicago on Shining Girls, the thing is it was really, really, really hot. So somehow I need to find some sort of middle ground here that I can't seem to find. I need to shoot somewhere in October or something and a nice mild climate, maybe LA," Moss said.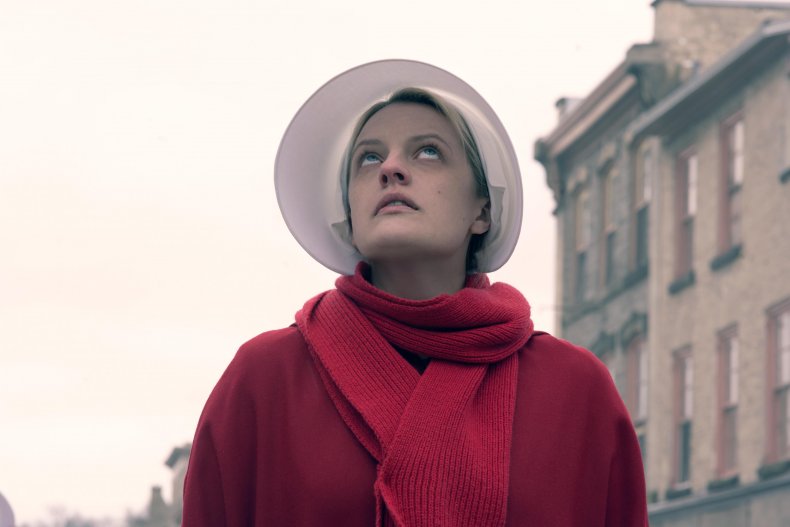 The new thriller Shining Girls, which arrives on Apple TV+ on Friday, April 29, stars Moss, Wagner Moura (Narcos), Jamie Bell (Rocketman) and Phillipa Soo (Hamilton).
The description for the show by Apple reads: "Years after a brutal attack left her in a constantly shifting reality, Kirby Mazrachi (Moss) learns that a recent murder is linked to her assault. She teams with veteran reporter Dan Velazquez (Moura) to understand her ever-changing present and confront her past."
Newsweek will have more from Moss and Moura ahead of the launch of this show later this month.