Elise Stefanik Accused of Twitter Harassment Over 'Tag and Drag' Post
Representative Elise Stefanik (R-NY) has been criticized on Twitter for telling followers to "tag and drag" a user that mocked her appearance.
Stefanik took issue with a comment by a user with the handle @kilog007, who had posted the disparaging comment underneath an image of the Republican in a tweet saying she would make an endorsement for the 2022 GOP New York gubernatorial primary.
"She has gained lots of weight," @kilog007 tweeted, prompting her to reply, "I had a baby 6 weeks ago you loser. Let it rip Twitter—make sure you tag and drag @kilog007."
Her message to her 386,000 followers sparked a lively thread, with one user addressing a message to Twitter support that said: "Would 'make sure you tag and drag' be considered targeted harassment?"
Several users wrote in the thread that she had been reported for "targeted harassment." The user D Villela posted to 21,000 followers: "How is this tweet not a violation of Twitter's TOS against targeted harassment? You're a sitting congresswoman. Act like it."
Another user wrote: "Nothing like an elected official publicly calling on their 386k followers to harass someone online. @elisestefanik is breaking twitter's number one rule."
The journalist Paul Waldman tweeted: "Rising star Republican member of House leadership spends her day fighting noble Twitter flame war against someone with, I'm not kidding, 14 followers." As of Friday morning, the user had 28 followers.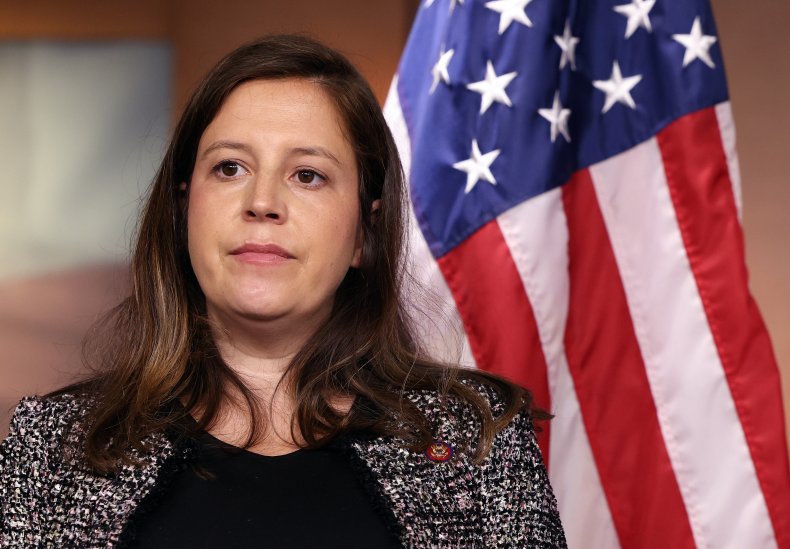 Meanwhile, Democratic Party communications advisor Max Steele tweeted: "A member of Congress urging her 386k followers to 'tag and drag' an account with 28 followers."
However, Stefanik did had some defenders, including Republican congressional candidate Liz Joy who tweeted: "Jealousy is always an evil taskmaster and Twitter just can't take strong, confident, happy, successful women and Moms like @EliseStefanik.
"She just keeps shattering all glass ceilings and every time she does, Twitter seethes and the trolls nash their teeth." Newsweek has contacted Twitter and Stefanik for comment.
In May, Stefanik replaced Representative Liz Cheney (R-WY) as House Republican Conference chair, after the Wyoming lawmaker's condemnation of former President Donald Trump in the January 6 insurrection led to her ousting.
Although initially considered a moderate, Stefanik has allied herself with Trump, who gave her his endorsement.
Last month, Stefanik was slammed by her hometown newspaper the Times Union for her Facebook ads it said promoted "replacement theory," the racist conspiracy pushed by far-right figures that white people are being intentionally replaced by immigrants.