Elizabeth Warren Calls for SVB Executives' Salaries To Be 'Clawed Back'
Senator Elizabeth Warren believes the fallout emanating from the collapse of Silicon Valley Bank (SVB) can be attributed to Washington leaders encouraging a weakening of financial rules.
The bank's investment decisions were compounded by SVB's investment of billions of dollars in long-dated U.S. government bonds, including mortgage-backed securities, in a period of routine interest rate hikes by the Federal Reserve aimed at curbing inflation.
The four-decade-old California-headquartered bank, previously described as a premier U.S. financial institution for startup tech businesses, grew to be the nation's 16th-largest bank.
Warren wrote Monday in an op-ed in The New York Times that Greg Becker, the chief executive of Silicon Valley Bank, was "one of the ‌many high-powered executives who lobbied Congress to weaken" the Dodd-Frank Act passed in the aftermath of the 2008 financial crisis.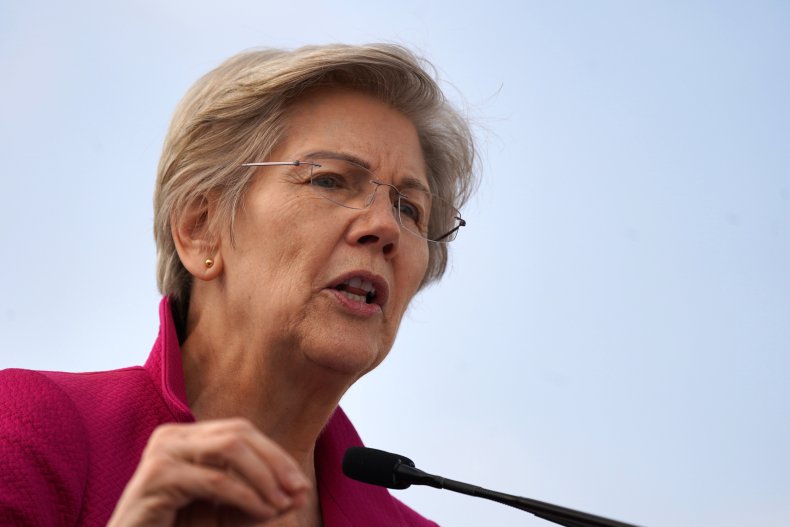 She mentioned Becker's $9.9 million in compensation last year, according to U.S. Securities and Exchange Commission (SEC) filings—including a $1.5 million bonus for boosting bank profitability.
Joseph DePaolo, executive of the New York-headquartered Signature Bank that closed on Sunday, received $8.6 million.
"If we are to deter this kind of risky behavior from happening again, it's critical that those responsible not be rewarded," Warren wrote. "S.V.B. and Signature shareholders will be wiped out, but their executives must also be held accountable... We should claw all of that back, along with bonuses for other executives at these banks."
In March 2018, Warren said on the Senate floor that loosening regulations would loosen "our hold on some of the very same giant banks that wrecked our economy."
On Monday, she cast blame on both Republicans and Democrats, as well as Fed Chair Jerome Powell.
"In 2018, the big banks won," Warren wrote. "With support from both parties, President Donald Trump signed a law to roll back critical parts of Dodd-Frank. Regulators, including the Federal Reserve chair Jerome Powell, then made a bad situation worse, ‌‌letting financial institutions load up on risk."
William Isaac, a former chair of the Federal Deposit Insurance Corporation (FDIC), made recent comments in Politico that he expects an unclear number of additional banks to fall. It's reminiscent of the 1980s, he said.
On Sunday, the U.S. Treasury Department announced that insuring depositors of all eligible banks—not just SVB or Signature—would get their money and that taxpayers would incur no extra burdens.
"This action will bolster the capacity of the banking system to safeguard deposits and ensure the ongoing provision of money and credit to the economy," the Federal Reserve posted on its website.
Independent Senator Bernie Sanders said in a statement Sunday that the SVB situation is "a direct result of an absurd 2018 bank deregulation bill" signed by Trump, adding that Trump and Republicans "learned nothing" from past financial crashes.
"Now is not the time for U.S. taxpayers to bail out Silicon Valley Bank," Sanders said. "If there is a bailout of Silicon Valley Bank, it must be 100 percent financed by Wall Street and large financial institutions. We cannot continue down the road of more socialism for the rich and rugged individualism for everyone else."
Trump laid his own blame at the feet of President Joe Biden, who on Monday morning provided a positive economic outlook stating that the U.S. banking system is "safe" and that "no losses will be borne by the taxpayers."
"With what is happening to our economy, and with the proposals being made on the LARGEST AND DUMBEST TAX INCREASE IN THE HISTORY OF THE USA, TIMES FIVE, JOE BIDEN WILL GO DOWN AS THE HERBERT HOOVER OF THE MODRRN [sic] AGE," Trump wrote Sunday on Truth Social.
"WE WILL HAVE A GREAT DEPRESSION FAR BIGGER AND MORE POWERFUL THAN THAT OF 1929. AS PROOF, THE BANKS ARE ALREADY STARTING TO COLLAPSE!!!"
Another Republican presidential candidate, Vivek Ramaswamy, tweeted Sunday that the FDIC "should get out of the way" and that the Fed should let SVB "fully fail."
"If the U.S. government bails out SVB, we should rightly expect an 'Occupy Silicon Valley' movement of historic proportions," he wrote. "And unfortunately it will be justified."
Newsweek has reached out to Warren for comment.