As presumptive Democratic presidential candidate Joe Biden appears set to announce his running mate this week, Massachusetts Senator Elizabeth Warren has been the most successful of the contenders at fundraising for the former vice president.
Warren, a former progressive rival during the primaries, endorsed Biden in mid-April and was quick to publicly express her interest in joining the Democratic candidate's ticket as his running mate. The second-term senator has raised more than $7.7 million for Biden since her endorsement, Politico reported on Monday.
On Tuesday, Warren plans to co-host another event for Biden alongside Representative Katie Porter, a California Democrat. Tickets will be sold for $250 to $25,000.
Meanwhile, Senator Kamala Harris of California, who has been seen as a top contender among the vice presidential candidates, raised over $5 million for Biden, according to Politico. Senator Tammy Duckworth of Illinois, who is reportedly on Biden's short list, has brought in over $3 million. Although fundraising is important to any campaign, it's unclear how much Biden will factor these money hauls into his decision, particularly as all the contenders already plan to continue to do "whatever it takes" to get him elected in November.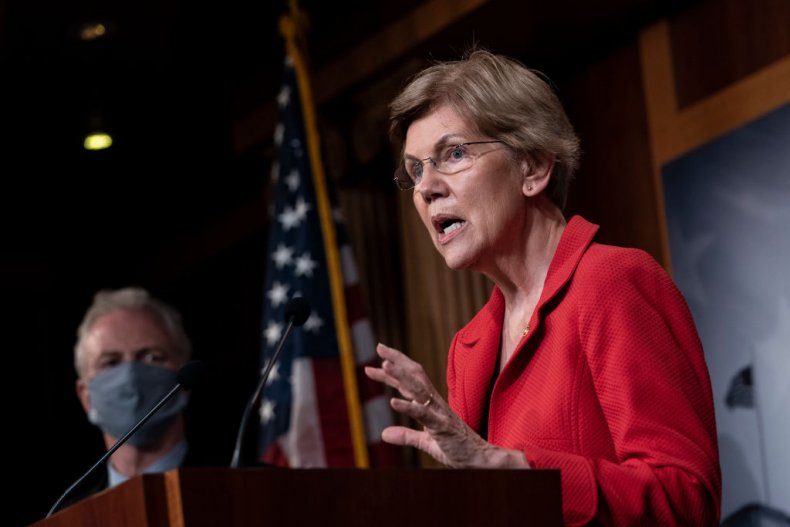 Newsweek reached out to the Biden campaign for comment but did not hear back in time for publication.
In March, Biden committed to selecting a woman as his running mate. Many lawmakers and activists have urged him to select a woman of color, particularly as anti-racism and Black Lives Matter protests erupted across the country at the end of May and throughout June.
Although some progressives have urged Biden to choose Warren, seeing her as a running mate that can better unite the party behind her former moderate rival, the senator has faded somewhat into the background, compared with other candidates. Instead, Harris has emerged as a front-runner, as has Representative Karen Bass of California, the chair of the Congressional Black Caucus, and former Obama national security adviser Susan Rice, who has not previously held elected office. All three are women of color.
Meanwhile, Governor Gretchen Whitmer of Michigan has not been ruled out as a contender. The loyal Biden supporter reportedly traveled to Delaware to meet with the former vice president last weekend, raising speculation that she could still be under serious consideration.
Biden has remained relatively tight-lipped about whom he plans to choose, besides speaking favorably of several of the women under consideration. He has said publicly that the primary quality he is looking for is someone who is "simpatico" with him and his agenda.