Elizabeth Warren said elections should not be postponed or canceled amid the COVID-19 outbreak and called for voting by mail to become a priority.
The Massachusetts senator and former Democratic primary candidate told ABC's The View on Thursday that a mail voting system needed to be put in place "as quickly as we can" amid news of several state primary postponements.
She added that lawmakers needed to "plan for the worst" during the ongoing novel coronavirus outbreak, stressing the need for "safe ways of voting."
Her comments came after official warnings against mass gatherings totally changed the Democratic primary landscape and prompted Sen. Bernie Sanders (I-VT) and former Vice President Joe Biden to shut down rallies.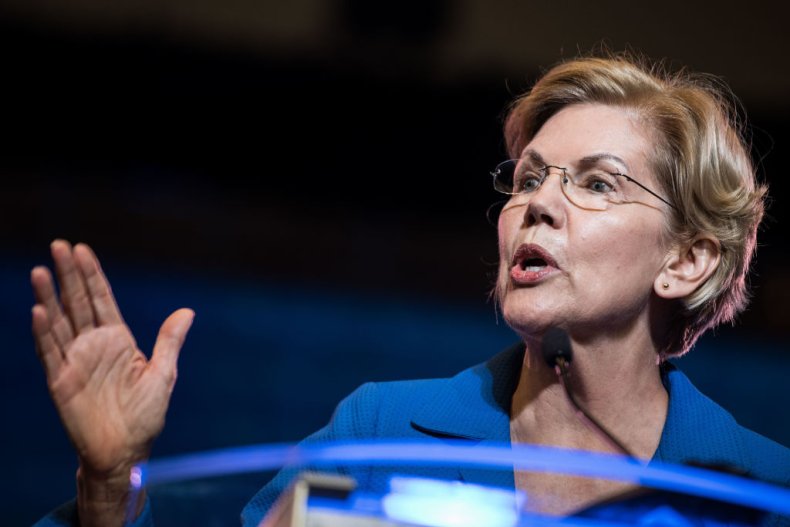 Six states have also announced primary delays over fears that COVID-19 could be spread as voters go to their local ballot boxes.
Asked if it was irresponsible to hold primaries amid the ongoing coronavirus pandemic, Sen. Warren told The View yesterday: "I look at this the other way around. Democracy is based on the notion that people vote. So what we should be doing, and really putting a priority on this, is doing vote by mail.
"Let's get that up and organized. Let's find ways for people safely to be able to vote remotely. We need to be putting this in place as quickly as we can for the primaries."
She added that mail voting also needed to be in place for the November elections, and said politicians needed to "hope for the best, but plan for the worst."
"I want us pushing right now for safe ways of voting so we can keep people voting," Warren added. "We should not cancel elections. I don't think we ought to be postponing them either. We find safe ways to do this."
Newsweek has contacted Sen. Warren's office for further comment and will update this article with any response.
Primary voting has been postponed in Connecticut, Georgia, Maryland, Ohio, Kentucky and Louisiana so far as the novel coronavirus continues to spread across the United States.
Nominating contests in Arizona, Florida and Illinois still went ahead on Tuesday, with Biden winning by a significant margin in all three states as voting was disrupted by the novel coronavirus pandemic.
Connecticut became the latest state to delay its primaries on Thursday as Democratic Governor Ned Lamont said it would be held on June 2, The Hill reported.
In a statement announcing the postponement, Lamont said: "In coordination with other states and our Secretary of the State, and in an effort to carry out Democracy while keeping public health a top priority, I have decided to move our presidential primary to June 2nd."
According to the Johns Hopkins University COVID-19 tracker, more than 14,250 confirmed cases of the illness have been reported in the U.S. as of 07:00 a.m. ET today.
A total of 205 deaths related to the novel coronavirus have also been reported in the U.S., alongside 121 cases of total recovery.
Almost a quarter of a million people (245,484) have been infected worldwide, with 10,031 deaths and more than 86,000 recoveries recorded at the time of writing.