Ellen DeGeneres Reacts to Ex Anne Heche's Fiery Los Angeles Car Crash
Ellen DeGeneres is speaking out following ex-girlfriend Anne Heche's fiery car crash in Los Angeles.
The former Ellen DeGeneres Show host, 64, was spotted exiting Tre Lune restaurant in Santa Barbara, California, on August 8, when she was approached by a reporter who asked if she had spoken to the actress, 53.
"We are not in touch with each other, so I wouldn't know," she told the Daily Mail cameras regarding Heche's condition, before wishing her the best. "I don't want anyone to be hurt," she said.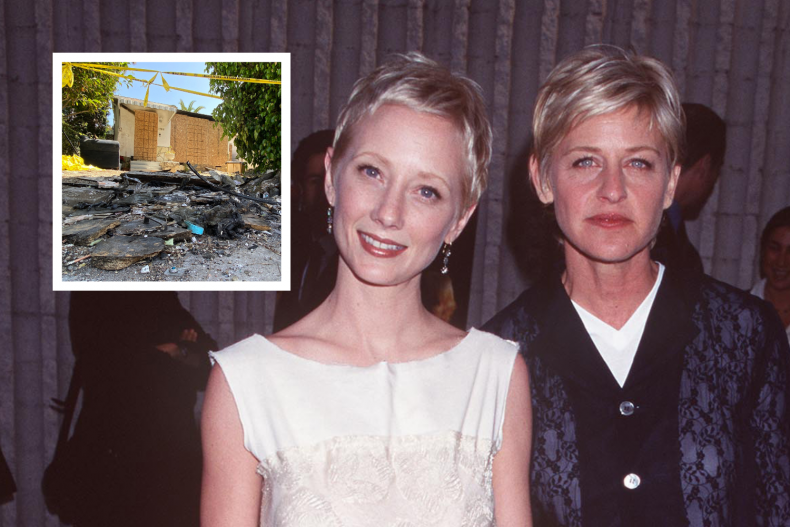 Heche crashed her Mini Cooper into a Mar Vista, California, home on August 5. At the time, the Los Angeles Fire Department's official Twitter account said "one critically injured person" had been "rescued." There were no other injuries.
The report stated it took 59 firefighters 65 minutes to fully contain and extinguish the blaze. The Spread alum was the only person in the vehicle when it struck the 1950s 738-square-foot, two-story property.
A GoFundMe has since been started for the Lynne Mishele, the woman whose home is now "uninhabitable," according to the LAFD. At the time of publication, more than $124,000 had been raised by 2,800 donors, surpassing the $100,000 goal.
A representative for Heche said on Monday that she is in "extreme critical condition" in the hospital.
"She has a significant pulmonary injury requiring mechanical ventilation and burns that require surgical intervention. She is in a coma and has not regained consciousness since shortly after the accident."
DeGeneres and Heche dated from 1997 to 2000 and were considered one of the first lesbian power couples in Hollywood. DeGeneres later married Portia de Rossi in 2008, while Heche was married to Coleman Laffoon from 2001 to 2009.
The duo announced their split in a statement to the New York Daily News.
"Unfortunately, we have decided to end our relationship. It is an amicable parting, and we greatly value the 3 1/2 years we have spent together," it read. "We hope everyone will respect our privacy through this difficult time."
Despite their cordial message, DeGeneres said their breakup came as a shock.
"She walked out the door, and I haven't spoken to her since," the comedian claimed to The Los Angeles Times in 2001. "I don't have the answers."
In 2021, Heche made a rare comment about their former romance on TikTok. While rating her past red-carpet looks, the soap opera star called out her ex.
"Why do I look like a hippie? It's because Ellen didn't want me to dress sexy," she alleged while giving a thumbs down to followers. "Bye, no."
Following news of the crash, celebrities including Alec Baldwin, Rosie O'Donnell, Rosanna Arquette and more have expressed their support. Her other exes Thomas Jane and James Tupper also spoke out.
Newsweek reached out to DeGeneres' representative for additional comment.